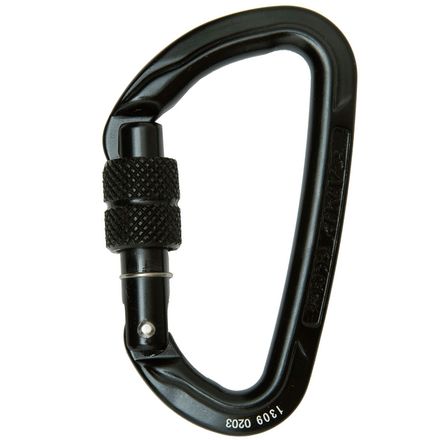 Detail Images

Community Images
Description
A light little locker.
Looking for ways to lighten up your rack? The CAMP USA Orbit Screw Gate Carabiner replaces your old clunky lockers for a mere 1.7 ounces. The keylock nose cuts down on snags at the anchor station, and the deep ends keep the Orbit properly oriented on rappels and belays.
Super Handy and Incredibly Lightweight
Shoot me an email anytime you have questions about this locking biner or any other climbing gear!



Jared D.

Expert Gearhead

801.736.4336

jdowns@backcountry.com
Great
Familiarity:

I've put it through the wringer
Super light and priced just right for a poor climber. I use mine on an almost daily basis and love them. Definitely getting more
Light, Good Price
Familiarity:

I've used it once or twice and have initial impressions
Simple. Lightweight, easy to use, black color is sweet. Own one but will definitely get more at this price
Great inexpensive carabiner
Familiarity:

I've put it through the wringer
These are great locking carabiners for the price. They are super light and easy to use. I bought several of them and have had no problems with them.
Love it
Familiarity:

I've put it through the wringer
these are my go to locker for my trad rack. I have about a dozen of them and love them. really small and light, easy to open one handed
Love the key lock
Familiarity:

I've used it several times
This is a nice medium sized biner, with the key lock, you'll never have it hanging up when unclipping it, and the screw lock is big enough to make it easy to use even with gloves on.
Are carabiners from this brand UL...
Are carabiners from this brand UL classified?
Best Answer
CAMP Carabiners carry a CE certification, and are individually strength-tested. I climb with a number of CAMP biners on my rack, and I trust them just as well as any other biner. They work great.



Also, I forgot to mention--they carry a UIAA certification (The International Mountaineering and Climbing Federation), which is typically the highest certification possible for a biner. So, climb with confidence!
Super light weight, super smooth.
The title says it all. On top of that, these things are priced right! I love the gear that CAMP has been putting out lately. This biner sits on my personal anchor or is used to clove hitch to the anchor on trad climbs. I find I always want my smoothest locker in those position, and this one fits the bill.
They are light and can't beat the price. I'm happy with them.
do yourself a favor and get many of these if youre looking to save some weight!
Nothing to complain about, this carabiner does everything it's supposed to do well. Great price, weight, and action.
Same opinion and satifaction as previous reviewers...thought I just add my vote to its quality to help quantify the item.
what size square will this fit? Example:...
what size square will this fit? Example: 1" x 1" square
Best Answer
The Carabiner's longest dimension is 3 7/8", a perpendicular measurement of its width at the widest point (nose to spine) is 2 7/32". (see photo) When lying flat on a table, the tallest point of the carabiner is the locking sleeve at 11/16".

The smallest square that you can transcribe around the carabiner is 3 3/8" x 3 3/8" (for example, if you were attempting to fit this carabiner in a square gift box)
These are not only the cheapest locking carabiners Backcountry.com sells, but they are also one of the lightest that feature the snag-free keylock. The only lockers lighter are the WC Neons and DMM Phantom, which will cost you $3-4 more each, a tradeoff of nearly $.50 per gram saved.

I have owned 4 of them and none have had any functional issues at all, they lock and unlock smoothly and the gate spring is strong and even. They work perfectly in pairs for toprope masterpoints, or alone for clove hitching into multipitch anchors and attaching prussiks to your harness. The silver coating is better for the environment and doesn't blacken ropes. I use them everywhere I need a locker, except as a belay biner.

It is the rare case in outdoor gear that you can save money AND weight.
Picked up two of these to use with my daisy chain setup. It's a locking beaner, and performs as it should. I have noticed that the collar seem to screw on too tight, almost to the point of bending out the walls. (of the collar) Haven't had any problems yet, but something to note. I would buy them again for the price.
Nice, but questionable locking on one
I got two of these. One locks very well. The gate on the other only has to unscrew about 3/4 of a turn to go from locked to openable. That isn't a very big margin of error and I'm a little nervous to take that one out just because you have to do so little to unlock it. Other than that they seem very solid.
I am looking for a carabiner for my safety...
I am looking for a carabiner for my safety harness when sitting in a tree stand is there a weight limit for this one.
Dave,
Suffice it to say this carabiner will suit your needs. It is made to take a fall rock climbing and when properly used (gate closed and load on the two smaller ends) has a tested break strength of 22kN. 22kN is roughly equivalent to 5000 lbs of *STATIC* load.
I hope this helps!
Awesome with a minor finishing problem
Light and smooth. 1" tied slings don't sit so well in them but that's the price you pay for light! Also when I first got these (I bought 2) they both had a small metal sliver stuck to the hinge on the gate that poke med. I had to pull it off with needle nose pliers. Then they were great!
it this the exact same size and shape of...
it this the exact same size and shape of the regular camp orbit biner?
Best Answer
Yes, it is the same carabiner, just a different gate.