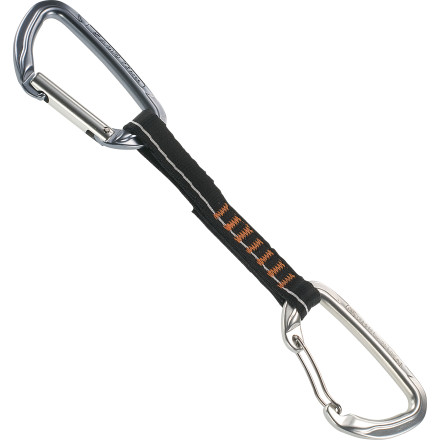 Made for high-end sport climbing, the CAMP USA Orbit MIxed Express Nylon Quickdraw recognizes the dual need for easy rope clipping and easy bolt clipping. A snag-free keylock gate on the bolt end takes care of a lot of fumbling, and the nylon dogbone makes for a quick grab during a sketchy crux move. Weighing in at under 100 grams for each draw, none of the different size options will bog you down when your eyes are turned upward.
What do you think about this product?
Have questions about this product?
First, I have't used this version. This review is for the version with wire gates on both ends. That said, they're great qickdraws. The dogbones are solid and don't let the draws twist around. Can even use as a hand hold if you get pumped out. You can find these on steepandcheap for an even better price sometimes.