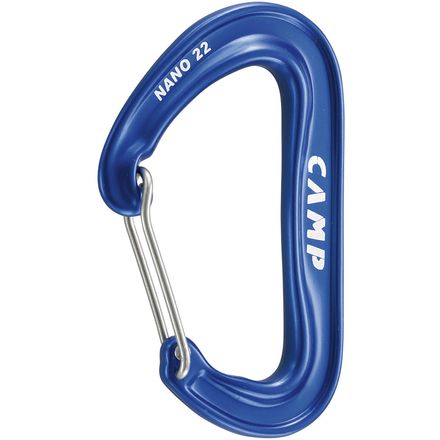 Colors

Community Images
Description
Better than bulky biners in high places.
The Nano 22 Carabiner is Camp USA's lightest biner for the utmost convenience when you're climbing in the alpine. With an all-new innovative design, Camp USA made the Nano 22 lighter and stronger this sending season. The inner working space holds the rope in its proper position, and it accommodates clove hitches and slides through the smallest anchor chains. The Nano 22 comes in a variety of colors for cam-pairing.

Strength-increasing weight-reducing design
Rope-cradling deep basket
Clove hitch-friendly inner
Great lightweight biner for a trad rack
Familiarity:

I've used it several times
This is a great lightweight racking biner for the price. The gate is smooth and clips in easily. The size is small, but once again, for the price and weight it works well overall. All the different colors are great when building a trad rack. Using this with a BD cam set on my first trad rack
handy
Familiarity:

I've used it several times
I like to clip gear instead of load it, these clips do the job and at a nice price.
Good Biner
Familiarity:

I've put it through the wringer
These guys are great for racking, they have an overall good feel to them. The gate is nice and smooth and is easy to get on and off. They are very lightweight and a great addition to racking your cams.
Solid fix to the previous version
Gender:

Male

Familiarity:

I've put it through the wringer
CAMP Nano 22 is a solid fix of Nano 23 design flaws. With the only exception - size. I would call it an adequate price for a job. Nano 22 is a lot of binner for a little weight and bulk.

I like Nano 22 as much as I dislike Nano 23. All major flaws (too wide wiregate catching everything on a harness loop, unhooded gate opening by itself, etc) are fixed.

Nano 22 is a good ultralight binner. Both - ultralight and good - are equally important. You know what you pay for - ultralight binner is ultralight, it wouldn't be comfortable, it wouldn't be full-size, etc.
Great racking biner.
Familiarity:

I've used it several times
This is a fantastic, light biner. At 22 grams this biner could save you the weight of three or four biners on your entire rack which is great considering it is in a comparable price range to anything else you might think of racking in. In addition its available in a bunch of colors in case you have any cams that aren't BD and come in different colors. That being said, the gate is a little small to use on a draw.
best racking biner
Familiarity:

I've put it through the wringer
It's the best small biner I've used. Haven't used it for draws though.
Best Small Biner on the Market
Familiarity:

I've put it through the wringer
If you're looking for the smallest carabiner but want the best, the Nano 22 is hands down superior to all the other small biners on the market. From racking, alpine draws to clove hitches, the Nano 22 is the best small-sized biner.

Size:
These are small enough that you can carry a whole bunch and not have a whole bunch of space taken up but still big enough for easy clipping / racking.

Gate:
There are other small sized carabiners that I struggle to appreciate their gate sizes. The gate size is bigger than what you'd expect on such a small carabiner. The FS Mini (by Metolius) has a gate size of 17mm while the CAMP USA Nano 22 has a gate size of 21mm. A whole 4mm bigger but the total weight of the Nano 22 is 0.8oz compared to 0.9oz for the FS Mini.

Clove Hitch:
Yeah, you can tie a clove hitch on this biner. It's insane that you can do that! I've done it a few times, while it is awesome to have that functionality it is a tad hard with thicker ropes in the 10.2 range.

Weight:
These are insanely light which is perfect for cutting weight if you need to carry a large rack and plan on doing some alpine travel where weight can make a huge difference.

Alpine Draws:
I have a few of the Nano 22's and then a few of the CAMP USA Mach Express alpine draws which use a Nano 22 on the bolt/gear end. I'm a big fan of the Mach Express using this biner to shave weight.

Shoot me an email anytime you have questions about the Nano 22 or any other gear!

Jared D.
Expert Gearhead
801.736.4336
jdowns@backcountry.com
Perfect for racking
Familiarity:

I've used it once or twice and have initial impressions
Got a few sets for racking and had a chance to use them on a few multi-pitch climbs so far. I also used a few on alpine draws to see how I liked the size.

With a very narrow nose it was easy to fit a large amount of gear on a loop. The change in the nose shape makes it more of a straight shot when pulling the biner off a loop than the prior nano 23 design. A great diagram of the change is here: http://blog.weighmyrack.com/light-carabiner-camp-nano-22-upgraded-from-the-nano-23/

Gate tension is greater than photons, just slightly softer than the current BD oz biner. No problems cross clipping like you get with the photons.

As for draws, I felt they were ok on the gear side and clipped a skinny 8.9 well enough with their deep basket. If I was climbing near my limit and placing gear high I would want something larger though, the gate itself just isn't that wide, it would be hard to aim for if you're not clipping at the waist.

The only reason I don't give 5 stars is that would have to be a fully clean nose to get a perfect score, there is still a notch on the gate. With the angle of the nose I never snagged them (even on the rope), but of course the potential is still there. This is really nit picking for the weight and price though.
Nano sized Photons, but better
Familiarity:

I've used it once or twice and have initial impressions
I've been using the Nano 23s exclusively for racking my cams, and I like them a lot. I like the stiff gates on those, it makes me confident that the gates won't easily open and drop a precious cam while my rack is bouncing around.. I was worried that the gates on these would be too light, since I find the Photon carabiners and find their gates too light (and the they sometimes stick open).


I was happy to find that while very similar to the Photons, these Nano 22s have a slightly stiffer gate, enough that I trust my cams with them. And the gate action is smoother, which I'll admit is nice. And you gotta love the significant increase in strength rating, despite the lower weight! The size is almost the same as the Nano 23s, with a slightly different shape.
These are so great. 5 stars, love them for extendable draws and the action is perfect. So good.
How do these compare to the Camp Nano 23, in both size and gate stiffness?



I like my Nano 23s for racking, but I've been disappointed by my Camp Photons- the gates are a little too light, and sometimes stick open. This looks kinda like a small version of the Photon, so I'm concerned it may have the same issues.
Best Answer
These are bigger and the gates have action slightly on the tighter side. I have never had them stick. They really exceeded my expectations.


The gate tension in this biner is as softer than photon? or like neutrino gate tension?




Best Answer
I find it pretty similar to the neutrino stiffness. It has a pretty consistent feel through the whole range of motion, unlike some draws that get noticeably stiffer towards full-open.
Slightly stiffer than a photon, noticeably softer than the Nano 23. It has a much more 'springy' feel than the Neutrino, though the force seemed pretty similar.

(But I'm comparing a brand new Nano to an old Neutrino, that might have a slight effect)
Camp USA made in China
Familiarity:

I've used it once or twice and have initial impressions
It does the job and is light but I was a little disappointed when I found Camp USA is made in China. Kind of a false advertisement IMO.
BD Neutrino on the left racking a Mastercam 1 and the Nano 22 racking a BD C4 size 3. As you can see, the color is a good enough match. Also you can see how small the Nano 22 is. What you can't see is the fact that the Nano 22 is not actually touching my desk, but floating on a thin cloud of air above it.
Perfect.
Familiarity:

I've used it once or twice and have initial impressions
For a while I racked my cams on BD neutrinos because... I had BD cams and that just seemed right. I bought one of these to try it out after realizing the neutrinos might be overkill and I couldn't be happier. Neutrinos are pretty light and small biners but the Nano 22s make them feel bulky and awkward. The gate is a little small but I don't intend to use these for clipping ropes into all that often, and when you do it really isn't noticably difficult. It is slightly weaker than the neutrinos but again, 21kN vs. 23kN doesn't really concern me. The color matches really closely with the BD color scheme. It's not perfect but it's close enough. I haven't tried out other ultra-light biners much to make a fair comparison, I know the neutrinos isn't the direct comparison, but for what these are, I couldn't be happier. I'll be buying a whole bunch more.