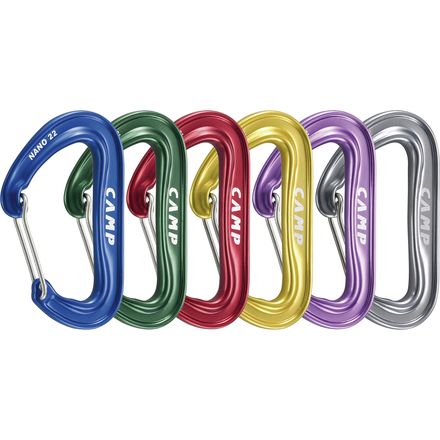 Colors
Description
Lighten your load.
The Nano 22 Carabiner Rack Pack includes six of Camp USA's lightest biners for alpinists and climbers. With an all-new innovative design, Camp USA made the Nano 22 lighter and stronger this sending season. The inner working space holds the rope in its proper position, and, it accommodates clove hitches and slides through the smallest anchor chains. The Nano 22 comes in a variety of colors for cam-pairing.

Strength-increasing, weight-reducing design
Rope-cradling deep basket
Clove hitch-friendly inner
Super Light
Familiarity:

I've put it through the wringer
These guys are great for racking, they have an overall good feel to them. The gate is nice and smooth and is easy to get on and off. They are very lightweight and a great addition to racking your cams.
Such a better carabiner than the old Nano 23.
Superlight, wide gate opening. Flashy colors!
Dump the neutrino and get these!
Carabiner Insanity
Familiarity:

I've used it several times
I use these with Mammuts 8mm contact slings. When used this way, alpine style draws can be made that are stupid - level light. Granted, larger Yettie and 'Squatches may have trouble using the small gate or gripping the tiny bugger in their callused, crack-wrecked hands. Sorry Yettie climbers.

But for the rest of us, its god awful fun to dangle your entire life off of something that weighs as much as a sharpie. Don't be a ninny and confine these devils to the low life of a racking biner, 2nd only to the disgrace of a water bottle carrier, their use extends far and above that crap.

11/10 would ridicule my friends choice of inferior product again.

p.s. Consider camp USA Photon Locker for ultimate patriotism in your climbing.
Best Small Carabiner on the Market
Familiarity:

I've put it through the wringer
If you're looking for the smallest carabiner but want the best, the Nano 22 is hands down superior to all the other small biners on the market. From racking, alpine draws to clove hitches, the Nano 22 is the best small-sized biner.

Size:
These are small enough that you can carry a whole bunch and not have a whole bunch of space taken up but still big enough for easy clipping / racking.

Gate:
There are other small sized carabiners that I struggle to appreciate their gate sizes. The gate size is bigger than what you'd expect on such a small carabiner. The FS Mini (by Metolius) has a gate size of 17mm while the CAMP USA Nano 22 has a gate size of 21mm. A whole 4mm bigger but the total weight of the Nano 22 is 0.8oz compared to 0.9oz for the FS Mini.

Clove Hitch:
Yeah, you can tie a clove hitch on this biner. It's insane that you can do that! I've done it a few times, while it is awesome to have that functionality it is a tad hard with thicker ropes in the 10.2 range.

Weight:
These are insanely light which is perfect for cutting weight if you need to carry a large rack and plan on doing some alpine travel where weight can make a huge difference.

Alpine Draws:
I have a few of the Nano 22's and then a few of the CAMP USA Mach Express alpine draws which use a Nano 22 on the bolt/gear end. I'm a big fan of the Mach Express using this biner to shave weight.

Racking:
These are perfect for racking a set of Master Cams, C4's, C3's or X4's.

Shoot me an email anytime you have questions about the Nano 22 or any other gear!

Jared D.
Expert Gearhead
801.736.4336
jdowns@backcountry.com
Perfect racking biner
Familiarity:

I've used it once or twice and have initial impressions
Got a few sets for racking and had a chance to use them on a few multi-pitch climbs so far. After leading on them my partner ordered a few sets for his rack the next morning, they're that nice.

With a very narrow nose it was easy to fit a large amount of gear on a loop. The change in the nose shape makes it more of a straight shot when pulling the biner off a loop than the prior nano 23 design. A great diagram of the change is here: http://blog.weighmyrack.com/light-carabiner-camp-nano-22-upgraded-from-the-nano-23/

Gate tension is greater than photons, just slightly softer than the current BD oz biner. No problems cross clipping like you get with the photons.

I used a couple on draws as well. I felt they were ok on the gear side and clipped a skinny 8.9 well enough with their deep basket. If I was climbing near my limit and placing gear high I would want something larger though, I'll keep using BD oz for my draws. Keep this in mind if you climb a lot of straight splitters and clip right to your cam.

The only reason I don't give 5 stars is that would have to be a fully clean nose to get a perfect score, there is still a notch on the gate. With the angle of the nose I never snagged them, but of course the potential is still there. This is really nit picking for the weight and price though.
Good for racking
Familiarity:

I've used it once or twice and have initial impressions
I read reviews elseware that suggested they just take some time to get accustomed with their small size and gate function. I still use them for racking, but I think most climbers would be better served by the extra 7 gram full size helium 2s or photons for the rope end.