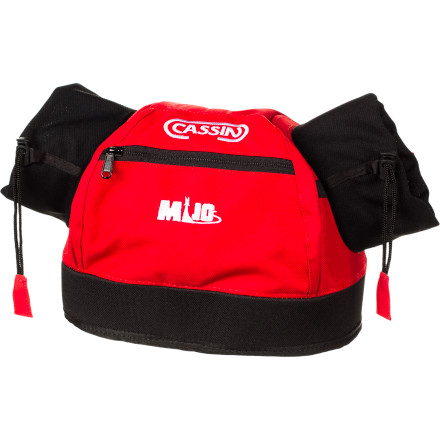 The innovative CAMP USA Mijo Chalk Pot features separate holes for each hand as opposed to the single wide-mouth opening found on traditional chalk pots. The separate holes allow you to get great coverage before pulling onto your project, reduce chalk spills when the bag is knocked over, and allow the bag to act as a hand warmer when the temps drop and the conditions become prime for success. The bag is filled through a leak-proof zipper on the bottom of the bag while a zippered pocket and a couple of brush holders stow all your essentials for a good day at the boulders.
Separate holes for each hand reduce spilled chalk, provide full chalk coverage, and act as hand warmers on crisp days at the blocs.
Stable, flat bottom allows this chalk bag to stand upright to prevent spills
Leak-proof zipper on the bottom provides access to fill the bag with chalk
Zipper pouch can hold nail clippers, tape, skin file, and other bouldering essentials
Two brush holders keep your favorite brushes close at hand
What do you think about this product?
Have questions about this product?
Bouldering deep in Germany's forests has led to frozen fingers frequently which made my discovery of this pot very exciting. I love having both hands comfortably inside the bag and begin able to comfortably apply chaulk to both hands. I kind of feel like a quarter back when getting ready to jump on a problem. The hole to fill the chalk on the bottom is a little small, and there is a thin mesh bag inside which might reduce spillage but makes it a bit harder to get good coverage on your hands. I cut the mesh bag out of mine.