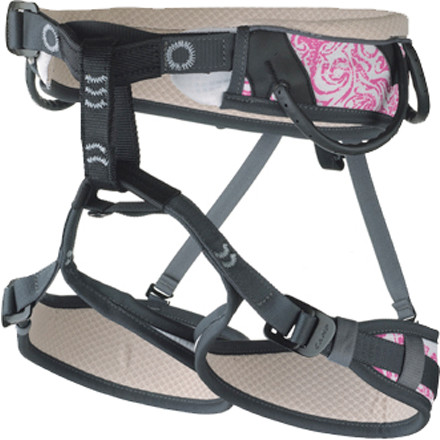 CAMP USA designed the Women's Jade CR Climbing Harness to address all the little discomforts rock goddesses face with typical performance harnesses. Because chafing, webbing cutting into your skin, and twisting straps = no fun. You'll be so comfortable several pitches off the ground, your boyfriend may ask to borrow it next time.
Sliding Waist Belt System lets you adjust and center the waist belt padding to accommodate your exact size
Fold-Over Construction wraps the waist padding over the belt's top for extra on-skin comfort
Edge-Load design distributes force across the entire surface of the leg loops to eliminate pressure points
No-Twist belay loop and Flat-Link rear elastic stay smoothly in place
What do you think about this product?
Have questions about this product?
Really liked this harness for the fit and features, but I didn't really like the rear drop seat hooks (the ones that are there so you can drop your trousers when you need to pee) They were really small and just looked difficult to use. I ended up going with Black Diamond's harness with its nice parachute clip buckles which are easy to use. Other than that small nuisance, the harness is a beauty, really comfortable and I like the pattern around the waistband.
Has a truck load of features the quick adjust buckle style no "back weaving!" Two slots for the "hub" racking system same thing as a BD ice clipper, bring on the ice screws. The sliding waist belt makes it fit just right no matter how you adjust it which is a ton and a half times better than your waist belt being off center like the Mammut Vision. The no twist belay slot keeps your belay biner from flopping or twisting around not crucial but handy. Full strength Haul loop is handy also. This thing fits really well and was more comfortable than the BD primrose Mammut Vision and the Petzl Luna. She's a size 8 normally and not very hippy the small was perfect with the medium really couldn't get the waist to snug down enough and not raise to much when sitting in it. Uber padded as you can tell I am pretty jealous
Great harness, super comfortable, even when taking a whipper. The only downside is it gets a little warm climbing in the heat, since it's so well padded it doesn't breathe very well, but given the choice of comfort or breathability I'd take comfort any day.