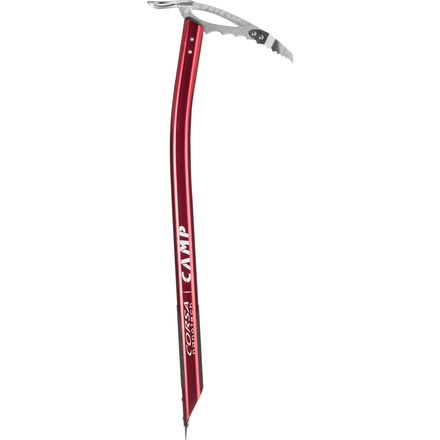 Colors

Detail Images

Community Images
Description
An ultralight ice axe for spring mountaineering and technical ski tours.
Sometimes an all-aluminum axe just isn't burly enough to get the job done. Camp USA's Corsa Nanotech Ice Axe combines the ultra-low weight of an aluminum ice axe with the excellent hard-ice penetration of a steel axe. The 8.8-ounce Corsa Nanotech uses aluminum construction in the shaft and head but includes a light, strong Nanoflex steel pick and spike for better hard snow and ice penetration.
Nanoflex steel tip to add performance to the aluminum pick
Ultralight construction makes this axe ideal for ski mountaineering
Upper shaft curve adds clearance for climbing steep snow and mellow ice
Textured lower shaft for better grip
Good Bye Raven
Gender:

Male

Familiarity:

I've put it through the wringer
Same idea as their Nano Tech crampons, beef them up at the wear points but, dont make it heavier. They used their special steel right where I would want it, at the bottom of the shaft and at the tip of the pick.<br ></article><br />The slight curved shaft makes climbing steeper terrain feel more secure. Also its a little easier to hook rocks and tree branches should your adventures take you to them. The minimal grip at the bottom beats the ski strap I have been using for years on my Raven.<br /><br />Between this and the Nanotech crampons Ive dropped a total of 1.5 lbs from my ski mountaineering set up. Not a huge deal on a 1-3 hour tour but, over the course of 8-12 hours it makes a difference. A huge difference if you are at altitude!
Go Light Go Fast
Familiarity:

I've put it through the wringer
The good folks from CAMP USA put on the CAMP USA Adventure Week for a few the Expert Gearheads here at Backcountry and holy heck was it one jam packed week of nothing but testing gear.

One of the main pieces I tried and loved is the CAMP USA Corsa Nanotech ice axe. I was blown away by the performance of this axe in terms of the features but also the weight.
The weight reduction largely comes from the head not being a full steel head. Instead the critical points are made of "Sandvik Steel."

Here is what CAMP USA has to say about the Sandvik Steel:
"Sandvik Nanoflex is an innovative patented steel alloy that is 60% stronger than normal steel which allows for a significant reduction in the amount of metal used, thereby decreasing weight while maintaining strength."

Axe Head:
The head on the Corsa Nanotech is a unique one. Most other axe heads are either steel (heavier but more durable) or aluminum (lighter but wear faster and not suited for ice or steel terrain). This head is an aluminum one with a pick that is made of Sandvik steel.

Sandvik Pick:
I'm a huge fan of how CAMP USA integrated this feature. To have a durable pick on a lightweight head is downright impressive. Plus it is nice knowing that it'll hold up to abuse. The attention to how the pick was attached to the head is incredible.

Shaft:
The shaft is all aluminum which helps keep the weight down but has a slight curve to it. I preferred this for the steeper terrain we found ourselves on rather than having a true straight shaft.

Grip:
There are two grip patches down where your bottom hand goes. I'm not a fan over the over-molded rubber grips you'd find on the BD Venom or other various axes. But the two grip patches are a nice subtle feature that doesn't create any problem when plunging the axe into the snow on steep terrain.

Shaft Plug:
About 2cm's in on the bottom of the shaft there is a plug that makes it so the ice or snow cannot get logged into the shaft and adding weight.

Sandvik Spike:
Most other axes have an aluminum shaft and either the bottom of the axe is cut at an angle but then if you actually hit ice or rock the shaft bends. Or some of the axes have a steel pick at the bottom. The Corsa Nanotech has a pick at the bottom made of the Sandvik steel which is pretty durable and great for keeping the axe in place during uphill travel.

Length:
These come in 50, 60 and 70 cm options. For me I opted to go with the 50cm length axe. I wish there was a 55cm option. The 60cm seemed too long but the 50cm was a tad short. I have longer arms and I figured for steeper terrain the 50cm would work nicely.

If you have any questions at all, let me know and I'm more than happy to answer any questions you might have!

Jared D.
Expert Gearhead
801.736.4336
jdowns@backcountry.com

So for a versatile size, measure the distance between the tip of your middle finger while at your side and the malleolus of your ankle. This will provide the most versatile size for you.



If you intend to be on steeper terrain mostly, then you can use a shorter axe, if you are going to be on more moderate flatter terrain then a longer axe will suit you better.



You can call or email me directly. 801-736-6398, or bporreca@backcountry.com
Learn why the Corsa Nanotech won an American Alpine Institute Guides Choice Award.
Honey is my ice axe on my pack?
Familiarity:

I've put it through the wringer
Exxxactly. Can't tell. It is so light you hardly know its there. I've used this trophy tool in the Cascades, Adirondacks, and in Antarctica and I love it. Its strong (even in the ultra cold when aluminum can be brittle), super light and it looks pretty awesome too.
Got this for my mom as she is doing some high alpine camping with the family, she loves how light it is, "it's like there is nothing there".
Nanotech Axe
Gender:

Male

Familiarity:

I've put it through the wringer
I traded my BD Venom and BD Raven pro for the CAMP Corsa Nanotech for glacier slogs and ski mountaineering missions. This thing is sweet - almost as light as it gets. The shortest option is definitely the way to go. Excellent tool paired with a whippet for booting steep couloirs. Careful not to bash it too hard against rocks as the tip is a little on the soft side. Not designed for swinging on steep ice or ideal for pounding pickets but for just in case situations it is perfect!
If its light, you'll bring it.
Gender:

Male

Familiarity:

I've put it through the wringer
I've owned a regular Corsa aluminum axe for several years and have used it as a just-in-case item while ski touring. This one bites much better and is still feather-light. I nervously chose the 50cm shortest length. So far I don't regret the short length at all since it lives on my pack more often than in my hand (I have whippets for everything but the occassional shrund or longish patch of really hard rime). Thumbs-up.



Update July 2013: I now own two of these and love them both. I don't expect ice tool performance out of them, but they inspire MUCH more confidence in hard snow and rime than my aluminum Corsa axe with very little weight penalty. Very highly recommended!
Superior Spike Than the Competition
Obviously any superlight has some drawbacks in any highly technical climbing situations. But among the ultralightweight competition, the steel insert on the spike makes a noticeable difference in many climbing conditions. Probably ditto for the steel insert on the pick too, but harder to test that (outside of controlled experiments with self-arrest practice). I'm somewhat dubious on the shaft curve's advantages (since this isn't intended to be a technical ice tool of course), but doesn't seem to be a drawback either. I removed (quite easily too) the grippy sandpaper-like material at the base of the shaft, since it was rubbing up against some of my packs, and since it could interfere with using the shaft to "pad" the lip of a crevasse (i.e., to prevent the rescue rope from digging in).
Super light and more durable then I dared to wish for. You hardly notice it on your pack, so it's great when weight really matters and as a just-in-case ice axe for self arrest situations and extra support. The steel pick is a great idea if you have to cut some ice.
I am looking for a ski-touring ax... I...
I am looking for a ski-touring ax... I want a bent shaft so my options are the BD venom, the corsa nano, Or a petzl sum'tec. What will preform best in the semi-technical wasatch backcountry?
These are all very aggressive tools for ski touring...But, I like the BD and Petzl because they have replaceable picks. The petzl has a cool little sliding rest that you can move on the shaft to use it on technical terrain easier, and a slightly less aggressive pick than the BD, that would be my choice.
Very durable over three years of heavy use in Alaska. Light and utilitarian, it has never given me a worry. Shaft won't bend with t-trenches or crevasse haul, and ferrule penetrates well for boot/axe. No trouble with rivets that join the steel to alloy. Only fair at AI3 or above, but you'd be using paired tools in that setting anyway. Recommend this axe, it is light light light.
For what it is it is brilliant. However, super light axes have their limit. If you really need to swing this tool in to get some climbing done, it is just too light weight to make steeper climbing efficient and safe. For snowy ski mountaineering and alpine rock emergencies this is my go to tool. The spike at the bottom tends to plug and ball up with snow. Otherwise awesome tool.
hi I am curious about this product cause...
hi I am curious about this product cause I see that it has a 5 star rating but I was wondering if it would be my best bet or if their is something else out their that is more efficient to use for my snowboarding next year and that is running a decent price range
The only other thing comparable in terms of weight and functionality is the black diamond raven ultra (which is a couple ounces heavier). This on is certainly more expensive, but you get what you pay for - and in this case, its the steel pick and tip and the light weight.
Any axe will do; you're really only spending the extra money on this for the weight savings. Any of the BD Ravens, Grivels, or other CAMP axes will all function basically identically. People just really like this axe since it's so light, but you can get away with paying a lot less for basically the same performance in a slightly heavier package.
Great idea for a lightweight axe. A full aluminum head construction of the Corsa make me a little wary about it's performance and durability, but the added steel pick and spike on the nanotech put my fears of this lightweight axe to rest. It's been very durable and the pick and spike have penetrated ice very well and without hesitation. Most people won't believe how light this guy is until they hold it. Well worth the extra money.
For sizing, I'm 5'8" and use a 50cm (I like my axes a little shorter). A 60cm would also work for my stature if you're looking for more of a glacier travel style axe.
Ming Poon uses the Corsa Nanotech dropping into Powerhouse Couloir- Tioga Pass