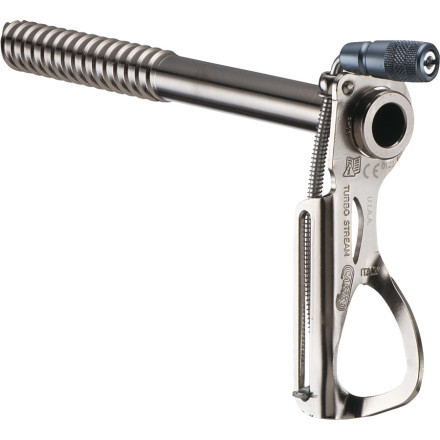 The Cassin Turbo Stream Ice Screw uses all-aluminum construction to reduce weight and a stainless steel tip for razor sharp penetration and durability. Not only will your rack of screws weigh less, each one also places faster thanks to a fold-out knob.
Good overall design with one big problem
Familiarity:

I've put it through the wringer
I bought these screws directly from CAMP a while back and have a few observations to share.

These were the first screws I ever bought that had a "coffee grinder" style handle. To be honest, I was expecting great things from these having only used the "old "style before.

So here are my impressions:



1. The spring loaded pull out screw nob is great because it saves some space, but it also doesn't remain as rigid during use as I had hoped. In fact, it turns downward and actually causes your hand to be right up against the ice thereby making it harder than it should be to place the screw. (Just fyi, taking the screw out does not have the same effect)



2. Using these screws along with older Chouinards and BD express screws is difficult as they do not rack well together.



3. I wasn't too worried about weight, but these are slightly heavier than they could be.



4. These are very sharp though. If they could fix the handle so that it didn't bend downward, these screws would be great!



All in all these screws do what they are intended to do, even though they are a bit hard to use.



If I was set on buying a screw from camp, I would honestly buy the Radion screw as it has a more rigid turning handle, and already has a draw on the screw.
Consider Black Diamond over this one
Gender:

Male

Familiarity:

I returned this product before using it
Upon opening the package, I was surprised to see a spring loaded knob. It was an impulse purchase on Steep and Cheap. After a couple days of considering the possible problems with this exposed spring, I returned it. For the same price, you can get a far more superior product from Black Diamond.
Where's the benefit and advantage to justify the cost????
I had a chance to use these on a climb with my buddy as we needed a few more stubbies than my rack had.

Based on the price and weight alone of these I couldn't recommend them as a good buy. There's nothing that sets these screws above BD Express or Petzl Laser Sonic screws.

The pull out knob can also ice up on multipitches if the waterfall has a little bit of a run on or around the screws.

Definitely not worth the cost.
What to Take Ice Climbing Video
www.stephenkoch.com
How To Place an Ice Screw Video by Stephen Koch
Backcountry.com athlete Stephen Koch demonstrates how to place an ice screw while ice climbing.

www.stephenkoch.com
Unanswered Question
"all-aluminum construction to reduce weight...
"all-aluminum construction to reduce weight and a stainless steel tip for razor sharp penetration and durability"

Pretty sure these are not aluminum. They also are not "seriously light."
Unanswered Question
These are considerably heavier than BD...
These are considerably heavier than BD Express screws and almost 2x the price. WTF?