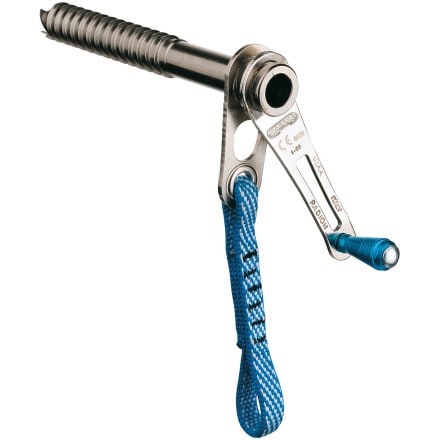 The revolutionary, research-driven details of the Cassin Radion Ice Screw make it an incredibly fast, reliable, and fail-safe screw to add to your ice or alpine rack. The 0.03mm-thick chromoly steel shaft features a nickel-plated finish to prevent rust, while the triple-angle front teeth ensure the quickest penetration.
With a carabiner (sold separately) attached to the extra clipping point, you can keep the screw roped while attaching or removing it, preventing costly drops
The stiff, angled lever arm and rotating nob lets you screw efficiently
With the threads' flat side built towards the ice, you can be sure of better pressure distribution
Includes an attached 12mm Dyneema sling and two clipping points for easy racking and to cut down on total rack weight
Independently rotating hanger makes sure the force of a fall pulls from the safest angle, while its bright color reduces heat and melt out in sunny conditions
Includes a tip protector and thread guard for safe packing and preservation when heading out on an expedition
Share your thoughts
What do you think of the
CAMP USA - Cassin
Radion Ice Screw
? Share a...
Posted on
Fast, easy, and light
Familiarity:

I've used it several times
The first impression I had when I racked theses screws up to my harness was, "wow, I don't need to have these AND a quickdraw..." These cut down on weight very quickly due to that. Plus the can clip directly to your gear loop saving you (in my opinion) the awkwardness of the plastic racking biner. I can easily line these up in order of length on my gear loops and not have to fumble through the screws on the plastic biner.

Another great thing about these is how fast they go in. When following my friend, who has BD turbo express screws, I often forget to give him all of them back when switching leads. So occasionally I use the BD turbo express screws. Before I got the Radion screws I thought the BDs were fast. The Radion is easily way faster. Plus you have the added benefit of being able to clip your rope before getting the screw all the way in (probably only beneficial psychologically, but I'll keep doing it anyways!).

Now the minuses...and yes there are a couple.
-There is only one option for draw length on these screws, however, another review mentioned that you would have to clip a quickdraw directly to the carabiner to lengthen the draw...there is plenty of space within the draw attachment point to accomidate another biner (for a quickdraw), so this is not THAT big of a deal.
- The turn handle does not fold down. This can occasionally allow the rope that you are pulling up behind you to unscrew the screw a little bit. Again, nothing too major, but it is something.

Ok, so I've used lots of different screws: Older Chouinards, Nasty old Soviet things, Smileys, BD turbos, BD turbo express, and now these. I can easily and honestly say that there is no such thing as a perfect ice screw, but these come as close to perfect as any I have used.
If you're doing long straight pitches of pure water ice, these are the way to go. Long ice pitches require speed and efficiency. These save the time to clip a quickdraw, as well as the extra fiddling and the extra weight of carrying an extra draw. If you want, you can clip the rope before you start the screw to prevent dropping and losing it, though it makes starting it harder. The extra security while the screw is going in is pretty nice as well. I like the way they rack, just hanging down off a gear loop like a cam would rack. Its easier to get off my harness like this than it is to get a screw off a caritool/ice clipper. It also frees up space on the clippers for other screws that I would use with an alpine draw or build an anchor with. They are kind of jangly and snaggy hanging like that, but its still better than any other method.

Basically for me, these are perfect for protection on long straight ice pitches. They aren't ideal for anchors, wandery alpine pitches, or anything you're going to want a longer draw on (though they will work just fine). In that case, use Grivel Helix or 360s.
Posted on
The sharpest I've seen
These screws are rock solid. They are incredibly fast to place. They are super easy to "start" and then they sink into the ice like a drill. In my experience they are easier to place then BD turbo express. Now, the sling: Ok it's great in a way, and also quite limiting in a way. It's nice (at least psychologically) to be able to clip in after just two rounds of turning and it's nice to save a carabiner. On the other hand if you want to use a long sling you either have to clip a carabiner to a carabiner (!) or plan it in advance and rack it with the long sling attached two one of the two clipping points. They are quite tricky to rack as well.
So, these screws are great, especially in combination with others, but I would not recommend a rack consisting of only these.