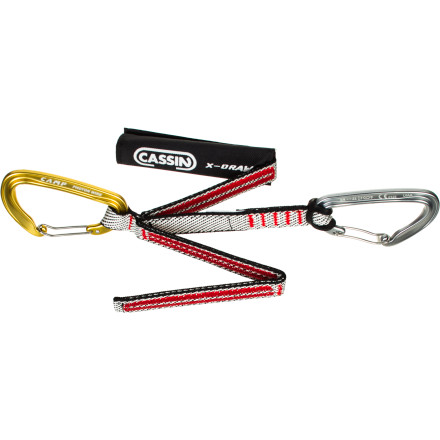 Whipping on an ice screw can be simply terrifying. Help reduce the force of a fall by racking up with the Cassin Photon X-Draw. The shock-absorbing X-Draw utilizes a large Dyneema sling that has been folded up and lightly stitched. A fall force of 2.5kN will cause the stitching to tear, reducing the force of a factor-one fall by up to 50%. Plus, the draw is paired with ultralight Photon carabiners that provide easy clipping even while you're wearing gloves.
A fall force of 2.5kN will engage the Photon X-Draw, tear the stitching out, and reduce a factor-one fall by up to 50%
Dyneema sling maintains its strength in wet or frozen conditions thanks to hydrophobic properties
Nylon shell keeps the stitching protected from the elements
Photon Wire Gate carabiners are lightweight and have an extra-large gate opening that makes them easy to clip
Rubber keepers prevent the biners from shifting on the sling
Share your thoughts
What do you think of the
CAMP USA - Cassin
Photon X-Draw
? Share a...