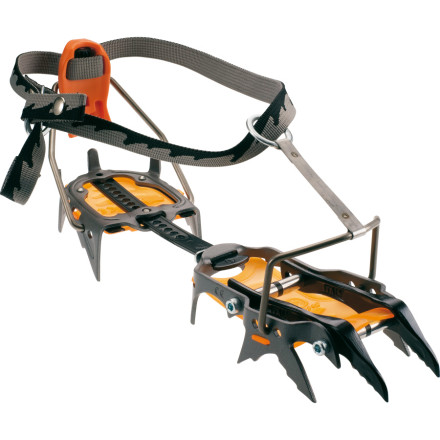 Description
Ready for anything.
The CAMP USA C14 crampon comes with aggressive front points that you can set up in a mono- or dual-point configuration to handle any type of route you want. The mono takes care of steep mixed lines, while the hooded front points in dual mode handle steep neve snow. The CAMP crampons handle the entire range. For the alpine side of things, CAMP added anti-balling plates to keep you from losing traction at the worst possible moment.
Anti-balling plates included
Can be set up in mono- or dual-point configuration
Step-in design for total security on the steep stuff
I need replacement front points for my C14...
I need replacement front points for my C14 Cassin. Do you have them? Happy new year.

Pierre
Pierre,

I am sorry to say we do not currently carry the replacement front points for the CAMP USA - Cassin C14 Crampon.
Just fine fer a horse-tooth
I like these crampons. Got a great deal on em and I am pleased. Link up real nice to LS nepal evo, then again any crampon will sit tight on the nepal evos it seems. Haven't yet used them with other boots, but there are multiple adjustment points and will fit a large range of sizes. The ABS plates are a little chincy plastic and the rear must be removed to adjust the length of the bar but no biggy. These have been good so far. Rigid yet do allow walking, feel very stable. bite well. Comparable to BD cyborg or equivalent grivels imo.
How small a boot will these fit? I wear a...
How small a boot will these fit? I wear a US ladies 7.5 (about a euro 39) and am wondering if these will stay on. Any help appreciated.
Has anyone ever put these on tele boots...
Has anyone ever put these on tele boots for vertical ice climbing?
Best Answer
Well, the short answer is maybe. Regular crampon toe bails (with a few rare exceptions) don't fit over the wide duck bill on the front of telemark boots. Some companies like Petzl make replacement toe bails designed specifically for telemark boots, but I can't find any indication that Cassin makes a similar attachment. However, nearly all toe bails attach the same way, so you may be able to get away with using the Petzl bails on these crampons, but I'm not positive. Anyone? To address the vertical ice part of the questions—You won't get the same performance as you would with actual climbing boots, or even close. Putting crampons on tele boots is generally a ski mountaineering move. The problem is that the duck bill will cover part of the front points and you won't get very good penetration no matter how hard you kick into the ice. You can definitely climb this way, but if you want to get serious about ice climbing, just get some ice climbing boots.