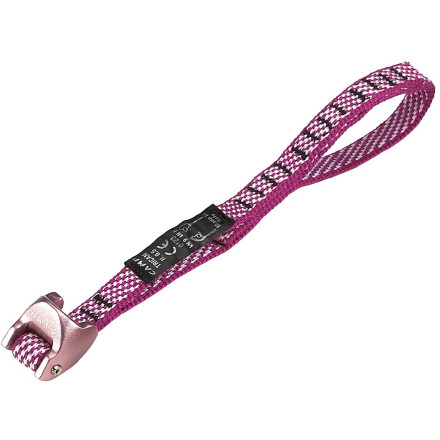 Community Images
When the cracks get funky, CAMP Tri-Cams fit into places that traditional cams and stoppers can't touch thanks to their unique passive-camming design. These passive cams are coated in color to make it easy to select the correct size for the crack in front of you.
Anodized heads for easy identification of sizes
Ultra-strong Dyneema slings also reduce weight
Narrow head fits in places where traditional cams do not work
Ideal for horizontal placements
Unanswered Question
Glad to have comments from folks here on...
Glad to have comments from folks here on the site. We are complete newbies and are basing 100% of our buying decisions on what you guys write. We have no mentor - wish we did - so you guys are it.
Thanks for the time it took you to post these messages!
I got the pink guy recently. I took it out for a few climbs in Joshua tree. Once it's placed properly, it's not going anywhere unless you really want it to. I'm definitely going to get more.
Is it really useful? Ive got full set of...
Is it really useful? Ive got full set of DMM Wallnuts, cams from 0.5 to 3 (some doubled up). Would those Tri Cams would be fine addition if Im used to cams already?
Best Answer
Mike,

These tri cams are completely different from the cams you already own. They ARE useful, especially the smaller sizes, and are worth looking into. Spend a lot of time practicing with them, as they can be difficult to place and you want to KNOW when to use them.

Personally, I wish I had gotten a set of hexes before I invested in any of these guys. They're nifty, but not very versatile.
Although not as useful as an SCLD, Tricams certainly have their place. They are light, strong, cheap and simple, but slow to place and you have to really be careful to get a good placement.

For this reason, I love them for multipitch, because I can use them in the anchor and save a cam for when I'm leading. Unless you have a good stance, however, they don't really pull their weight - I don't think people really use them much above 5.10- or so.

I'd recommend them to add diversity to your rack, as there are plenty of places where you can only get a tricam to fit. People who climb at the gunks love them for this, as the floppy nylon slings do better than cables in horizontal slots.
I like using them in horizontal cracks where weighting a cam would bend over the stem. Also lighter than cams. But yes they take longer to place than a cam. A couple of them are a good versatility addition rather than adding doubled-up cams.
I like Tricams, but not these. The nylon slung versions are better. The sling actually takes up less space. In the pink and red dyneema Tricams, the sling can interfere with the placement.
These things used to sketch me out but once you get used to them there is no replacement. They are a must for horizontal cracks at places like the gunks. As a lot of people have said the pink one is the most useful, I carry 2 of that size. These are light, easy to pick out too.
My girlfriend loves this thing!!
The dyneema, and anodization have a certain cool factor, but its still a pink tricam. You can always use one, and when they are bomber...they are really bomber. I think my girlfriend could climb an entire route and use nothing but these things. Bring a nut tool if you are following though!!
i use at least one on every lead
these are a must have for any rack, the passive option is perfect for some messy cracks and the active cam placement is great for horozontal and vertical placements, not as great in vertical but with a few good tugs and a sling theyre good to go. dont bother carrying the larger sizes. they just are not worth the weight to size ratio especially if you are also carrying cams. just grab the first four and enjoy.!
Great pieces of Pro, as noted below little pinkie is fantastic. Take some time on the ground to learn to place them quickly one handed and you'll greatly expand your pro placement possibilities!
Recently getting into trad leads and I'm lovin the little pink tricam. They're a must on any rack and so far my personal favorite - the small Tricams, .5, 1, and, 1.5, can go many places where nothing else will. Charles "Pinky" Danforth put it best in "Ode to a Pink Tricam" http://www.swarpa.net/~danforth/climb/sinkthepink.html
I love theses tricam the little pink one is amazing it always finds a place on my rack
When I think back to the pink and red tricams, I can start to get choked up. Thank you for all of your support over the years. Watching my back, giving me the confidence to toss for the next hold despite the insane pump. You are like a cheap insurance policy, and have earned a place in my hall of fame.
I'm a big fan if tri-cams. They're simple, always ready to do their job, and can be placed in many different positions and features. They're also basically maintenance free. The downside is you really need to know how to use them and place them properly. You can't just take them up the wall and throw one in a crack like you can a spring loaded cam. I carry the smallest four as part of my basic trad rack (.5 pink, 1, 1.5, 2). Larger than that, buy them and use them if you have specific needs for large cams.
I love passive pro, it is light and works great. Unless I am climbing somewhere that has tons of horizontal cracks I leave these at home. They are rubbish in any other situation. But, in those horizontals there is little or nothing that works better. If you understand that this is a very specialized tool you will be happy.
My rack has previously been limited to stoppers and hex due to money restraints. I bumped into a set of three(1,1.5,and2) for a resonable price, and have fallen in love. They are super light and make for some very confident plaecments. The coolest thing that i found with tri cams is that they can be placed in face pockets, and feel super solid. I still chuckle a little bit each time i place one of these in a pocket...tee hee.
These are perfect for tough placements and amazing for anchors and belay back-ups. If you place them right you will never get one stuck!
If you're climbing at the Gunks or in Georgia, you're gonna want these.

Also good for TR anchors in larger sizes.
do you do a set of these 0.5, 1.0, 1.5,...
do you do a set of these 0.5, 1.0, 1.5, 2.0 on dyneema slings ?, the 0.5 is listed in the specs but not on the order info ?, is there a $ deal for a set of 4 ?
Yep! We've got them right here: http://www.backcountry.com/store/CMP0032/CAMP-USA-Dyneema-Tri-Cam-Set.html
i find the tri-cams extremely useful. from its camming action in horizontal cracks, to being placed as passive pro in those hard to place piton scars, i never head up the wall without them. so, when i dropped one, i had to buy its replacement immediately!
I like how the new anodized heads match the webbing. It makes an indispensable tool easier to find. These don't place as much force on rock when weighted as cams do, causing less of an impact. They can be awkward to place sometimes. I still love them - they are great where cams just don't fit.
As my good friend put it, if you know how to use these things they are worth their weight in gold! They truly are an indestructible piece of protection for alpine or not your average rock climbs. Can put in the oddest places and feel pretty solid. The new ones are much improved, much lighter and the Dynema slings are perfect for them.