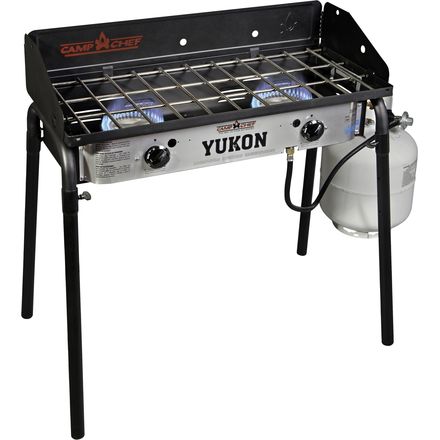 Detail Images
Description
Not just for camping.
If you're playing host to a hungry crowd, grill up a torrential feast with the Camp Chef Yukon 2 Burner Stove. Packing 30,000 BTUs of power in each of its two burners, this burly camp, tailgate, and party stove makes cooking everything gourmet cuisine to good-ol' steak a breeze. Camp Chef also made the Yukon 2 compatible with its modular cook systems so you can make it even more versatile.
Three-sided windscreen helps conserve fuel and reduces cook time
Dual burly cast iron burners stand up to wear and tear
Heavy duty grate can support heavy duty cookwear
Removable and adjustable legs let you set up your kit in a variety of configurations
Easy-turn knobs turn easy ... awesome!
Compatible with Camp Chef modular cook systems such as its Barbecue Grill, Griddle, and Dutch Oven (all sold separately)
Mmm....Meat.
Familiarity:

I've used it several times
I'm super happy with this purchase. I've used it both while camping and have paired it with a Camp Chef grill box for backyard grilling, and it works great. It puts out a lot of even, consistent heat, which makes cooking on it easy.
Good product, well made. puts out a lot of heat. I have expanded my cooking skills with this stove. Never really used a griddle before am now doing quite a bit of teppanyaki style cooking. Have not gotten the grill box yet but am going to pick one up.
Can I see the inside, burners etc
Can I see the inside, burners etc
Yes, the grate is welded on but there is enough space that you can reach in to clean spills or grease, etc. It does not come with ignitors and I use a BBQ lighter to ignite the burners, they are very heavy duty and easy to get to with the ignitor. If you wanted you could add ignitors as an option but I find they don't ever last anyways.
It was such a treat to have even heat and make more than two pancakes at a time! We really enjoyed using our new stove. It was simple to set up and use. We also purchased the grill box and cast iron skillet along with the stove. We thoroughly enjoyed this grill and look forward to our next adventure.
Yukon 2 Burner & Propane Information
You will find a good amount of technical information regarding the specific propane requirements on the page listed below. Downloads > PDF

http://www.campchef.com/yukon-2-burner-stove.html