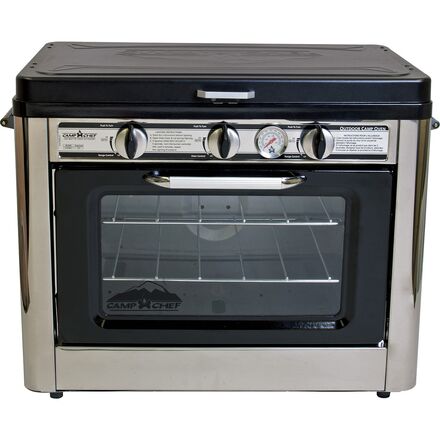 Detail Images
Description
No more squished cookies brought from home.
Chocolate chip cookies fresh out of the oven on a camping trip? Yes, you can! The Camp Chef Outdoor Camp Oven is a fully portable oven and range combo you can take to the state park, the lake, or anywhere else you set up camp. Two 7,500 BTU propane burners on the rangetop take care of dinner, while the 3,000 BTU/hr oven heats all the way up to 400 degrees to bake casseroles, cookies, muffins, and other delicacies.
Stainless steel construction and nonstick enamel cooking surface make cleanup easy
Matchless ignition keep your tender little digits out of harm's way
Oven includes two racks and thermometer
Powered by disposable one-punt propane can or can be adapted for a bulk tank
Share your thoughts
What do you think of the
Camp Chef
Outdoor Camp Oven
? Share a...