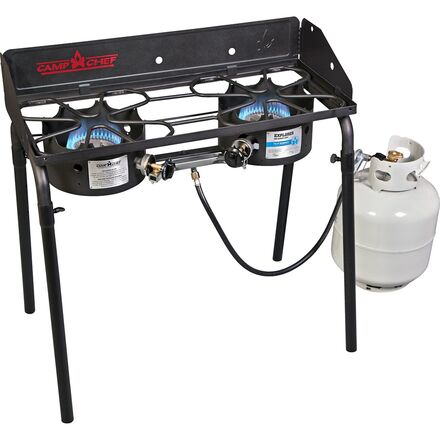 Community Images
Description
A camp stove on steroids.
The Camp Chef Explorer 2 Burner Range is a burly, rugged stove that is great for family camping when you need a lot of cooking power. Heavyweight construction makes this outdoor stove tough enough for everyday use, so feel free to plant it on the patio all summer and cook alfresco, then pack it up (the legs are removable) and haul it to the hills when you are ready for camping.
Two 30,000-BTU burners heat things up fast so you can boil water quickly or get a big dinner going in a jiffy
Micro-adjust valves let you get the perfect temperature; your camp food might even turn out better than your at-home food
The 15 hours of cooking time from one 20-pound tank means you'll be able to churn out gourmet delights all day without needing to refuel (tank not included)
Removable legs gives you setup options
Three-sided windscreen helps conserve fuel
Regulator and three-foot hose included
It's for Everybody
Familiarity:

I've used it several times
I struggled pulling the trigger on this purchase because I always envisioned myself cooking over an open fire, stuck in an old fashioned mind set that ultimately was holding me back--but I finally did it, I made the leap.



Not only does this take car camping to a complete new level--allowing you to show off your superior cooking situation to your camping neighbors who are still struggling to find where they packed their tin foil--this is also a great addition for your patio if you like cooking outside in general.



Have you ever ended your summer with a surplus of vegetables that you just want to can, but you want to be outside? Treat yourself to this.



Maybe you are just someone who gives killer gifts and you yearn to one up everybody in the gift department. Treat your loved ones to this.



Seriously though, I'm sure there is a professional culinary expert cooking via campfire out there somewhere whipping up a mad hobo dinner--but I'd be willing to bet when nobody is watching they secretly camp with this.
Set your flame to HIGH
Familiarity:

I've put it through the wringer
7k worth of calories in one serving is no small task. First and foremost (well outside of American Fast Food), the creation of a food item that actually contains that many calories in and of itself is quite a feat. Typically, such a culinary creation only comes about for special occasions – think thanksgivings & deep fat dry turkeys. In this particular circumstance I – the project director – was saddened by the amount of excess food our expedition had sitting around our cook tent on the last two days of our time in the desert lands of Colorado.



I admit, the excess food was my fault, I was the one who handed the company credit card over to five guys in the parking lot of a Super Wal-Mart in Riffle, Colorado. What else could I expect other than glorious gluttonous excess. 10 days and two dozen extra eggs later, I demanded the we initiation the EAT EVERYTHING IN CAMP (EEC) public policy. Not being afraid to lead from the front, I manned a 16 inch skillet with expert control and precision as eggs, bacon, sausage, left over roast, some veggies, and a few cheerios all sizzled in a stick of butter; the result – a 24 egg omelet tribute to over indulgence.



How was such a king of calories made outside of the diabolical labs of McDonald's? It was only possible because of the Camp Chef Explorer 2 burner. When push came to shove this burner stepped up in a major way.



In all honesty, we did put this stove to the test in a recent archaeological research expedition in western Colorado. Sand and other adverse conditions could not keep this stove down. Three square meals a day for 11 people were cranked out for 7 days on this cooking system and we still had propane to spare. When we finally did give this stove a cleaning at the end of the trip it cleaned up mighty nice, looking just as good as when we first pulled it out of the box.


Love it.
Familiarity:

I've used it several times
Why I waited so long to make this purchase I have no idea? The Camp Chef Explorer 2 is outstanding in every manner. Easy to set up, easy to use and clean up, along with great quality. Windscreen is a huge plus. This made camp cooking so much easier. I recommend purchasing the professional griddle as a companion piece. I even used it when we had a blackout and have plans to use for canning.
Beast Cooker!
Familiarity:

I've used it once or twice and have initial impressions
Took this thing out on a 3 day camping trip down in Moab. We had 15-20 people on the trip and this performed like a rock star! Plenty of power for cooking anything you can imagine and the fact that it stands upright on its own makes it super convenient.

Only thing I didn't like was cleaning it afterwards. Some of the pieces should've been made removable for easier access, but hey, it's a camping stove.
The camp chef is perfect for tailgating, camping, or any outdoor cooking you can think of. Cooks exceptionally well and will blow you away with the quality. I love it its east to transport, the legs pop on and off within minutes and the gas is very easy to hook up to any propane tank.
I love bacon! Who doesn't like bacon. The Camp Chef portable 2 burner system works really well. It does have a little bit of weight to it but is totally worth every lb. The stand is really sturdy and assembles in 2 minutes. Attach your propane tank on there and you're cooking. Windscreen works well and the bags makes for easy portability for sure.
Pretty stoked I ordered this stove. Its been great. Here is a pic with the griddle getting setup for its first time. No issues this think is stable and cooks great. Def recommend getting it.
Unanswered Question
Camp Chef's Explorer Stove has a flaw which...
Camp Chef's Explorer Stove has a flaw which involves the height of the legs and the angle of the gas line connection. Formerly, the gas connection was available at a 45 degree angle to the floor or table or ground as it were, but it seems that now the connection is directly perpendicular which requires the addition of a 90 degree L shaped plumbing or heating fixture in order that a gas line doesn't immediately and badly crimp or damage the line or the stove. When was this modification introduced and how do I buy the superior stoves per part number and how to access their location; on the order of inventory tracking. The new model is not as user friendly as the former.

Again, not a complaint, just an observation. The gas line oughtn't ot be perpendicular to the ground unless the legs are longer to prevent line damage and allow usage of the stove withouot its legs.

George , FOODARTSDESIGN, San Diego

619 523-3805
Will the 2 Burner Camp Chef Stove burn...
Will the 2 Burner Camp Chef Stove burn on Natural Gas. If not is there a conversion kit that is available?
The manufacturer makes a NG conversion kit.



http://www.campchef.com/stoves/add-ons-accessories/natural-gas-connection-kit.html



Depending on your home's gas system, you may need a regulator at the appliance. If you don't already have a gas line run for a grill, you will need to have your system checked to see if it can handle an extra 60K BTU, as well as pull a permit for the new gas line.
Love it
Gender:

Female

Familiarity:

I've put it through the wringer
I use this every camping trip, and I love it! It's so convenient to clean, easy to set up, and works great. No complaints here!
Hi. I am considering this stove. I will...
Hi. I am considering this stove. I will be using standard 20lb Blue Rhino propane cylinders. Will I be able to connect using hoses and fittings that are included with the stove or will I have to buy adapters?
This stove provides the regulator and the hose needed, you ought to be fine.

Hope this was helpful.
I head a scout troop up here in Maine. This stove is easy to put together, cook on, and transport. I will never go back to my old stoves. This product exceeded my expectations. It boils water quickly but has the lower setting to cook pancakes for all of those early mornings up in the mountains.
can u ship to ireland and if yes what will...
can u ship to ireland and if yes what will it cost!
According to backcountry's help section:

"First, add the item or items to your cart. Then proceed to checkout (don't worry—proceeding to checkout doesn't make you obligated to purchase anything). Enter your address in the billing and shipping fields. Once you change the country, the page will show you the shipping charges."