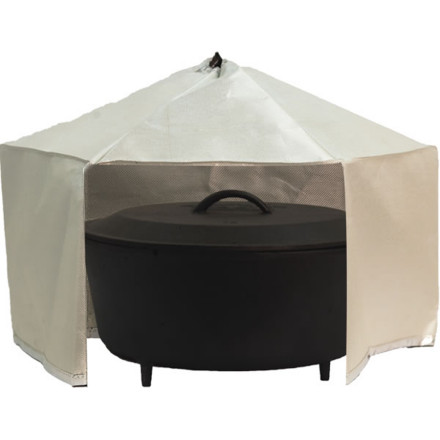 Detail Images
Unfold the Camp Chef Dutch Oven Dome when you roll up to the camp spot and turn your favorite outdoor cooking piece into a true oven. The Dutch Oven Dome gives campground or backyard chefs like you the ability to control the cooking temp by trapping and circulating heat around your dutch oven.
A great description of how the Dutch Oven Dome works and its benefits.
Our Dutch Ovens have a rim around the lids,...
Our Dutch Ovens have a rim around the lids, and we cook with coals on both the bottom (underneath the oven) and on the lid. It looks like this dome is for folks who don't have the coals on the lid option?
even without a rim the coal wont roll off unless you actually push them off.


That is correct. The idea of the dutch oven dome is to circulate the hot air around the dutch oven and drive it down on the top. We designed it for use with propane when charcoal isn't an option or to eliminate the mess that charcoal can create.
So, do I put the dome over the oven on the...
So, do I put the dome over the oven on the coals? Or take the oven *off* the coals and then put the dome over it to keep it warm?

I'm not getting it.
Over the coals or, if you're cooking with gas, over the gas. The dome can take heat. You just don't want to have giant, leaping flames.
you are supposed to put the dome over the dutch oven with the coals on it while its cooking but it will mess with how the food cooks because of how it insulates so its pretty much a waste of money. and as far as using it to keep the dutch oven warm afterwards, cast iron hold heat extremely well and even without this dome it will stay hot for a very long time.
It's flame resistant. Technically speaking, that means that if you do light it on fire, the flame won't continue to burn.
It says its flame resistant but i wouldn't trust it.