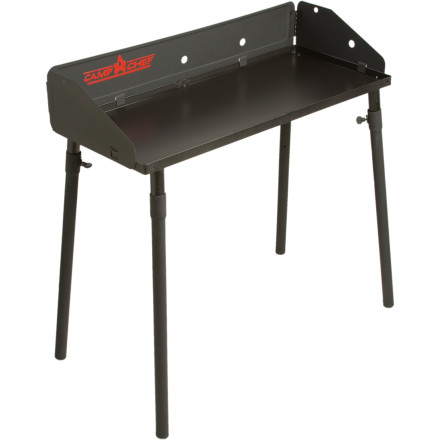 Colors
Description
There's always room for one more cook in the kitchen.
Compact, portable, and easy to store, the Camp Chef Camp Table is the missing link that you need to tie together your home-away-from-home kitchen. Whether you use it as a food-prep station, a platform and windscreen for your grill, or as a stand for two 14-inch-diameter dutch ovens, this handy-dandy table keeps your tasty morsels off that grimy campground picnic table that hasn't been cleaned since 1987.
Unanswered Question
How much weight does this table hold?

In a few weeks, I will be using multiple dutch ovens to cook for a large group and may end up having to stack ovens to get everything coked.
Is there anywhere that we can buy the legs to this table? My mother-in-law gave us table but not the 4 legs. Would greatly appreciate anyones help.

Hey Teresa!



Your best bet would be to contact the manufacturer and see if there is anything that can be done to get some legs for the table top!



Camp Chef Phone Number - 1-800-650-2433
What is the range of adjustable heights...
What is the range of adjustable heights of the table? And when folded down, what are the dimensions? Thanks.
Best Answer
This particular table doesn't have an adjustable height. The legs are a single length, so it's either at waist level (with the legs) or sitting on the ground without the legs (which could also work in some situations). Surface area is 32x14. Height without the legs is around 4 inches.
Dutch Oven Perfection
Gender:

Male

Familiarity:

I've put it through the wringer
I own several dutch ovens and use them regularly at home when we don't want to cook inside or when we want the unique properties of the dutch oven.



This table provides a solid, fireproof platform for two full-size dutch ovens. It's the perfect height to get them off the ground and easy to work with but not so high that things have to be lifted too high. I've used it many times and it's still in good shape.



One important recommendation - store it out of the rain or purchase a cover for it. This will rust over time if left permanently out in the elements.