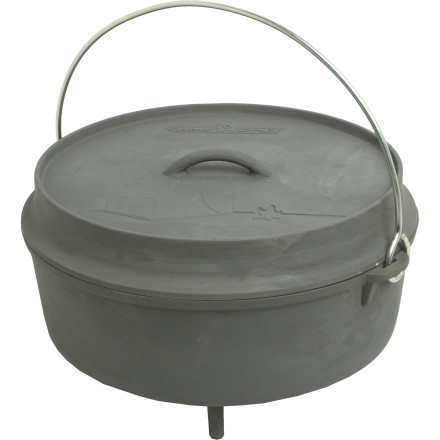 Detail Images
You are famous for your Dutch oven cooking (according to you, anyway), and all of those delectable delicacies are easier to make with the Camp Chef 12in Aluminum Dutch Oven. Hard anodized aluminum heats up quickly and evenly, and it weighs only about 25% as much as traditional cast iron. Season it like you would a cast iron oven, or (since it's rustproof) wash it like you would any aluminum cookware.
Camp Chef Aluminum Dutch Oven
Guy Perkins showing the benefits of the Camp Chef Aluminum Dutch Ovens.
Anyone know any difference between this...
Anyone know any difference between this dutch oven and the GSI dutch oven? I thought I read somewhere this one you can use the lid as a frypan but the GSI one you can't.
Best Answer
you should be able to use both lids as frypans. From everything I've heard, the two are pretty comparable
. If you're looking to buy a dutch oven, there are a lot of pros and cons to consider before deciding on an aluminum one. Aluminum dutch ovens are lighter and cheaper than cast iron. However, there are several downsides. While nothing will stick to a well-seasoned cast iron dutch oven, making clean up super easy, everything sticks to an aluminum dutch oven, even if it claims to be non-stick. Aluminum is also a lot more reactive that cast iron, meaning that it will react with some foods, and can scratch and peel. Cast iron holds up a lot better in the long run, a well taken care of cast iron dutch oven can last forever, whereas I've seen many aluminum dutch ovens wear out in a few years. A cast iron dutch oven will also cook your food much more evenly, aluminum dutch ovens are prone to hot patches. Aluminum dutch ovens can actually melt and warp in a hot enough fire. In my opinion, the only real advantages of an aluminum dutch oven are weight and price. Most people don't backpack long distances with dutch ovens, so there's weight, and in the long run a good quality cast iron dutch oven will last you a lot longer, despite being more expensive initially. Basically, I wouldn't really recommend either of these dutch ovens, I'd go for a cast iron one