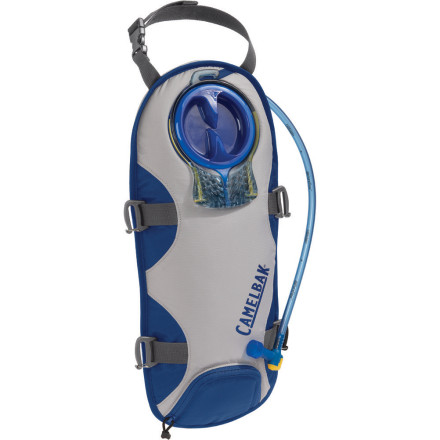 Colors
Description
Water is the essence of life.
Upgrade your favorite backpack by attaching Camelbak Unbottle Hydration Pack on the inside or outside of the main compartment and always have some agua on hand. A newly upgraded Quick-snap cap opens and seals with just a quarter of a turn. Despite its large volume and multiple attachment points, the Unbottle has a low-profile design that won't suddenly make your bag feel unwieldy. Camelbak solved the potentially messy matter of filling the bladder by using an Air-Light fillport.
What would be the benefit of buying this versus a regular hydration pack?
Hey Christina. Thanks for your question.



I bought the Unbottle Hydration Pack because I wanted a good bladder that I knew I would be transferring from pack to pack. I was worried that transferring a normal bladder without the protective layer would eventually wear it down.



I've been really happy with it and it has worked with every pack I have wanted to use it with, from day-hikes to backpacking packs to bike packs.



I hope this is helpful and feel free to call or chat in with any other questions!
Portable water
Familiarity:

I've used it once or twice and have initial impressions
This is my first CamelBak item. The quality of the materials seems pretty high. The valve, hose connector, and lid all seem tight and stable. The insulating sleeve keeps water pretty cool.

It's rather difficult to remove the reservoir from the insulating sleeve, though practice helps a little. This thing also takes a long time to dry, especially the hose. There are a couple plastic armatures that are supposed to hold the bag open for drying, but they seem useless and there are no instructions included (haven't checked online).

Overall, seems like a useful, durable product. I wouldn't mind some minimal shoulder straps to hang it off my back without an additional pack.
almost there
Familiarity:

I've used it several times
you can't argue with the price, and the versatility, but the hose was just a little too short to fit in my hydration compatible pack. the extra 2 degrees beyond 45 was a little too much for my neck to handle.
Does good for what it is.
Familiarity:

I've put it through the wringer
I will start off by saying that I don't like hydration bladders... any of them. But I owned this before I knew the significance of a Nalgene.



But anyways... this worked for me for years! It needs routine cleaning & drying out like any bladder & it will last as long as you want it to.
How much water does the 70 oz versus 100...
How much water does the 70 oz versus 100 oz actually hold? Someone posted one only held 1.6 liter of water. I need 2 liter of water. Thank you.
100 oz would normally translate to 3 L but the extra squeeze from that insulated bag takes it down to about 2.5 L. I would go with 100 oz or with a 70 oz bladder that doesn't have insulation.
I know people have said the 100 oz only holds about 2.5L but when I have measured I have gotten closer to 3L rather than 2.5. The bag will prevent it from reaching full volume but in reality it is not that bad.


Cool water
Familiarity:

I've put it through the wringer
I use this on some treks depending on what pack I am using and such. What I did find this useful was working at summer clinics this summer. I would fill it with ice and water in the morning and by the afternoon I still have nice cool water. I replaced the hose it came with with the insulated one which helps as long as you don't leave it in direct sunlight. the loop at the top is great for hanging it in a tree or fence while you are out doing things then you can come back and take a sip with out having to pick it up or get it dirty.
I picked up the Unbottle on sale and have used it several times. It is fairly versatile, yet for its benefits I still find myself going to other hydration options, and I love Camelbak.


The bladder holds only 1.6 to 1.7 liter of water when inside the insulated bag.
As with any Camelbak product the design is great. Top notch materials. Easy to remove and install the water bladder. Thanks again Camelbak.
Ive had mine 4 years now never had a leak in the body, just the occasional mouth piece leak, it has served me very well, just one complaint I'd like more choices of attachment or a better way to do so because I have to get creative when putting this on my pack I never put em inside the pack cause I don't like unloading 60 pounds of gear to fill it up so if they work on that I'd be very happy.
I have had this for about 4 years. Heavily used for the past 3, and I've never cleaned it, so it is starting to get a little moldy (what doesn't kill you...) It is perfect for rock-climbing, backpacking, and just about any other outdoor activity. I also really like it for a base-camp like setting. Hang it up in the tent and have 100 oz of fresh, cold (if you clean it)h20 right at the sleeping bag.

Seems like an odd concept to offer a camelback without straps, but it is a really awesome item, and an essential piece of my backpacking repertoire
Took a bit to mount it to my backpack but is nice I drink too much water and find that the size could be bigger. I drink it in a few mile hike.