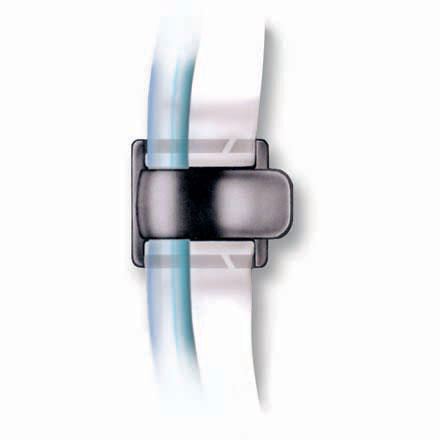 The CamelBak TubeTrap secures drinking tube to 3/4-inch shoulder straps to keep it within close proximity. The new, larger design fits both insulated and regular delivery tubes
Something so simple
Familiarity:

I've put it through the wringer
It is funny how something so simple can make such a difference. This clip is perfect for keeping your drink tube out of the way on your hike, but still easy to get out when you need a drink.
Does what it is supposed to do, keep my tube from flopping around everywhere, and it does it well.
I use this thing on my REI Flash pack 18 and it works like a charm.
So far it's the best solution.
I have tried lots of different options from little spring alligator clips, to fancy plastic clips, to magnets. So far this one is the simplest solution and it works the best. It fits the 3/4 inch straps found on the shoulder and sternum straps of just about every brand of modern backpack available, it's cheap, solid, and it is very easy to unclip and reclip the tube. Nothing bad to say. Sometimes the simplest devices are the best.
does not fit on older camelbak pack
The webing on the older summer packs were too wide for this tube trap.
The tube trap is really nice because it keeps the tube easily accessible and available. I highly recommend this for anyone using a reservoir!
this clip is hand to have but you can use many other things to serve the same purpose of holding the hose. its a good idea and works well but its not really needed
Great clip works every time!

Pros: Durable

Cons: NONE
This is cheap way to keep your water hose where you want it. Another option is the clip that you can buy just about anywhere.
The CamelBak Tube Trap fit well on my Daystar (with 1/2" webbing) and successfully keeps the end near my mouth and away from my knees when riding. Glad I bought it!
I attached the tube trap on a standard 3/4 inch horizontal webbing strap on my shoulder. Using in conjunction with an ergo angle, it allows hands free operation. I set it up so it's sitting just below my chin so when i need a drink and my hands are busy, I just tilt my head down slightly, bite on the big bite valve and my thirst is quenched.
it work like it said it would. Nice and tight.
works great with my dakine pack
cheap reliable
Bought this for my 1.27liter pack and it works just fine, nice and tight and closer to my watering hole.
, ☃bcs_badge_alumni_label☃
No more leaks from bouncing
Dealt w/ my tube leaking from bouncing around for over a year - this did the trick. Wish I had bought it last year.
, ☃bcs_badge_alumni_label☃
Fits on my pack
I have one of these for my Camelbak Magic - works fine, fits great, and stops from the tube falling and bouncing up and down.
Havent found a use for it
With the spring clip and my current pack having an elastic band along the shoulder strap, I decided i had no need for it.
Got to be alittle careful, this doesn't always fit on most packs wide shoulder straps. Probably more designed for day packs and etc. The overnighters have wider straps and the clip doesn't quite make it across the whole way. I didn't have any problems falling off or losing despite the anything but perfect fit. That was a plus.
Over all I would recommend it, definitely helpful. We work outside lifting and hauling. The Camelbak drinking tube kept falling down, very frustrating. The tube trap keeps it securely out of the way. The one issue I have is the tube trap is only ½ inch wide. The shoulder strap is ¾ inch wide. The only place it fits on my Camelbak is on the sternum strap.
At first glance you would not expect this to be such an issue, however I took this with me on a five day expedition throughout the Yucatan Peninsula and it simply rocked! While there does exist other "tube keepers" out there, this one allows for swift "on demand" on or off. It allowed me to quickly secure my tube with one hand while I had to: steer my mountain bike, hold on to my "zip-line" harness or maintain my stance on the face with my other hand. The ability to secure my tube one-handed, with such ease and speed makes this trap worth its weight in gold.
It proved durable while wet, dry and even hot (after being left in direct sunlight on the beach for over 8hrs). If you are running, cycling, kayaking, boarding, sailing or anything that involves movement....for your face's sake buy a trap. Don't do it for me, backcountry or camelbak....do it for your face.
Mine thanks me every time I use it. Great product.