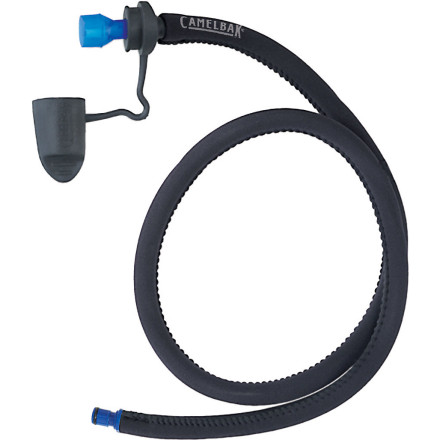 The Camelbak Thermal Control Kit means you no longer have to sip on boiling lava during a summer hike, or chomp on ice during ski season. Includes standard Bite Valve mouthpiece, Bite Valve cover, insulated tube cover and 46-inch delivery tube.
wonderful
Familiarity:

I've put it through the wringer
Outfitted both my wife and my pack with the thermal control sleeve before a trip this summer. It genuinely works, the water in your flow tube will be cooler than the water in the bladder itself. Noted some criticism of the large bite valve cover, if it is an issue for you it can be done away with, and you won't loose too much in the way of performance. Anyone with a military background will tell you that you'll simply get used to it. The kit as a whole works, and that's the bottom line.
Nice hose but cover is very large.
Familiarity:

I've used it several times
Although ive yet to try it with gloves on the bite valve cover on this is huge, way bigger then i thought it would be. With gloves it might help to open but in the summer its almost silly big. So far water stays cooler than before but still gets a little warm, and it looks better in my opinion.
Works with Diligent Management
I only purchased this item for the colder time of the year for ski touring. When the temperature really drops the hose will still freeze up if you are not diligent about blowing water back into the reservoir. If you do though, the hose will be good to go the next time you need to take a drink. CamelBak's are really the easiest way to hydrate on the move, so this is a must have for anyone with an antidote or Stoaway bladder, just remember to manage it properly.
Will this fit a northface pack?
Hi Tom,

It only takes up about 5mm more room than the regular tube.
A must have upgrade for your bladder.
Familiarity:

I've put it through the wringer
I own a few of these hoses for multiple reasons. I can leave the hoses in different backpacks and just move the bladder from pack to pack. I also like it because it helps prevent the water in the hose from heating up or freezing while water is in the hose (I always blow the water back into the bladder no matter what the conditions are). The bite valve cover is more secure than the blue one that can be added onto an exiting hose, and it helps keep your mouthpiece free from dirt and other random debris. I highly recommend getting 1-3 of these for your bladder.
Never frozen. Luke warm instead of hot.
Gender:

Female

Familiarity:

I've put it through the wringer
I have a CamelBak H.A.W.G. which came with a 102oz Water Beast reservoir that is equipped with a thermal control kit. The bite valve on mine is black and there is a shut-off switch - those are the only differences that I can see.

The tube sleeve does a pretty good job of regulating the temperature. I just took mine hiking on a 90 degree day and the residual water in the tube was warm but not hot. I remember having cheap $12 hydration packs when I was younger and the water from a clear, unprotected tube would be unpleasantly hot.

By the same token, I remember taking cheap packs out in the snow and having the tube freeze almost immediately. I've taken my CamelBak snowshoeing a lot the past few years and I haven't had any trouble freezing.

I've had a couple of cheap hydration packs, the CamelBak, and a Geigerrig; the CamelBak is the only one that's never leaked and it's the only hydration pack I still use, the Geigerrig was consigned to the garbage just last week after 3-4yrs of light use.

This thermal control kit looks good but I attribute my CamelBak's lack of leakage to the good shut-off valve on the water beast. Also remember that you must have a Quick Link system installed in order to use this kit. If you have to buy both you'll be spending ~$30 and at that point, I'd consider purchasing a Water Beast reservoir instead because it comes with all the features of the Thermal Control Kit + Quick Link and it has a good shut-off valve. Plus, I think my Water Beast bladder feels tougher than my friend's regular blue CamelBak bladder, that's pure speculation though because as far as I know, neither of us has ever replaced our bladders.

Thermal Control Kit - life is better with one than without one.
cold stays cool, warm stays warm
Familiarity:

I've put it through the wringer
Used this hiking, biking, skiing etc! I have the full insulated bladder as well and do enjoy the way temps stay fairly constant. Only on the longest and hottest of days has the temp gone up. Definitely recommend the insulated bladder combo.
Great tube, terrible mouthpiece
Familiarity:

I've put it through the wringer
Just barely squeezes a 3-star rating, just like it barely squeezes water out.



In sub-freezing-bu-above-0 downhill skiing, this mouthpiece froze up after a run or two. I know, I know, you can put in your jacket, drink every few minutes, or "blow" the water back up the tube, but the residual water can still freeze in the mouthpiece.



When that happens you have to try to warm the mouthpiece, or chew on the valve. I've ruined a few valves this way, can't recommend chewing on them.



The *absolute* worst part about this product, was that when i called customer service the CamelBak Rep was the most arrogant, condescending, and self-righteous associate. I know that this doesn't directly reflect the product, but I felt it must be put out there.



The good thing about this is that the insulation works very well. Water that's in the tube stays warm in the winter, and cool in the summer. Also, a black tube looks kinds cool.



All in all, it will work at below freezing, but takes some finagling. I'd recommend looking for one with an insulated cover for the valve (I believe Osprey makes one).
Keeps it flowing
Familiarity:

I've put it through the wringer
This is a huge improvement over digging through the backpack for the nalgene on winter adventures. For the price, this guy is totally worth having a camelback out in winter!



It definitely will NOT protect against serious freezing temps way down in the negatives, so bring the nalgene on those trips as well...
Keeps me hydrated
Familiarity:

I've used it several times
Love this thing. I was wondering if there was a way to keep my normal CamelBak from freezing up on the mountain. This definitely did the trick. And it's only $20! Worth every penny IMO.
Just got back from a week in Montana skiing and snowmobiling and this kept my water drinkable in all conditions. Even on the coldest mornings (low teens) water stayed liquid perfectly. End cap is nice and big so it's really easy to use with even the heaviest mittens or gloves. I have already recommended to a few friends. Get one, you won't be disappointed.
Its ok..
Gender:

Male

Familiarity:

I've put it through the wringer
I used it on 2 late season hunting trips. One was 14 days in -20 C northern canada. Other was -5 to -10 also northern canada.

It would freeze almost instantly in the line. I tried blowing the water back into the reservoir after sips and that helped.. but it still froze.. It did help if i filled the reservoir with warm water off the stove. But eventually it would still freeze in the line.

I would say this product is probably rated around 0'Celcius.. But any colder than that and you might as well just bring a water bottle. Which is what i had to do on both trips.
Would this clip into a platypus bladder?
Would this clip into a platypus bladder?
Would this insulation tube fit on a MSR hydration bag?

Thanks!
Yes this tube will fit on an MSR hydration bag. Step 1: cut the MSR hose off of the barbed fitting on the Dromedary Bag. Step 2: cut the Camelbak connector off the end of this item. Step 3: use a pot of boiling water to heat the end of this tube to make it pliable, and then push it over the Dromedary barbed fitting. It takes some wrangling but once its on, it'll stay.