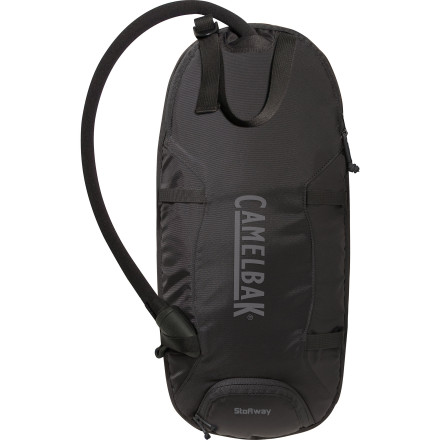 Colors
Description
Keep it in liquid form.
It may be the worst thing that has ever happened. You just hiked five miles up the side of a mountain in the freezing, pre-dawn hours to enjoy the fresh powder. You reach for a drink to relieve your thirst only to find that the refreshing liquid has turned into ice. The Camelbak Stoaway Hydration Reservoir insulates your drink so you can rehydrate even when the mercury drops.
BPA-free Omega HydroTanium reservoir uses an antimicrobial compound to inhibit bacterial growth
Insulated reservoir keeps your beverage from turning into a block of ice
External filling port lets you fill up without hassle
Versatile, 4-point D-ring attachment system means you can hook your reservoir to the outside of your pack
Does the job
Familiarity:

I've put it through the wringer
It does what a water bladder should do- hold your water, and not leak all over your pack. The insulation does a pretty good job, but don't expect it to keep your water in liquid form on the coldest of days on the slope. For what it does, I would go for the regular old antidote reservoir to save on space, but it is nice to have an insulated bladder/tube.
Exactly what I expected.
Familiarity:

I've used it once or twice and have initial impressions
I've used other hyrdration reservoirs and I'm always coming back to camelbaks because they're built so much better. All other reservoirs I've used end up leaking over time but camelbaks including this one hold up over time.
Will this fit in a standard backpacking pack? I have the Baltoro 75?
Pretty much all packs that have a hydration sleeve will fit a 100L bladder.... but since this one is insulated, it might be a tight fit.



For what it's worth, insulated bladders are a bit of a waste; not really practical for backpacking and they don't work that well either. Skip it and just buy a regular bladder.
Great product
Familiarity:

I've used it several times
I love the insulation on the tube and reservoir, it keeps water liquid in the winter and cold in the summer, there's nothing worse than a hot gulp of water from the tube when I'm hiking. It's nice that the reservoir is also removable for cleaning.
true to form
Familiarity:

I've put it through the wringer
definitely have to get the combo setup. Just the insulated tube doesn't quite cut it. It will freeze on those super cold days but normally manages to stay liquid. I have a slightly older TNF pack that has a routing through the strap and helps quite a bit.
Awesome! But froze a few times......
Familiarity:

I've put it through the wringer
I bought this for a trip to Greenland and Iceland where I shoved it in my mountaineering pack most days. On many of the days I removed the cover and was only concerned with the insulation on the outside.



For the most part this system worked like a dream but on two occasions while hiking couloirs in mind-numbingly cold wind, the entire drinking lead froze. I was also frozen and considering our location at somewhere close to 66 degrees- I didn't blame the reservoir.



In short- super rad product, just be mindful when you are in or close to the Arctic.
Don't buy a Mitsubishi Montero Sport.
Familiarity:

I've put it through the wringer
I've owned several camel backs before this one and personally like the brand, so I was rather biased to purchase another. I recently undertook a trip over spring break from Missouri to Utah and back. Enjoy my results.



This bladder has now been through 2985.13 miles, a blown clutch on the way back in Kansas, hikes in Arches, Zion and the Grand Canyon. Road days where it was full of water in my pack and jammed in the back of my car to Ship Rock, Four Corners, Mesa Verde, through Vail Pass (14,000 elevation difference from Missouri and snow covered roads at Vail Pass--which we got stuck at for 6 hours due to weather--the roads were closed and chain laws were enforced. In a rwd 5 speed 4 cylinder SUV with highway tread tires... that's bad news).



Look, before I get carried away at how awesome the trip was. Just buy this. It's quality made, backed by a warranty, insulates regardless of the weather gradient, seams stayed together in the pack, not ONE leak happened. And most of all, my water was cold. And after all that's it's entire purpose right? To hold water for you and keep it cold (or hot?). And it did that very well.



Bottom line: Yes I would buy it again, yes I would recommend it to a friend, and yes it held up to some beatings.
Works as it should
Familiarity:

I've used it once or twice and have initial impressions
I used this hydration system to help support the frame of my day pack and it worked very well. I haven't truly tested it as an insulating pack, but it should work well.
Just about perfect
Familiarity:

I've used it once or twice and have initial impressions
I originally purchased this item for myself to do day hikes in the desert with. It fit somewhat awekardly in my backpack, do the to combination of my pack and the bladder sleeve. I have only used this system twice and liked it. I put quite a bit of ice and cold water in the pack and after 2-3 hours I could tell that it wasn't as cold as I would like but was not as hot as it would have been without the sleeve. My husband on the other had needed to do some walking surveys in the desert and asked to borrow this system, it has been two weeks and I haven't not seen it since. He fills it with ice cubes and then the empty space with cold water. This keeps has been keeping the water cold long enough for him to go through the bladder. He did complain one day that I put too much ice in and that it all froze together making it undrinkable.



I have not tried attaching the system to the outside of my bag as I am afraid the combination of the black color and the desert summer sun will heat the water too quickly. The insulated tube is a little large to bit through my hydration hole in my pack. I do like the cover on the bite valve though. It has been great keeping the sand and dirt off of the mouth piece. The bladder itself has a quick release type tab so that you can detach the tube from the bladder making it easier to refill the bladder.
I needed to replace my old Camelbak Snobowl. This is perfect! I love the insulation system, as I mainly use this while I'm skiing. Fits well inside any of my packs. Definitely recommend it to any winter/snow sport lovers.
Great hydration system
Gender:

Male

Familiarity:

I've used it several times
This hydration system is awesome. I have used this while snowboarding and skiing as well as on hikes in both the winter and the fall. The quality of the hydration bladder and the insulated covering are a very high quality. The insulated covering gets the job done does not let and water freeze.



When the hydration pack is full it does add a decent amount of weight but when it is used with a quality backpack the weight isn't noticed. The rubber cover of the mouth piece is larger and I could not fit it through the shoulder strap of my backpack easily. To do so I had to detach the hose and feed it into the pack and the reattach it.



All things considered this is a great product and would recommend it to anyone.


Awesome
Gender:

Male

Familiarity:

I've used it several times
This hydration reservoir fits perfectly in my BD avalung. This is a great way to stay hydrated while on the slopes without the water, or tube from completely freezing.
Will this fit my Jansport Klamath 68...
Will this fit my Jansport Klamath 68 backpack's hydration sleeve??
I cannot speak for that particular pack, however I have a North Face Patrol pack and it does not. I have noticed on several other packs that this also holds true. Most sleeves take the 70oz(2L) version.



On the 100oz insulated reservoir there are several elastic and nylon straps that are great tie down points. I use them in my pack and there is no need for the built in sleeve.
hi - am travelling to Thailand. Didnt want...
hi - am travelling to Thailand. Didnt want to buy the 'complete' pack, so thought this would do and a bladder to go inside. This would work okay? Also, is this product suitable for the 50oz bladder? cheers
On second reading it doesn't look like I even need a bladder. Is this right?
Will this also do the opposite? Keep your...
Will this also do the opposite? Keep your cold water cool on blisteringly hot hikes?
Best Answer
Yes! Fill it full of ice and you are good to go...