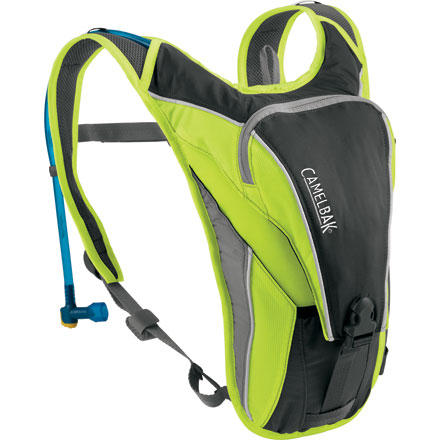 Share your thoughts
What do you think of the
CamelBak
Slipstream Hydration Pack- 1.1L
? Share a...
Works perfect for a bike ride or long run. Fits great for the female body.
I first bought the Slipstream because I already had a Da Kine pack and needed a hydration system for snowboarding. I didn't really have any intention of using anything but the bladder itself. But after a full season of lugging a backpack on the slopes, knocking people around in lift lines, and ultimately carrying more gear than I needed, I decided to try the SlipStream this last weekend at Bear Mountain.

Long story short, I don't think I'll be going back to my Da Kine pack anytime soon. I like staying out on the mountain all day without heading back to the lodge/car, so I was stoked when I was able to fit 2 pre-made sandwiches into the SlipStream without a problem. It's so small you don't need a waist-strap when riding, and even when you just use the chest strap you can barely feel it at all.

I give it 4 stars because I haven't tested it in colder weather and have a feeling there isn't enough insulation to make it a solid all-season hydration pack. But for early winter and spring, this thing is perfect for the minimalist.
Is there any way to add a bigger bladder...
Is there any way to add a bigger bladder to this item?
No. You would have to buy a bigger pack. This is made to only fit a 50 oz and smaller hydration bladder.
This is a great little hydration pack for the minimalist. I've used this pack trail running and mountain biking. Some nice extra features are included: chest strap, pockets, & compartments.
The pack fits well and has a chest strap that helps keep it in place. The zippered compartment is larger than most of camelbaks i've seen, which is great for storing your essentials. I drink a lot of water, so it only lasts me for about 15 miles, but may last longer for others.
This is a fantastic CamelBak. True to the CamelBak reputation, this pack is durable, lightweight and comfortable.