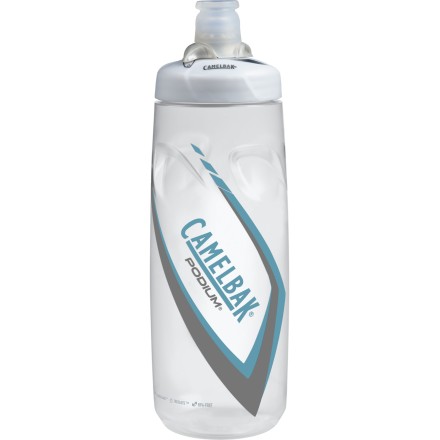 Colors
Description
A convenient sports bottle.
Camelbak equipped the Podium 24oz Water Bottle with a spill-proof, self-sealing Jet Valve, a removable lid for easy cleaning, and a positive lockout that eliminates any leaks. Its BPA-free TruTaste polypropylene material is safer to drink out of than polycarbonate plastics, and it won't distort your water's taste.
BPA-free TruTaste polypropylene
Spill-proof, self-sealing Jet Valve
Removable top
Positive lockout
water is tasteless! great!
Familiarity:

I've used it several times
I like the method of closure. When I lay the bike down (no kickstand) the water does not leak out. The bottle has no plastic taste. In the future I will get a second one.
Awesome Bottle
Familiarity:

I've put it through the wringer
Great bottle for riding. Never leaks, easy to use.
This is THE bottle
Familiarity:

I've put it through the wringer
I've used these bottles for years, and whenever I need new bottles there's no doubt as to what I'm getting. The valve on these is great. Whenever I get some jenky water bottle from a race or event that has a traditional valve you have to pull open and manually close I save it to either clean chains in - NO WAY I'd go back to that type of bottle after using Cambelback bottles.
Leaks on the bike.
Familiarity:

I've put it through the wringer
We purchased these bottles for a no leak solution for bottles placed in feed bags. We wanted a bottle that would not leak if tipped over. That part works.

On the bike, not so much. There are a couple of things that happen, that are a nuisance. The end result is your favorite beverage leaking out on your bike, on every ride.

- Between the jet valve, and the valve for the cap, there is a space for liquid to be trapped. If the main valve is open, and the bottle upright, gravity will take this liquid back to the bottle. If the main valve is open or closed, and the bottle is full and not upright (downtube), the liquid leaks out the jet valve and onto your bike / bottle. If you ride a lot, or are supporting a group of riders this presents you with a sticky mess to be cleaned in the case of a sports drink.

- Cleaning... The valve and jet valve really need a good rinsing after every ride. If you don't and let mold grow (happens overnight in the sugary environment of a sports drink), it can be very challenging to try to clean it out.

Overthinking, yup, it's a waterbottle. Does not leak in the feedbag, happy with that! We will probably use these bottles for feed bags, and regular bottles for daily riding.
A bottle for water and other liquids.
Familiarity:

I've put it through the wringer
Great water bottle. Also can be used to hold other liquids if you are feeling a little adventurous. Love the locking feature. The bottle has a valve to prevent liquid from spilling even if the locking feature is open. The valve makes it so when you squeeze the water bottle the contents come squirting out with incredibly refreshing velocity. It must be experienced to truly appreciate.



If you are going to use the water bottle on the bottom side of the downtube of your bike I would recommend investing in the camelbak podium mud cap. Just trust me on this.



The one problem is that the amount of refreshment is dependent on what you put in the bottle. Cold Water = Refreshing. Ice Water = Very Refreshing. Cold sports drink = refreshing. Cold chocolate milk = Heaven. Warm curdled milk = Not refreshing. See what I mean. Other than that it is great.



*Note. The water bottle pictured is an older version of the bottle. I can only assume the newer version sold here is better than the old one. If anyone disagrees, please send me a new water bottle so I can verify the your claim.
Gagger bottle
Familiarity:

I've put it through the wringer
My friends usually gag when they "Drink" out of my bottle due to the jet valve. That thing is powerful. Think of a mini super soaker. I've owned both the older & newer podiums. Both works the same to me, I don't pay attention to it much besides squeezing and drinking. This will fit really snugged in your bottle cage, overtime it will start rubbing the decals off, but it still works.
GEN2... meh.
Familiarity:

I've put it through the wringer
I have both the GEN1 and GEN2 models of the podium bottle and I actually like the jet valve on GEN1 more. This is agreed, a subjective decision, but I have partial paralysis of my mouth and the opening is pretty big making it less convenient than GEN1. I'm still deciding on how to stock up on GEN1 bottle valves.

The bottle shape of GEN2 is most definitely better. It takes less effort to squeeze out water while at the back of a paceline when you're cooked after a pull up front.

A part of me wishes they wouldn't put graphics where the [generally accepted clamping location] cage grabs the bottle. Mine always look like they have taken a rough ride down a ski slope after a century. Any grit on the cages just carves off the graphics. Overall, just minor gripes. Keeping these bottles and the cages clean with pledge etc helps keep the carnage to a minimum.
Best water bottle
Familiarity:

I've put it through the wringer
I have several Camelbak water bottles and once you start using them you don't want to go back. They don't leak and are easy to drink out of. No forgetting to push the top down and having it leak or having to put the top up to get a drink. The Podium has a bigger openning than some so you get a higher volume of fluid when you drink.
Awesome basic waterbottle!
Went on a 20 mile road bike ride and had just enough water. Love the no leak valve! You can keep it open the entire ride and no water will leak out...it's nice not having to fumble around with opening and closing a valve when you're on a ride. Non-insulated - if it's hot outside, I might use extra ice.
Best water bottle out there!!
Gender:

Male

Familiarity:

I've put it through the wringer
I never thought one water bottle would actually be better than other bottles. It's just a water bottle! But I really really like the design of these. I love that they are lockable to throw in a bag with no worries of leakage, but when it's time to ride, they are always open and ready to drink, still with no worry of leaking.
These are all I've used for years now
Botella
Familiarity:

I've put it through the wringer
This bottle is great for whatever you want to use it for. I bought it to put on my bike and it has served me well. I also have it around the house for whenever I need a drink.

Careful putting it around your bed at night. Sometimes with temperature changes the air pressure in the bottle will make little air leak noises unless you close the top. Other than that, it's a great bottle!
Great Bottle
Familiarity:

I've put it through the wringer
I use these bottles for mountain biking. The jet valve cap is awesome and never leaks.


One of the best bottles
Familiarity:

I've used it several times
The spout mechanism is really convenient. You can leave it "open" and it won't spill unless you squeeze it and when you want to make sure it "closes" you turn the top rather than pull on the part you drink from. It's a great design.
Don't leak
Familiarity:

I've put it through the wringer
One of my pet peeves is leaky, sticky bottles. These are one of the few bottles that do not leak.
The All-New CamelBak Podium Collection
The CamelBak Podium 24oz has been redesigned. New features include: high flow rate, easy to clean, easy to squeeze, new modern look.
Best non-insulated bottles on the market
Gender:

Male

Familiarity:

I've put it through the wringer
I've been using the bottles for the past two years, and love them. They are easy to squeeze, stay in bottle cages well, and the drink valve is well built and doesn't leak. Definitely recommend for riders.