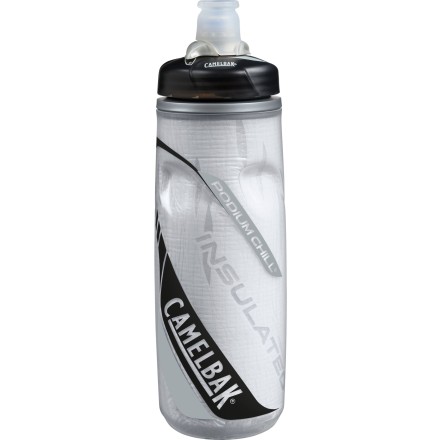 Colors

Community Images
Description
Because nobody wants to drink warm water during a hot summer run or ride.
Like most water bottles, the Camelbak 21oz Podium Chill Insulated Water Bottle keeps you hydrated on runs or bike rides. Unlike most bottles, this one keeps your water cold from the first hour to the last. Its BPA-free TruTaste polypropylene material is safer to drink out of than polycarbonate plastics and it won't distort your water's taste, and HydroGuard insulation keeps your beverage chilled twice as long as regular sports bottles. The Jet Valve cap is spill-proof and self-sealing so you can squeeze some deliciousness down your gullet quickly and get back to what you were doing.
BPA-free TruTaste polypropylene bottle
Jet Valve cap
HydroGuard insulation
Share your thoughts
What do you think of the
CamelBak
Podium Chill Insulated Water Bottle - 21oz
? Share a...
Best bottles on the market
Familiarity:

I've put it through the wringer
These are just fantastic bottle for what really only cost a few bucks over a cheap "standard" bottle. You get a much better nozzle and also insulation. Now the insulation doesn't work wonders, so don't expect a cold drink after 4 hours, BUT, what it does do is keep cold liquid inside your bottle from making it sweat like crazy as soon as you go outside if you live in a humid place. My old bottles would get covered in sweat and then my hands/gloves would get wet when I'd take a drink. These stay nice and dry, and they do stay a little colder longer, which doesn't hurt either.
Great bottle for biking
Familiarity:

I've put it through the wringer
I have two of these and use them on both my road and mountain bikes. The valve is easy to use - just give the bottle a good squeeze and you've got water. The squeeze valve also does a pretty good job of shedding dirt if you're riding in wet/muddy conditions. You don't actually have to put the valve in your mouth (as long as your aim doesn't suck) so I haven't had issues with sucking down dirt. The valve also locks up pretty securely so you don't have to worry about spills in the car. The insulation won't keep things cold all day unless you have a ton of ice in your bottle, but it is plenty to keep things cool for a couple hours on a hot day. The bottles are easy to clean and I've never had any issues with plastic or rubber taste, even after leaving the bottle filled for a couple days by accident.

I pair these with the Elite Cannibal Water Bottle Cage and it makes for a very secure fit. I haven't had any issues with the bottle popping out, even on rowdier mountain rides. The bottle is compact enough to easily fit on my mountain bike (Santa Cruz Bronson, large frame). I've found that the 21oz size is perfect for an hour or so on a hot day. I take two with me if I'm taking my road bike out for a longer trip.
The Perfect Bottle
Familiarity:

I've put it through the wringer
I have a few of these, and I use them both on and off the bike. The 21oz size is a perfect for a backpack with bottle holders. For a bike ride at 80-90 degrees F, I'll get 2-3 hours before these get warm. BTW, this is the "new and improved" model with a larger valve and easier twist-to-open functionality. Use these for water, NOT for Gatorade or Hammer Heed, Etc. Also, wash these with an unscented dish soap (like Seventh Generation)or baking soda as mentioned below because the scented ones can leave a residual odor.
I like it
Familiarity:

I've used it several times
For my mtn bike ride that lasts 45min, this does great! I put a couple cubes of ice to keep it extra cool. By the time I'm done the ice has melted but the liquid is refreshing. For longer rides I still get to the point where the water is air temp, but it's much better than my non-insulated water bottle that was warm by the time I hit the trail head and was undrinkable after an hour. Keep the top unlocked so you can just squeeze while you ride, easy to twist while I ride if I do keep it locked.
I have a set of these for every one of my bikes. I love that the insulation keeps my water cold a little longer than the non insulated and they're much easier to drink from than most bottles and I don't worry about them spilling. Fits standard bottle cages well (I use Arundel cages).
Great bottle. Keeps your H2O cold.
Familiarity:

I've put it through the wringer
Great bottle with a great warranty. The jet valve works really well and is really easy to clean.
how do you keep these bottles clean you know after a while plastic starts to smell
There's really only one answer to that question: WATER ONLY in the bottle. That should prevent any odor.

If they do start to smell, here are three strategies:

1_) Let the bottle sit overnight with baking soda mixture in it. Helps quite a bit.

2) Leave the bottles, open, in strong sunlight. The UV radiation helps kill the bacteria.

3) Fill the bottles with unsweetened fruit tea for a while. This will make them smell like fruit tea, which is a far fresher smell.



How do you GET INTO IT? Twist the top? Pull on it? No instructions, and I don't want to break my brand new bottle.
Get into it like to fill it? The cap twists off. Get into it like get water out? Twist the locking mechanism to the open position and squeeze.
These bottles are a bit of overkill on the closure, but they are otherwise awesome.

There's a lock at the base of the nipple. Twist that to open the valve. After that, you can EITHER suck on the nipple or squeeze the bottle to dispense.
Keep Your Cool
Familiarity:

I've put it through the wringer
The Podium Chill is all you'd expect out of a water bottle with some extra insulation. This wont keep ice frozen for hours, but keeps the water / sports drink cold enough while cycling in the dog days of summer. Its still cool by the time you finish your first bottle. The mouth piece and locking system works well and with a quick squeeze of the bottle the electrolytes start flowing.
Only Bottle
Familiarity:

I've put it through the wringer
This is the only bottle I ride with. It keeps me drinking more water throughout my ride because it is so easy to use. I did like the mouthpiece on the older version a bit better. When shaking my Skratch labs mix in the new version the water shoots out of the top unless you lock it shut. Otherweise, A+.
Love it!!
Familiarity:

I've put it through the wringer
I got two of these bottles when I started cycling, a week later my father in law got two as well after we ran out of water during one of our rides and I gave him some of mine. He was amazed how cold the water was. My daughter is a dancer, and begged me to get her a bottle like daddy's, so I did, and she loves it. My Wife is a teacher and will not drink water from the fountains at school, so I got her two bottles and she takes them to work everyday!!! its nice to have different colors available, so my wife daughter and I know exactly which bottle belongs to each of us!! Easy to wash, and keep clean!!
For some reason one of my bottles started making a noise after I drink from it, but its just the air trying to scape, all I do is squeeze the bottle after I drink from it, and the noise goes away!!
Podium Chillin at the River on a boat
Gender:

Male

Familiarity:

I've put it through the wringer
I am a cyclist and, yes, I absolutely 100% agree with everyone here who has stated that this bottle is PERFECT for Cycling and Mountain Biking. The bottle fits great with the various bottle cages I've used on my bikes and on bikes I've rented. NO ISSUES with bottle cage fitment.

A nice accessory for mountain bikers is the CamelBak Mud Cap designed to keep dirt out of the valve!

Where we've had more fun with the Podium Chill bottle is out on the boat. The Spill-Proof Jet-Valve works AWESOME when not in the Locked feature, which is a brilliant idea? Thanks CamelBak!

Because we don't have to worry about spilling, we fill these up completely with as much ice as we can fit into the bottles, then add our fun river / lake beverages.

We fill up as many bottles as we can take, usually three per person, so we can save more room for ice and food in the coolers. It gets up to 114 degrees out on the Mojave River and these bottles keep our drinks cool, even when floating with us in the water.

PROS:
+ They Float on the water
+ Lockout Feature to prevent spilling
+ Spill-Free even when unlocked
+ Keeps drink cool for 1-2 hours in 114 degree weather
+ Fits almost any Bottle Cage
+ Durable if dropped (over and over again)
+ Jet-Valve delivers just the right amount of fluid

CONS:
- Make sure to keep valve open / unlocked if washing in Dish Washing Machine
- Jet-Valve takes some effort to clean
- May need Q-Tips if you want to prevent mold from building up in Jet-Valve

At the end of the day, the Podium Chill Bottle is an awesome product for any athlete or party-goer!!
Get your own water bottle
Familiarity:

I've used it several times
I bought this as a gift for my wife so that I can get my camelback that matches my bike back. We both love how easy it is to drink out of while riding our bikes. Ice and water and it lasts the whole ride.
Good bottle
Familiarity:

I've used it several times
I love the valves on camelbak bottles and won't ride with anything else. This bottle is a little stiff, but does a decent job of keeping my water cool on long rides. I fill it up with ice cubes and top off with water. Its still cold after a couple of hours.
Great Water Bottle
Familiarity:

I've put it through the wringer
I have an old one that is 4-5 years old and still going strong. I got the new one and it is better it has a stiffer plastic mouth which makes for slightly easier cleaning and it keeps things colder longer.
The All-New CamelBak Podium Collection
The CamelBak Podium Chill has been redesigned. New features include: high flow rate, easy to clean, easy to squeeze, new modern look.
Good for Biking
Familiarity:

I've used it several times
I got tired of stopping every time I wanted some water from my nalgene bottle. I love my nalgene, don't get me wrong, but it's impossible to drink water while riding. This water bottle not only keeps my water nice and cold, it's easy to drink while riding, although I wouldn't recommend it for mountain biking since dust can easily get around the mouth piece and you'll end up squirting some dirt into your mouth along with water. Overall, I use it for road biking and spinning and this water bottle works well.

UPDATE: I've dropped a star cause I can't seem to get rid of the silicon taste that the bottle leaches into my water. I thought it'd go away after a couple uses but nothing is getting rid of the nasty chemical taste. I'd return the bottle but it's not worth the hassle.