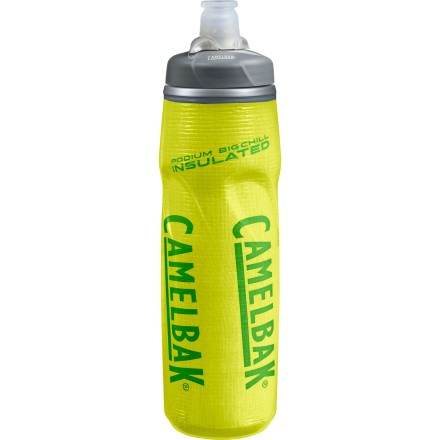 Colors

Community Images
Description
Taste the Chill on-the-go.
There's nothing like some freezing water to refresh yourself while you're running or biking under a hot sun, and the Camelbak Podium Big Chill Water Bottle makes sure your water stays cold for a long time. Its BPA-free TruTaste polypropylene material is safer to drink out of than polycarbonate plastics and it won't distort your water's taste, and HydroGuard insulation keeps your beverage chilled twice as long as regular sports bottles. The Jet Valve cap is spill-proof and self-sealing so you can squeeze some deliciousness down your gullet quickly and get back to what you were doing.
BPA-free TruTaste polypropylene bottle
Jet Valve cap
HydroGuard insulation
Deeper jet valve cleaning
Jet valve can separate in two parts for a better cleaning
Amazing!!!
Familiarity:

I've put it through the wringer
These are great! We have several of them and use them from workouts, basketball, golf, mountain biking, hiking, road trips...etc. They work well in keeping your drink cold as the insulation does it's job even in 100+ heat. I also love the jet valve as it's handle to get a quick drink and takes little effort.
Like the Podium bottle, but a bit cooler
These bottles work well - they're like the standard Podium bottles I love functionally - but keep your drink cooler. On a hot day it's nice to use one of these for a bit cooler drink. That said, don't expect that you're going to have a cold drink hours into a ride - that amount of insulation isn't conducive to riding a bike.

Here's my trick to best using them. Fill it with ice, then with your beverage of choice. Make this bottle number 2. Then bottle number 1 fill with less ice and your tasty beverage. Drink bottle number 1 first, so that by the time you need bottle number 2 the ice has mostly melted, but your drink is col.
Not as cool as I'd throught
Familiarity:

I've put it through the wringer
Build quality is great on this bottle. No complaints, broken parts, or leaks to be heard of. Easy to use, disassemble, and clean. Sizing is great and fits well in my hand, water bottle cages, cup holders, and bags/packs.

Great bottle by all means, but my only complaint is that I don't think the insulation works all that well. Maybe I just forgot how warm an uninsulated bottle can actually get, but I've never thought "Wow! This water sure is cold!"
"Sure, but what's the big deal?"
Familiarity:

I've put it through the wringer
Most of the finer points of these great bottles have been made below: Camel back knows hydration, stays cool, durable, etc. I agree with all the highs and some of the lows. Here's why I continue to love these bottles:
Once you've experienced having almost ice-cold water/whatever in the middle of a really, really hot event, you'll forget all about the weight, height, less-than;perfect closure system.
These bottles seem to insulate and preserve ice and temperature far better than others I've used and they've saved many rides so far!
works like a water bottle...
Familiarity:

I've put it through the wringer
Keeps things cool but couple of things I wish I realized before buying.
1. These are really tall. I didn't think about that before buying and with my frame (54) getting them out is a bit of a pain.
2. The twist lock to close is not my favorite. I prefer the push/pull of the other bottles.
Carries 25oz cool and drip free
Familiarity:

I've used it several times
other bottles have drooled all over my frame and even fouled my bottom bracket.

These work as described and simply don't leak at all when in the closed position; in the open position, liquid won't dispense unless you squeeze the bottle or shake it vigorously. When squeezed, beverage flows smoothly. The insulation keeps your drink cooler than otherwise, bit is not miraculous.

However:
1) the clever nozzle is hard to clean and hard to remove and reattach.
2) the extended capacity makes for a tall bottle that might be tight on your frame. It fits my 61cm frame with just a bit to spare on the seat tube.
3) the bottoms are not flat! The are convex. My pair wobble slightly. For $15/ea, they should sit flat sit they don't tumble easily in the fridge and car.


Cool running
Familiarity:

I've put it through the wringer
Hey, if anyone knows anything about hydration it is Camelbak, and this has been a staple in my water bottle arsenal for a few years now. Keeps the ice lasting just a bit longer, easy to clean, and the jet valving is just perfect to not drool all over yourself.
Nice and simple
Familiarity:

I've put it through the wringer
You can't go wrong with these water bottles. I use them for every day riding, and tack on two for centuries. They keep liquids moderately cooler, but the thing I like most is that they're a good capacity and still fit in my cages. My only problem is that the nozzle can be hard to clean, I recommend using a Q-Tip to get the gunk out of there. Then a good soak and clean.
Hands down my favorite waterbottle!
Keeps my water nice and cool on hot days! Love the size - large enough to hold water for a significant hike/bike ride, yet won't weigh you down. Love the no-leak valve. I keep it open on bike rides and it still doesn't leak. I like not having to mess with the opening and closing of a valve while on a ride.
The CamelBak bounce off a cliff bottle
Familiarity:

I've used it once or twice and have initial impressions
No,it didn't,but it could and survive an impact that would shadder any other bottle!
great size
Familiarity:

I've used it once or twice and have initial impressions
Took this on a bike ride and the size was prefect, I thought it was better than having two. Not sure about how cold it keeps the water, because it is still cold outside.
great bottle
Familiarity:

I've used it several times
this bottle is nice and big so you can carry all the water you need for almost any ride you do. not only does it hold alot of water, it also helps keep your drink cold, so your not having hot water on warm summer ride.
Awesome Bottle
Familiarity:

I've put it through the wringer
I use these bottles for mountain biking. The jet valve cap is awesome and never leaks.
Extra Cool Capacity
Familiarity:

I've put it through the wringer
I loved my 21oz Podium Chill enough that I bought the 25oz version. The extra size fits really well into the water bottle cage on the bike, however the added height may have some interference on smaller framed bikes seat/ top tube. When its really hot out I appreciate every extra ounce of fluid I can get. Same great insulation and functionality as the 21oz version.
Nice Bottle
Familiarity:

I've put it through the wringer
Actually a bit larger than what I expected - Although still a nice bottle. It does manage to fit in my bike cage, but it's pretty snug. Also comes with a neat switch on the nozzle to block it from leaking.



Just some quick measurements if your interested in it's size

Height: 9.75" w/o Nozzle (+1.5")

Diameter: 3"


Great bottle
Familiarity:

I've used it several times
This bottle is great, I did not expected less from camelbak, the water pressure is superb, I use it for biking and it fits perfectly on my bike's bottle cage.
Great bottle
Familiarity:

I've put it through the wringer
I bought this for mountain biking and have been very happy with this water bottle! The nozzle, is amazing. Hands down, so much better than any normal squeeze top bottle. I usually avoid squeeze bottles due to leakage, but this does not leak at all! The nozzle locks and unlocks with ease and the water pressure is ideal. The insulation works well, but it doesnt blow me away. Ice will melt but your drink will remain cool... Definitely better than a standard bottle's insulation though. Highly recomened this product, nice work CamelBak!
The All-New Podium Collection
The CamelBak Podium Big Chill has been redesigned. New features include: high flow rate, easy to clean, easy to squeeze, new modern look.