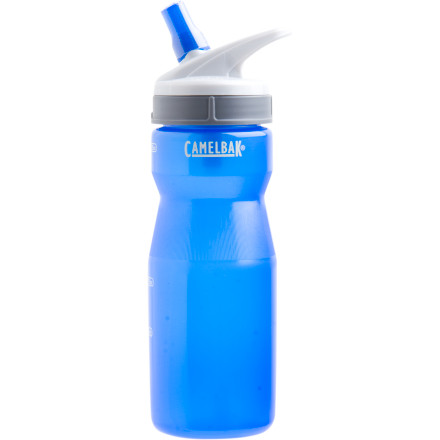 Colors

Detail Images

Community Images
Description
This bottle performs, and it helps you do the same.
Get squeezable, spill-proof hydration when you're on the go with the CamelBak 22oz Performance Bottle. This lightweight water bottle incorporates CamelBak's handy bite valve into a classic sports-style water bottle that makes for an ideal container for biking, running, hiking, or sports. The plastic ring on top makes it easy to clip to your gym bag or backpack.
the Podium bottle, devolved
Familiarity:

I've used it once or twice and have initial impressions
These are not cycling water bottles, can't imagine why they are being sold here. The Podium bottle can be found elsewhere.
Good bottle for the $
Familiarity:

I've put it through the wringer
bought this bottle as a gift for a family member, very durable bottle for the price, for a bottle that isn't insulated these things are great, don't have to worry about dropping it like with some other bottles all plastic. I have one myself, and i love the bite valves that camelbak uses, no drip, no mess.
I like it!
Familiarity:

I've used it several times
I like this water bottle. It's lightweight and clips to my daypack. The only problem with it is that I drank some lemonade out of it once and ever since (despite washing it many times), I still get a hint of that lemonade... It'd be 5 stars if it wasn't for that. :)
Water Bottle on McNeil Shelter Trail
Used it to keep hydrated on the McNeil Shelter Trail. That's Mt. Hood in the background.
Handy and durable
Gender:

Male

Familiarity:

I've put it through the wringer
I bought these for my daughters who play travel volleyball and are not known for taking care of things. 30 seconds after my youngest daughter took it out of the plastic, she dropped it on the ceramic tile...it bounced. I just smiled and said "Perfect".
No bad taste.
Gender:

Male

Familiarity:

I've put it through the wringer
It's a good bottle. Holds up pretty well and it's kind of a joy to drink from. The plastic doesn't leave a plasticy taste to the water so, that was a plus.



The only drawback is the mouthpiece sticks out and can't be folded in, but for a fairly low-priced bottle, what more can you want?!
CK Funderburgh
Gender:

Male

Familiarity:

I've put it through the wringer
I hated my last bottle so I wasn't going to get my hopes up on the next one I bought but I have to say I love this bottle. Yeah it's not insulated or anything like that but its great for work or out on the trail. It is light weight so it won't weight 5 lbs with water.
Great for trail running...
Familiarity:

I've put it through the wringer
If you're like me and don't like a pack swishing and shifting on your back or waist, this is for you. Easy and quick to refill, lt weight and simple to hydrate. No tilting your head back taking your eyes off the trail. Just suck on the mouth piece and your good to go.

It seals well and does not leak. I've had two in blue for over a year and only one has a minor leak around the lid (My fault). I'm rough on my equipment. Just make sure to hand wash in the sink and clean the straw and mouth piece with a brush. If you have to put them in the dish washer, place on top rack.

Clip works well and will also allow you to hook it in the crook of your finger on the opposite hand while slamming a gel.

Only wish it came with nylon run strap as before.
Can I get my company logo labled on the...
Can I get my company logo labled on the bottle? I would like to purchase 95 bottles with my logo.
Yes, Carrie you can :)

I am in the Group Sales Dept. and we routinely customize and logo products in bulk for customers placing larger orders.
Please e-mail me directly (or call) so we can continue this dialogue -

lahlgren@backcountry.com

Leif Ahlgren x7105
Group Sales Coordinator
lahlgren@backcountry.com
800.409.4502 x7105
THIS IS FROM CAMELBAK'S WEBSITE

100% BPA-Free

Big Bite™ Valve and Straw give easy access to water without taking your eyes off the road or trail.

Positive shut-off for leak-proof transport.

Custom-blended polypropylene lets you taste your beverage, not your bottle.

Squeezable sides for increased water flow.

Clear strip makes it easy to see water level.
This is my favorite water bottle. I like that I can take it on shorter trail runs and not have to take my eyes off of the trail when I want a drink. I can fill it with ice (using regular ice cubes from the freezer). I've never tried to freeze it, but considering that drinks freeze from the top of the liquid down, so unless you freeze the entire amount of liquid in the bottle, it should still be fine.

It blasts the perfect amount of drink into my mouth with a gentle draw and squeeze on the bottle. I couldn't be happier with this bottle.

The only thing that I don't like, is that someone at CamelBak told me in an email that they're discontinuing this bottle. It was in response to their selling the bottle with a bottle strap for use while running. They said that the strap and bottle combo will change to using the CamelBak Podium bottle, so hopefully the person from CamelBak just meant that the Performance bottle will only not be sold with the strap anymore, but will hopefully still be made and sold. If it's going to be discontinued, I'm going to buy several more.
I'm not a very big fan of this bottle. Because of the straw, it is impossible to add a decent amount of ice. You also can't freeze it either. Maybe it is good for bike rides, but that is about it.
This bottle rules. It has the bite valve and straw to make it an adult sippy-cup. The polypro bottle is soft as well so you can wrench on it for a faster drink to get back to breathing when you're exercising.

The common complaint can be fixed with a little adjustment. temperature change, elevation change or carbonation will cause it to build up pressure inside and slowly force the liquid out of the bite valve (air bubble on top grows, forces liquid up straw...). remove the straw and it will never happen

If you run it through the dishwasher, clean any dishwasher debris out from under the silicone umbrella valve on the inside of the cap.
It has served its purpose well for cycling. I'll put my energy drinks in this while my hydration pack is used for water. The bottle has been very durable, easy to use when on the go and I always love it when there is a spot to clip a carabiner. When I'm not on my bike I use the better bottle for workouts.
I bought some Camelbak Better bottles for drinking out of at home, and some of these Performance bottles for taking in the car. It sits in my cupholder and the water somehow gets sucked up into the top and leaks out. I come back to a big puddle in my cupholder and a wet bottle to throw in my napsack. Not good. Also, because this twists to open, instead of fliping like the Better bottle, my three year olds are not coordinated enough to open it on their own. When I started carrying the better bottle in the car I didn't have the hassle of reaing around to open it for them.