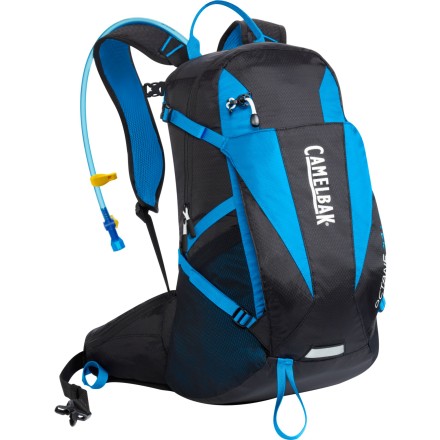 CamelBak rewrites hydration again with its Octane 22 LR Hydration Backpack complete with new lumbar technology. The Lumbar Reservoir keeps the majority of the pack weight resting on your hips rather than dragging down your shoulders. The Octane 22 LR is CamelBak's largest Lumbar pack with over 1100 cubic inches of storage and a three-liter reservoir, enough for a serious all-day hike. Quite light for a pack this size, the Octane itself weighs in at only a pound and a half, keeping most of your energy focused on the ascent. Beside the front and stash pockets, extra storage compartments can be found on the waist belt, allowing for quick access without having to remove the pack or slow your momentum. Diamond box ripstop, taffeta, and nylon, all coated in DWR and 1000 millimeters of PU, are ready to protect your stuff come rain or shine, sleet or snow. As you drink from the Antidote reservoir, continually tighten the compression straps to maximize the compactness of the Octane and keep it from jostling about on your back. Front and back reflective panels, as well as an attached safety whistle, offer a degree of security when you take the Octane along with you on nocturnal walks.

Season after season, CamelBak's super scientists have been hard at work refining and perfecting the Antidote reservoir, the industry's most popular solution to hydration. At the turn of a cap (a quarter turn to be exact), you can open or close the reservoir, refilling and securing it again in seconds. Center baffling and a sleek design prevent your water from jostling about inside your pack while running, hiking, or hitting the park. When not off exploring the world, simply disconnect the tube using the Quick Link System and hang up the Antidote for proper drying or storage. Since last year, CamelBak's go-to reservoir system has actually lost some weight, reducing bulk in the fill port and offering you that much more convenience.

Diamond box rip, taffeta, and nylon construction
DWR and PU treatment
1140 cubic inches of storage
Three-liter Antidote reservoir
Adjustable waist belt with side pockets
Stash and essentials pocket
Front and back reflectivity
Safety whistle
What do you think about this product?
Have questions about this product?
CamelBak Octane 22 LR Multi-Sport Pack
Versatile lumbar hydration system that keeps water secure and amazingly stable for trail running and adventure races.