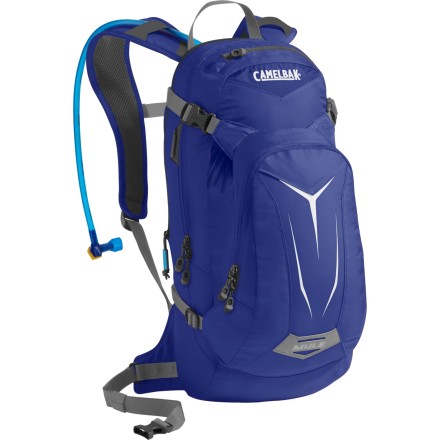 Colors

Detail Images

Videos

Community Images
Description
Hit the trail.
You can bring everything you need on that 3 hour ride that you have planned with the Camelbak M.U.L.E. Hydration Pack. The M.U.L.E. has room for over 600 cubic inches of gear and 3 liters of water, which should get you about three hours up the trail on a really hot day. The M.U.L.E. also has Camelbak's XV back panel with air channels to keep you cool, a removable waist belt, and overflow storage in case you need to bring the kitchen sink.

XV back panel with channels that allow cooling air to flow between your back and the pack
Roomy 671 cubic inch main compartment

Antidote reservoir includes a lightweight, quick-seal cap, folding arms on the port to speed drying, and baffles in the body that allow the reservoir to maintain a lower profile when full
Quick Link system in reservoir allows you to quickly snap off the tube for cleaning and easily attach accessories like filters, flow meters, and insulated tubes
Ample main compartment and multiple exterior pockets hold your rain gear, multi-tool, pump, spare tube, lunch, MP3, phone, wallet, and keys, while XC helmet carry stows your dome protector
Removable .75-inch belt with cargo pockets keeps the pack from bouncing around as you bomb downhill
HydroGuard anti-microbial technology inhibits bacterial growth on reservoir and tube surfaces
Ergo Hydrolock shut-off valve allows you to control water flow and prevents leaks
XC helmet carry stows your dome protector
Share your thoughts
What do you think of the
CamelBak
M.U.L.E. Hydration Pack - 671cu in
? Share a...
Great size and function
Familiarity:

I've put it through the wringer
This is my first of the newer construction style of camelbacks, and it is WAY easier to use then the old ones. The bladder opens easier to fill, and slides in and out of its sleeve way easier. Otherwise its what you'd expect if what you expect is quality and enough room to carry the essentials and have a little room to spare as the seasons change. This is a great pack to have if you want to leave your tool kit and tube in one pack that will work for riding the monarch crest (32 miles at high altitude) or quick laps on the local trail.
Some Improvements, durability issue
Familiarity:

I've used it several times
I had an early model Camelbak Mule NV and loved how it kept my back cooler and more sweat free. Opted for the regular Mule this time around due to the improvement back and was not disappointed. The venting system has greatly increased on the base model pack and kept my back nice and dry. There is more space in this version that my previous and the added helmet clips were a nice detail left out of earlier iterations. The pockets and media storage was absolutely perfect.

I loved everything about the bag except the buckle system. For whatever reason the buckles on the newer camelbaks seem to break more easily. The helmet carry system clip broke in moderately cool weather (low 50's) while I was placing my helmet in the hook (not forcefully). Some lightweight aluminum hooks would be nice for this application.
a few deal-breakers for me
Familiarity:

I returned this product before using it
I've had previous versions of the mule and they have outlasted every other pack I've owned. I was hoping to love this pack, but it didn't do it for me. For some reason camelbak has been putting clips across all the main zippers. It's a pain to have to unclip a buckle just to get a zippered pouch open.

The helmet holder is cool, but I always ride with my helmet, even while climbing, so it's not super useful to me.

The cell phone pocket is too small to fit my large phone in it. I don't like putting my phone in the same bag as my multi-tool since it destroys it with the jostling of mountain biking.

The orange color is absolutely incredible. It was even better than in person. Fantastic color scheme.

I don't love the exterior pouch between the two main pockets.

The good news is, Camelbak makes fantastic packs and there are other packs out there that will suit my needs. If this one had a bigger cell phone pocket, and the exterior pouch and no clips across the main pocket zipper, I would have kept it. Instead I returned it for another pack.
The Standard in Hydration Packs
Familiarity:

I've put it through the wringer
I have carried Mules in different variations forever. I have carried it in ultra marathons, bike trips, hiking, and a few times as a weekend pack if I wanted to travel light. When I purchased my most recent mule I had a debate between this Mule or the N.V. Mule. Looking back, it is worth the extra money for the N.V. That said, this is still the Mule in any format is the best hydration pack money can buy. The reason I would have tried the N.V. is that it would probably keep my back more dry during bike rides or hiking, but this version is still a great bag.

The bladder hanging system in the mule is far and away my favorite bladder attachment in any of the packs. The bladder is in its own compartment which is a great improvement compared to other brands I have owned in the past that hung the bladder in the main compartment.

The great thing is that you can fit so much stuff in this pack! There have been multiple times I have stuffed it full of snacks and found them later after I forgot they were in this cavernous pack.

I have been through 2 different iterations of this pack and am onto my third., When I get the itch to buy a new one I will most likely purchase another M.U.L.E.
Great for all day rides
Familiarity:

I've put it through the wringer
Just replaced my 3yr old MULE with the new one... just great. Seems lighter, smarter designs, just simple improvements that make a difference. Can't go wrong with CamelBak. Comfortable. Does everything you want.
Pack Mule
Familiarity:

I've put it through the wringer
I've had my Mule going on 4 years now and it's still going strong. With the ability to store a 3L reservoir and a handful of tools and snack fuel, storage is where its at when it comes to this thing!

I must say, I am a bit curious as to how the new XV back panel works out, as my back is usually drenched after a good ride with the older style backing. Ahhh well, when it comes time to replace, I'll know then!
Attention to Detail is Much Appreciated
Familiarity:

I've put it through the wringer
The best question I can answer for you is what made me decide CamelBak over other brands?...So here it goes:

It was CamelBak's attention to detail that told me their designers actually get out on the trails themselves and that's something I can appreciate.

Each shoulder harness has cut outs for the spout that allows you to choose which side you want to drink from, making it great for lefties. The Clip that holds the spout is adjustable up or down so you can attach it higher or lower. I like having my clip lower so that it doesn't flap around. I learned this the hard way with my GoPro Chest Mount. With the clip adjusted higher, my spout kept flapping around in front of my camera. I took some awesome footage coming down San Juan Trail. Got home, and wouldn't you know, that dang spout was right out in front of the lens. Bummer.

I also like to keep the spout connected lower on the shoulder harness because it's closer to my handlebars. A quick clip in for the spout and a short reach to the handlebars means my hands are where they are suppose-to be in less time.

I really appreciate that CamelBak included an adjustable Front Chest Strap so you can move it up or down where it crosses your chest. I keep mine lower so the pack stays more centered.

CamelBak includes small Velcro straps for each harness / belt that connects via clips so that any excess slack from the straps doesn't flap around in the wind (you don't want that slack to get caught on a branch and yank you off the bike!)

TIPS:
+ FREEZE!...your bladder when not in use, put the bladder in the freezer at home (keeps germs away).

+ If you are planning on a day with long climbs (4-5 mile climbs), pack smart, but keep the essentials (A heavy backpack leads to lower back pain for most people on long climbs, both hiking and biking)

+ MUST PACK a Small First Aid Kit. Take a look at Backcountry Item #AMK0124 and consider taking the contents out of their bag and storing them in the large center pocket of the M.U.L.E
Mule is a mule
Familiarity:

I've put it through the wringer
Just bought my second mule after retiring my first after about 6 years of hard use. The pack does everything asked of it from day hiking up small creeks in search of trout to full days mountain biking.
Just to confirm - does this include the...
Just to confirm - does this include the bladder?
thanks
Hello s_s4991636,

Thanks for your question.

Yes that is correct this pack comes with the bladder included.
Great Pack! Smaller Than Expected
Familiarity:

I've used it several times

After reading reviews and comparing brands, I was excited to purchase this pack. I have taken this backpack on 4 hikes now love it!
At first glance, I took it out of the shipping box I felt like "that's it??, it's so tiny, maybe they sent the kids size by mistake and it not really the backpack meant for an adult to carry 100 oz of water". The kids packs I saw in the store are about the same size, a 70 oz ones could most likely fit the 100 oz bladders/reservoirs too. Not many people really comprehend what 671 Cu means when ordering a pack.
It might be helpful to clear up that the size of the backpack does not really relate to the size needed to carry a certain amount of water. For example, I incorrectly assumed that this backpack would be larger than the backpacks carrying for instance the 70 oz bladders. It's basically the same pack with a different size water bladder in it.
Given the size, I would like to mention that after I filled it up with water and put some small items in the bag, I actually am glad that I did not get the larger pack now because its very light and will be easier to carry for a long hiking trip. The bladder has a nice wide hole to fill it with water.
My only other complaint is that the mouth piece is not protected and it only came with one mouth piece. There is no cap on the mouth piece and there is no place to hook the tube on the straps or anything while you are hiking so it kind of just hangs down, swings back and forth and the place where you put your mouth touches everything in sight. For this reason, I had to bring tin foil along and a plastic baggie with a twisty tie to make my own mouth cover. It like getting a water bottle without a cap over the hole that you drink it.
Besides my complaints, I would recommend the pack as it carry my water and felt light weight. One more thing, the straps do not look so cool in woman, as the expose the belly clearly in photos! So just make sure to take off the pack before smiling and saying cheese!
Wonderful
Familiarity:

I've put it through the wringer
I've had the M.U.L.E. for about 1.5 years and used it on dozens of hikes in the Shenandoah and GW National Forest. It easily stores my schtuff, I've never run out of water, and the padding in the back is a plus.
Just what I was looking for
Familiarity:

I've used it several times
I got this bag as a gift for my boyfriend to take on bikerides and hikes so he wouldn't have to take his bulky school backpack or a drawstring bag that irritates your shoulders. It was exactly what I was looking for. Fits snacks, jacket, keys, and phone with the water bladder filled but still maintains its slim profile! Looks bigger in the picture than it is on, but maybe that's just me. I'd definitely try to see one in person to make sure it is the size you want.
this bag is great
Familiarity:

I've used it several times
perfect size. i dont often use the hydration bladder. I throw a nalgene in the front pouch or some tennis balls. I can fit a college rule notebook(tight fit), a novel, and a rain jacket in the main compartment. I got my keys, cellfone and chapstick in the smaller compartments.
CamelBak M.U.L.E. Hydration Pack 671cu
CamelBak MULE Overview and Features
Redesigned with the lightweight XV back panel and integrated helmet-carry hooks. The M.U.L.E. and Lobo both include the 100 oz Antidote reservoir with Quick Link system.