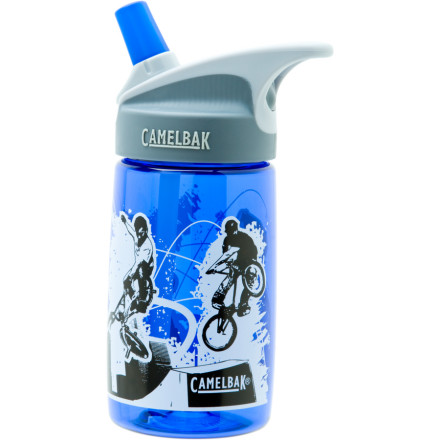 Detail Images
The Camelbak Kids' Water Bottle is the most advanced sippy cup we've ever seen, and your upholstery will be thankful for it. This water bottle combines the patented CamelBak Big Bite™ Valve with a stem tube and a shut-off vavle. Easy for kids to use and easy for parents to clean, this bottle eliminates drips and spills—kids just bite and sip and the tasty beverage flows, no tipping involved. The wide mouth bottle makes refills a snap as well. So your kids stay hydrated and happy.
I bought 2 of these for my kids and they are a nice break from all the Disney character sippy cups we own. The kids love them too b/c they are a smaller version of mom and dad's. Good size for little hands and easy to take apart and clean.
I have a 3 and 4 year-old. They love these water bottles. The designs on the outside are awesome for kids. The functionality of the bottles are great as well. The button to release the nipple can be a little tough for kids just FYI. Other than that, great bottle for the little ones.
Best drinking purchase I have made for my 4 and 3 year olds. They love drinking out of them and you still have the safety of a sippy cup, without trying to convince your "grow-up" 4 year old that she needs one.
Keep the little one's juice safe.
I bought the fire pirate color for my 2 year old, so that she would quite stealing Mom and Dad's! It did that trick, and she has not put it down since! She also loves showing off how clever she is that she can negotiate the 'quick action' mouth piece. Nerdy, I realize, but whatever makes her happy? The bottle is great and sturdy, but NOT leak proof. The bite valve stays primed, and if it touches anything (ie, the couch) a wet spot is to be had. My daughter also thinks it great to 'milk' the valve; ie, when it's primed she'll squeeze the bite valve so that water drips out, and it's usually my lap! So, that is unhappy. In total, I'm really glad we got it, and love it, but the bite valve is super annoying.
gave these to my nephews aged 3 and 5, and now they can't go anywhere without them!