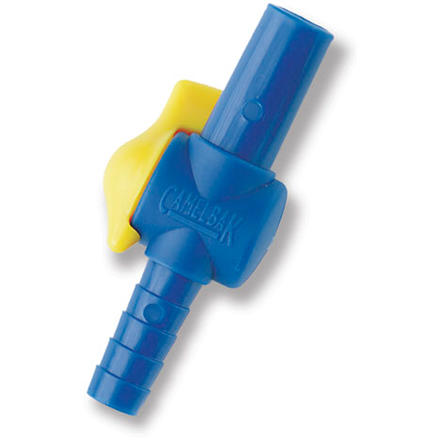 Share your thoughts
What do you think of the
CamelBak
Hydrolock
? Share a...
I just bought the HYROLOCK Shut-off valve today to replace my Bite valve. It works so much better. You might want to get a bigger water Bladder cause the water flow is so much better and easier. You can operate this little unit with one hand with no problem. You can still put another in line if your still worried about getting a little water on your gear. Outstanding little product.
This replacement part works GREAT !! No Leaks and no worries!!
You nailed it. Pop the bite piece off, put this on, then cram the bite piece back on there. I use this all the time, love it.
No Camelbak should be without it!
What can I say? I replaced my old bladder and needed a new mouth piece. This one works as great as the previous one and the color matches my new bpa-free bladder. (The matching thing is probably insignificant but it sure looks good and it NEVER leaks).
Did the dog pee on the floor again?
The scene is a simple one and perhaps all too common: You're getting ready to leave the house for a hike or backpacking trip. Your packs are full (and heavy) and so are your CamelBak reservoirs. Someone places the pack down on the wood floor or carpet, the CamelBak hose is squeezed (between a pack and a hard place)--and water leaks all over. Did the dog pee on the floor again? Did one of the children spill water on the carpet? Is the kitchen faucet leaking again? Get one of these gadgets. Small item, small price, but wonderful modification for your CamelBak. No more blaming the dog, your children or your spouse for making a liquidy mess on the floor.
My CamelBak was leaking a lot, but after buying this, it doesn't leak at all. Nice, cheap fix for an annoying problem.
The Hydrolock really improves the use of my Camelbak by making me confident that it will never leak. The only mild complaint I have is that it sometimes drips a few drops onto my shirt after I close it if there is water in the mouthpiece. This is solved by blowing the water back into the reservoir (which I do in winter anyway to keep it from freezing in the tube).
This really does lock the contents of your reservior and prevents unnecessary leaking so you don't loose your water on the trail. I have been using mine for 4+ seasons and I have never had a problem with it. If your Camelbak does not have this, you are really missing out!
I bought this for a friend because her Camelbak tube kept leaking. It worked like a charm and she doesn't have to worry about water dripping on her constantly. Such a simple thing for a major problem.
Prevents Spills from Tightly Compressed Packs
If you cram a lot of gear (especially hard objects like ski boots) into your pack and then compress it tightly, this handy little device will prevent water from spurting out hydration tube's mouthpiece when the reservoir is squeezed too much inside your pack.