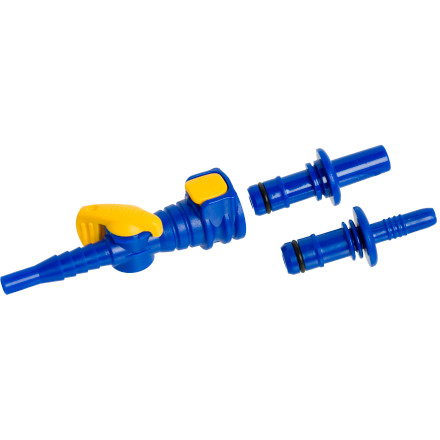 Detail Images

Community Images
Description
Couldn't be easier or faster.
The CamelBak Hydrolink Filter Adapter connects the end of your drinking tube to your filter, so you can filter and fill on-the-fly. Compatible with all leading filtering and water purification systems, the Hydrolink Filter Adapter lets you fill your reservoir quickly & conveniently with clean, drinkable water, without needing to remove it from your pack.
Critical
Familiarity:

I've put it through the wringer
These are a life-saver for anyone who gets out frequently, where you're pumping water for days. Despite backpack design improvements over the years, there's not really a great way for a water reservoir hose to be secured well and easy to access while on your back, yet also able to be filled easily. Before purchasing a set of these for all my reservoirs, you could usually find me exhausted at a stream on the trail, wrestling with my hose, trying to thread it out of the pack strap holders without the mouthpiece popping off, or spilling water everywhere. It got to the point where I was avoiding drinking water because I didn't want to stop and pump water anymore knowing the work it took to do so.

Enter the Hydrolink--because it's so easy to filter water right into my reservoir, without unthreading the tube, I don't loathe just topping up my reservoirs quickly, whenever I come across a spring, instead of waiting until I've sucked the last few drops out of the bag, staying dehydrated, and costing me miles on the trail.

The mouthpiece valve is a bit awkward at first, solely because it's different than what you may be used to, but the larger size makes it far easier to adjust with one hand in my opinion.

If you're a backpacker, this is the one accessory you really shouldn't go without.
STOKED
Familiarity:

I've put it through the wringer
excited to have this connected to my Camelbak bladder for easy filtering directly to the bladder.
Why deviate?
Familiarity:

I've put it through the wringer
I converted my Sawyer Mini and Hydropak to these adapters before I hiked PCT-J last year. I trimmed the unnecessarily long locking-piece, but still found it awkwardly long around my right shoulder. Worked reasonably well and I didn't have any leaks. The shut-off valve would sometimes need to be toggled twice to get it unlocked. The problem is the non-standard connections, which didn't work with my friend?s Katadyn. No show-stopper, but the whole point of the setup was to allow me to keep my bladder in the pack, connect to other?s filters and allow them to connect to mine.

If you MUST have a locking mechanism, maybe this a good fit, but not for most people.
Way better than Ergo Hydrolock
Gender:

Female

Familiarity:

I've put it through the wringer
I have a CamelBak with the standard ergo hydrolock that I've used for years for hiking, biking, etc. and I always liked it. But this season on fire crew, I was issued a different type of CamelBak that instead has this adapter piece featuring the non-ergo hydrolock and a big bite valve. Wow what a difference!!



I had problems in the past with the ergo knob popping off and water spraying me in the face...not with this one though. With the bigger knob I can easily switch the water flow on or off with gloves on while hiking, digging line, or whatever. And it's so much harder to accidentally pop the knob off. I didn't know what I was missing, but now that I know this type of hydrolock exists, I recommend it to everyone!
Not compatible
Familiarity:

I've used it several times
I have a Katadyn Microfilter, I thought I could cut the line of my camelbak reservoir, put this valve in, and switch between drinking from the reservoir or filling it up without spilling anything. The problem is that it doesn't work with most other Quick-Disconnects. It's too long.



I kept it and put it on a smaller reservoir I use for biking, I ended up buying the "Platypus Quick-Disconnect Kit" for my backpacking filtration setup. It doesn't have a valve but at least it fits my other connections.
Unanswered Question
Does this work with the sawyer squeeze?
Does this work with the sawyer squeeze?
Love these Adapters
Gender:

Male

Familiarity:

I've put it through the wringer
I've been using this for years and just got some more bladders for my multiple backpacks so I don't need to swap out the bladder every time I switch a backpack. It works great with the Katadyn Vario filter to pump directly into your bladder, and is super nice when threading your hose with the Bite Valve cover through your bag.
Leaky hoses are no good when you through your gear into your can and drive to your destination and find out your hose leaked and got everything wet! This has a lock on it so you don't leak water and you can detach the mouthpiece to easily feed the hose through you pack or to feed the water directly from your Katadyn Vario water filter in through the hose into you bladder! :)
Overall useful, but could be better.
I've used these guys since they came out, years ago. They have been pretty great overall, but they always seem to get progressively more difficult to release. I still buy them when they go bad, they are so darned handy.
I use this all the time while I'm packing for a trip or out on my trip! I have multiple backpacks that I use and I have the Bite Valve Cover so it makes it makes it really easy to disconnect the one end to get the bladder in and out of my backpack! It is also convenient if you need to filter some water using your Katadyn Vario as the Filter hose can attach to your bladder hose.
This seems to be the same adapter that came with my Katadyn Pro water filter. A flick of the knife, cram those bad boys in and you're ready to go. About six to eight inches in from the bite valve seems to be a pretty solid location.


While this is definitely a plus when in the outdoors, I feel like this adapter really shines in cramped quarters. When you're filtering terrible looking water from a plugged up sink at a hostel and you'd rather not risk contaminating something by filling a bottle and pouring it into your reservoir... you'll be glad you spent a few bucks on this guy.