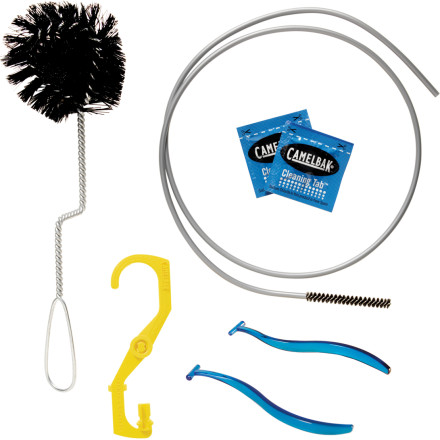 Description
Use the brushes, tablets, and reservoir dryer in CamelBak's Hydration Pack Cleaning Kit and restore your water reservoir to clean-as-new condition.
CamelBak's Hydration Pack Cleaning Kit makes it easy for you to clean out that mossy stuff growing in your water reservoir. Scrub all the way down the inside with the reservoir brush, and get your water tube cleared out with the skinny tube brush. Pop one of the two cleaning tablets in to attack any leftover nastiness, then use the reservoir hanger to keep the bladder open as it dries.
Not Necessary, but great to have.
This kit works great for the Antidote bladder. My bladders were always feeling grimey and I couldnt get the hose clean. This kit solved both of those problems. Im stoked on it.
des not go w regular PURE FLOW Camelbaks
Misleading! Purchased this item last fall, never used it until now and realized it does not work we regular camelbaks but only ANTIDOTE style The pipecleaner is way to short for the regular camelback, the brush has an odd shape and teh hanger only works w ANTIDOTE line as it says on package - waste of time and money - paid $ 19.96 and now $ 6.99 return shpm fee?
Maybe not the most necessary piece of kit.

If your tired of having a slimy feeling water bladder.

I highly recommend getting one of these
It had been two years since the last time I cleaned my hydration pack so I purchased this kit and couldn't be happier with it. Both brushes were great for getting all the water spots out and the cleaning tables were the just the right finishing touch to make sure there wasn't any mildew taste. I highly recommend this its a must have for any one with a camelback.
A must!
Gender:

Female

Familiarity:

I've used it several times
Does just what it says, cleans your nasty camelbak, no matter what you'll need to clean it eventually. Easy to use and effective.
Gets in the hard to reach spots
Familiarity:

I've used it several times
The tools are great for getting in those hard to reach areas. Resulting in clean water.
This kit helps you clean your hydration bladder. The brushes are the right size, and the drying hanger thing is the only reliable way I've found to hold the bladder open so it can dry. Drying is the most important part; if it's wet inside while you're not using it, that's when the mold starts growing. Wish it came with more than 2 cleaning pellet things, although I'm sure regular dish soap works fine too.
The Black stuff is not good for you.
So after 6+ years of using a Camelbak and thinking the black spots inside the tube was normal, my friend pointed out to me that 1. Its not normal and people call it mold. 2. Stop being cheap, you need it. Well I solved the mold issue by using "his" cleaning kit, but then I moved and you guessed it the mold returned. So I ordered it and no more mold. Moral of story don't be cheap and do not think running soapy water through the tube cleans it. It's worth every cent.

Update: 5/1/12 The brush it comes with is very abrasive and you can use a soft cup brush instead. I bent mine straight with pliers and used it as a toilet brush, so its not wasted.
Must Have For Any Hydration Pack Owner.
No matter how much we cleaned and drained our hydration packs, over time they started to get grimy and this thing was a lifesaver. I read reviews on the cheaper version of this and after using it realized why it is necessary to have the longer handle. It also works perfectly with our hydration packs that aren't camelbak too!

Bottom line...don't skimp, stay fresh and algae free!