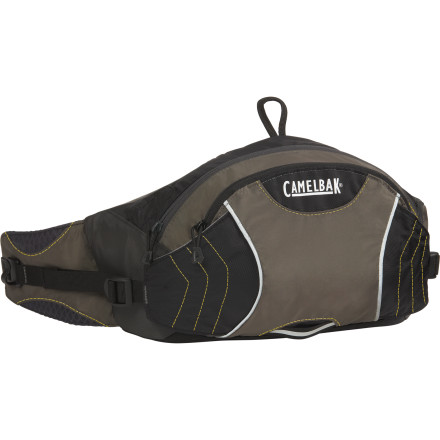 Community Images
Description
Leave your worries for another day.
Grab the Camelbak Flash Flo Lumbar Pack and your media player, and walk or run your worries away after work.
50oz Antidote hydration reservoir's HydroGuard technology resists bacterial growth and odors
Quick Link system works with Antidote add-ons (such as Fresh Reservoir Filter, sold separately)
Breathable mesh waist-belt cinches down with two side compression straps for stability when you're on the move
One small organizer pocket holds your keys, media player, and a quick snack
Does the claimed weight for the Camelbak...
Does the claimed weight for the Camelbak Flashflo Lumbar Pack 200cu in include the weight of the bladder?
D,

Unfortunately our weight spec here is incorrect. The true weight for the Camelback Flashflo Lumbar Pack 200cu in (pack and resevoir) is 13.3 oz.
Is there a photo somewhere for the inside...
Is there a photo somewhere for the inside layout of storage? Is the hydration unit and related bits removable? I want a bright hip pack with smartphone slot & other organiser features, but prefer carrying water bottles separately.
Cynthia,

I have added some phots that show the interior of the pack. You can definitely use this as a good hip pack without using the hydration sleeve.
Great for running/dayhikes!
This has been a great amount for a day hike. Plenty of room for phone, camera, small first aid kit, and snacks. Have used on day hikes, and trail running without filling it all the way up.
overall - ok, but mine leaked which is VERY unusual for CamelBak. It's a bit bulky compared to an earlier CamelBak version called the Catalyst. Nice divided storage compartment. The older version had small velcro compartments in the waste band on either side of the buckle which were great for holding energy gels.
Camelbak has great quality. I've had other hydration packs but Camelbak is the best! I bought this unit for my daughter, I had purchased a large backpack hydration unit and she wanted to try it. I thought the smaller 1.3L would work for her. She has a 20" waist (8 yrs old) and it fit! Now when we hike or bike I don't have to carry a bottle for her. The inside of the waist is super soft and has lots of storage!
How many inches is the waist belt?
How many inches is the waist belt?
It has an adjustable waist belt, not exactly sure on the max size...