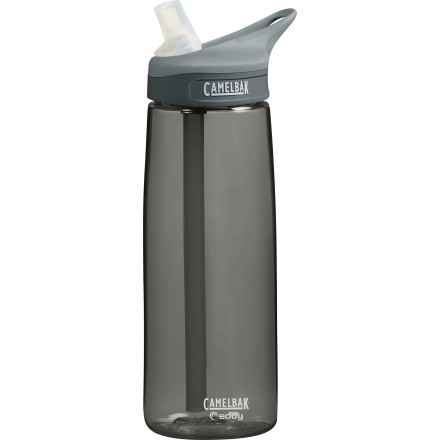 Colors

Community Images
Use the CamelBak Eddy Water Bottle's integrated handle to attach it to a pack with a carabiner, or just enjoy how easy it is to carry. A flip-down valve not only makes drinking a breeze, but it lies flush with the lid to help prevent this BPA-free bottle from spilling.
Spill free bottle
Familiarity:

I've put it through the wringer
The flip lid on this bottle makes it great for drinking while in the car, on the trail and just about everything in between. The only downside is that it does take more effort to clean it, preferably by hand. The plastic shell has taken some big hits and has never cracked or chipped on me at all. Overall it's a great bottle.
Awesome bottle, bite valve mediocre
Familiarity:

I've put it through the wringer
I used this water bottle for months until I eventually lost it in an airport. While I loved this bottle while I had it I am probably going to branch out and look for a different replacement. The bottle itself was tough as nails and I loved that. The bite valve is the Camelbak style, so it seals nicely when not in use. The downside is that it's got a lot of small cracks and whatnot to clean. If all you ever use is water and you never go long periods without using it, then you won't have anything to worry about. It also fits in MOST cup holders, but not all. The clip is extremely convenient if you live that 'biner life.
Good, not great bottle
Familiarity:

I've put it through the wringer
The bottle is a good, simple design - except for the bite valve.



I was given a few of these at a trade show. Since, 99% of the time, Im drinking water, and dont clean my water bottles a lot (I normally use Nalgene wide mouths, so there isnt much to clean, and, hey, its only water... I know, total bachelor thinking), I didnt pay attention to the bite valve.



First time that I ran some sports drink/recovery drink (Enervit, if I recall), and then ran it through the washer...I got to see just how much every little nook and cranny in that bite valve holds. It was kinda gross, and took special attention to get it actually clean on the inside.



And, I really like that it is dang near impossible to spill with it. (Totally comes in handy with a toddler around)



Im a low maintenance kind of guy. I want stuff thats easy to clean. But, I do like the bottle. But, with the cleaning thing...I tend to run water through it and not much else.
My daily "GO TO"
Familiarity:

I've put it through the wringer
I love these. This is my second one i have purchased as the first one I ended up giving it to m grandson cause he loved i as well! I take this everywhere I go- to work, hiking, camping etc. I personally haven't had a issue with the bite valve getting dirty maybe because I do use this everyday. I love the fact that I can drop it, shake it etc and never have a problem with leakage etc!
Loved it for awhile, now, not so much.
Familiarity:

I've put it through the wringer
I'm torn because for awhile, the Eddy was my go-to, everyday water bottle. I packed it to work for a year and a half. I liked it so much that I bought a smaller size and the stainless steel version.

The Good: I like straw designs, I drink more when I don't have to unscrew a cap which sounds terribly lazy but is also very true. I can drop it, fumble it, and be generally clumsy without spilling. I appreciate that the mouth is wide enough to use with the ice maker.

The Bad: Take note of what everyone says about the bite valve and lid getting cruddy. I'm loathe to admit how gross one of mine was even after putting it through the dishwasher (disassembled, top rack) - it makes me shudder to think of it. The Eddy MUST be disassembled and thoroughly cleaned, I recommend bleach & toothbrush followed by a lot of rinsing. I was always concerned that the area between where the straw attaches to the lid and the bite valve might be dirty - I can't see in there and after finding black gunk on my drinking vessel, I became more paranoid.

The Eddy is spill-proof but not leak-proof. The .75L size doesn't fit well in many drink holders and a couple of times I made the mistake of laying the bottle in my passenger seat, the bite valve leaked. Even folded up, the bite valve will leak unless the Eddy is stored upright.

Conclusion: I loved these bottles at first but I hate that they won't come completely clean in the dishwasher. They live in my closet now.
All Day, Every Day.
Familiarity:

I've put it through the wringer
I use my eddy as an all purpose water bottle just about every day. It goes with me wherever I go- to work, on hikes, driving in my car. I love the accessibility of the bite valve for times when it would be impractical to unscrew the top of a Nalgene bottle. This is a bottle that will last for years, built with durable plastic, and with a replaceable bite valve and straw. Not to mention, the replacement bite valves come in fun colors! You can see from the photo that I've put a neon green bite valve on my pink Eddy for a fun twist!
Good bottle
Familiarity:

I've used it several times
I wish they offered a non-bite valve version for less money. I had to by a screw on top separately to go with this one. Otherwise, it's a good bottle. I just don't care for the bite vales that much unless it's on a backpack.
Camelbak Eddy with your Logo
I have had the same bottle on my desk for years. Love it.

We can also have your companies Logo printed on them. (72 minimum). Great inexpensive gift.
what materials is it made out of?
what materials is it made out of?
It's made of Lexan, a BPA-free hard plastic.
The bottle is made from Eastman Tritan, and the cap is BPA-free Polypropylene.



More about Tritan: http://www.eastman.com/Markets/Tritan_Safe/Pages/FAQs.aspx
Great for around town
Familiarity:

I've put it through the wringer
I keep one in my backpack for school at all times. it is great for drinking in class and on the go around campus. When ever I am going else where I toss it in my bag and off I go. These are really well built I have some that I have had when these first came out and they are still going strong. I don't use these when I go backpacking just because I take a Nalgene since it has volume markings making it easier to use for cooking.
Travels with me everywhere
Familiarity:

I've put it through the wringer
Whether it's class, work, the night stand, the mountain, on the lake, or the back country, this little guy follows me everywhere. Dropped it countless times and have probably left it outside in the rain/snow once or thrice but it still works perfectly. Only issue is the flip up bite valve doesn't stay in the locked down position anymore but I'm betting that's a user related problem at the moment. If you like drinking water and hate using a ton of plastic bottles, go buy this right meow.
Camelbak Eddy bottle w/ Nalgene OTF Cap
Familiarity:

I've put it through the wringer
Soon after I got the Camelbak Eddy bottle I broke the lid and could not use for a while as in my local store I could not find a replacement. A few days ago, I decided to buy the only kind of cap replacement they had in the store which was the Nalgene OTF Cap. It fits perfectly! doesn't leak, and I feel I got a new bottle!.
Great bottle, better lid than past
Familiarity:

I've used it several times
The new lid is nicer and a bit better for leak resistance than the old straw lid. But cleaning is still hard (a small wire brush or a lot of soap and some bleach) and the valve is easy to chew up, especially while running or cycling. But the bottle is the same old nice design, not so perfectly straight as the Nalgene but still an efficient shape.
Like it, But dont Love it
Familiarity:

I've used it several times
I am a Nalgene fan and have used the eddy whenever I need a straw. It is a handy water bottle for school and around the town! My only complaint would be that the bite valve wears after time, but bonus: you can get a replacement valve I believe!
You can suck on it in public...the straw
Nice little bottle, I've got a couple of these and the straw is a nice change from regular bottles. It durable, i've never had the straw break or mess up. great for stickers! who doesn't love STICKERS!
Quite possibly the best
Familiarity:

I've put it through the wringer
The bite down straw design makes this bottle ingenious. I drink far more water each day with the Eddy. It's always by my side, it's super quick to take a sip whenever you want without the hassling of unscrewing a top and it never spills. I believe there have even been studies saying how much more water people drink with this design of bottle over a traditional screw top. Best water bottle around.
This water bottle is great. It is easy to use when you are on the move and the days of spilling all over you when you try to drink out of your water bottle are over. It is light weight and seems to be very durable.
Remember to clean out the bite valve...
I really love this water bottle. I'm a little on the clumsy side of things and so the fact that this water bottle never spills is a great thing. I also really love it when I'm in a car. When I use a Nalgene water bottle I spill water all over myself when I try to drink in the car, but with the camelbak its no problem.



Do be aware of the cleanliness of this water bottle though. The bite valve comes off, so its easy to clean, but don't think putting it in the dishwasher will be enough. It isn't necessary to buy the whole camelbak cleaning kit, but just make sure you take the bite valve off and clean it with a q-tip every once in a while. It grows mold pretty easily and its hard to notice until it gets bad.



Overall its great. I'd buy it again.