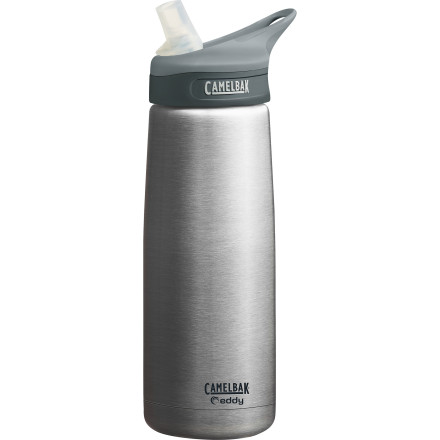 Description
Because cold water on a hot day is one of life's best simple pleasures.
The Camelbak Eddy Stainless Steel Insulated Water Bottle gives you a durable vessel for cold, clean-tasting water everywhere you go. Double-walled insulated construction keeps water cool for hours, while the one-piece silicone Big Bite valve self-seals to prevent leaks.
BPA-free, taste-free stainless steel doesn't require a liner or coating like aluminum bottles
Wide-mouth opening makes filling and cleaning a cinch
Bad lid, amazing insulation.
Familiarity:

I've put it through the wringer
I've had a thermos that didn't keep water this cold. It's insane how well the insulation works, it'll keep ice all day.

That said, I have some problems with the Eddy series of bottles. I liked my first plastic Eddy so much that I bought a smaller plastic one and a stainless model. I got a lot of good use out of them but eventually realized that they weren't coming completely clean in the dishwasher. I've found black gunk near the bite valve and on/in the lid. Cleaning them by hand seems to be the only recourse.

Also, all of my Eddy's have leaked, there's a breather hole up by the bite valve and whether the bite valve is extended or folded up, the Eddy will leak.



I've never had a Nalgene leak OR accumulate gross black gunk. I do like the straw design though; there's no question that I drink more often when using a straw.
Favorite water bottle ever
Familiarity:

I've put it through the wringer
Love this CamelBak stainless steel bottle. Keeps my water cold and refreshing for long periods and they're practically indestructible. I ordered this as an extra because my original stood the test of time (3 years) and is still in perfect shape.
Pretty good bottle!
Familiarity:

I've put it through the wringer
Awesome little bottle! The insulation is amazing. I filled it up using the water fountain at school and then let it sit on the passenger's seat in the sun all day. Came back several hours later to find the outside was burning hot, but the water was still good and cold. Not for hiking trips or situations in which you don't have access to water, but perfect for normal, everyday use.



--EDIT



After a few months of use, I've found that the top leaks a little. Not a terrible issue, but still a tad annoying.
AS GOOD AS IT GETS
Gender:

Male

Familiarity:

I've put it through the wringer
i cant say enoff about this eddy bottle, got the blue one put ice in it at 6 pm, went to bed at 11 pm still ice and cold, got up at 10 am ok im not a morning person,ice in it still cold, i could not believe it, 6 pm ice still cold, next day went to work up at 5 ice put in eddy and water, went to work till 5 pm ice still cold, to the gym at 530 pm home 7 pm ice still cold.

no sweating, not cold to grip, no rings on table, sold sold sold on eddy, took a drink at 11pm ice still cold, sold sold, went to this companies web site, ordered the silver one, i even chated with customer service to let them know how happy i was, this company has the best prices out there i know ive checked everywhere, they did free 2 day shipping, cant beat that, got both units yes 2 days, pack so well, i will not deal with anyother company out there, they are the best, great products, lowest prices and they work with u, ow yes this eddy is so easy to get the water to the mouth, just bit down on the very soft clear straw and there it is, u dont have to suck heavy to get water or what ever ur drinking, one thing if u bit low on the straw u get less, bit high on the straw and it opens it up more and u can get more, just a note, you dont have to suck ur brains out like others out there, the eddys are made so well, solid, solid, solid, no mess the straw retracts and snaps back into a holder in the top, it pops out so easy and there u go, water with no mess , no bottle sweating leaving rings on everything, and yes it keeps the liquid cold, cold , cold for days, now i got two, the price is to good to pass up, getting more to give as gifts, i dont write reviews much, cant spell so good , but had to with this product and to let u know this company is to good to be true, but its true, cant thank u guys at backcountry enoff, u had me at hello, ok enoff, buy one wont be unhappy, heck get ur dog, cat, rabbit one, they will love ya for it. thanks hope this helps .
Awesome Bottles
Gender:

Female

Familiarity:

I've put it through the wringer
I love these bottles, the water stays cool and the ice stays in for hours.
My husband and I love these bottles. They keep our water well insulated and cold even when running around in the middle of summer.
"Best Bite Value on the Planet"--Bicycling Magazine
Go stainless with the CamelBak 0.50-liter Better Bottle. In addition to the environmental benefits of using a refillable water bottle, the Better Bottle offers a number of physical benefits as well. The bottle is made from medical-grade stainless steel, with none of the inner liners or plastic coatings that aluminum bottles require. As a result, the bottle is naturally BPA-free and stain-resistant, with none of the odors or tastes that plastic water bottles can accumulate over time. The bottle also offers a revolutionary Big Bite Valve that's re-energized the reusable bottle category, creating the ultimate spill-proof companion.

Recently called "the best bite valve on the planet" by Bicycling Magazine, the Big Bite Valve has no moving parts that could lead to potential leaks, ensuring that the water gets to you and not on you. The Better Bottle is available in an assortment of colorful styles.