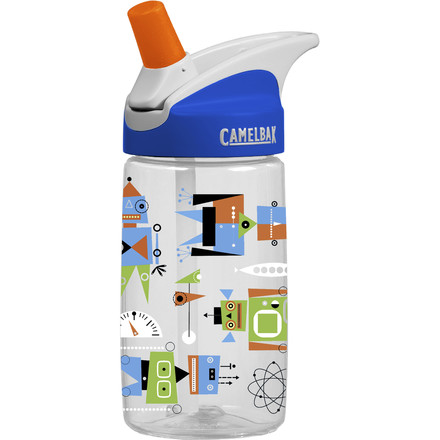 Colors

Community Images
Kids are often too busy romping to remember essentials such as hydration. Keep your young adventurer free of thirst with the CamelBak Eddy Kids' Water Bottle. A Bite Valve makes drinking easy and fun, and tough Tritan polyester withstands the rough-and-tumble nature of childhood.
Best Present EVER for my Niece
Familiarity:

I gave it as a gift but have feedback to share
My Niece Loves her new fox water bottle. It's perfect for little one who drops or throws their bottles a fair amount... Highly Suggest!
Finally a water bottle for kids that doesn't actually leak! Very durable and easy to use. It has already been dropped, thrown, and dragged and still works perfectly. The best part if it is so easy to clean.
Love this water bottle!
Familiarity:

I've put it through the wringer
My little 12 month old loves this water bottle. We got the one with foxes on it and it's adorable. It doesn't seem to leak, unless he's squeezing the mouthpiece while it's tipped over. He figured out to use it right away.
More water in makes happier kiddos
Familiarity:

I've used it several times
We have two of these, one for my 5 year old and one for my 2 year old. In both cases, they work great. Camelbak got rid of the button that these used to have which was really difficult to push for little fingers and hard to clean around. This new version is much simpler and we have had no issues with the kids opening and closing the bite valve. My toddler does like to push the valve back into the bottle which allows it to spills and means that someone has to open it to put it back together correctly. Other than that, these work great for keeping liquids in the kids hands more consistently. I was really surprised how much water they were going through while were in Yellowstone because they had consistent access to it rather than having to ask for a drink.
My Son's Go-To Waterbottle
Familiarity:

I've put it through the wringer
I bought this waterbottle for my son to bring to pre-school every day and it is his first choice -- no spills, easy for a kid to use, lots of fun designs, and still works even if you lose the straw!
Perfect for kiddos of any age!
We recently bought two of these for our 2 year old. We were sick of his cheap, store-bought sippie cups leaking all over the place. These are perfect for him. They don't leak, and he can carry it around on all of his adventures!
love it!
Familiarity:

I've put it through the wringer
My daughter absolutely loves this bottle, super easy to clean, not too heavy and easy for her to drink out of!
Bye Bye Sippy Cup, Hello Eddy!
Familiarity:

I've put it through the wringer
I got this for my 9 month old as a replacement for her sippy cup and loved it so much, I bought 2 more as back ups. The bite valve offers a perfect transition from bottle to cup and is super easy to clean. No spills = one happy mom. Definitely recommend this bottle for every day use and the prints are adorable.
Granddaughter had to have her own
Familiarity:

I gave it as a gift but have feedback to share
Bought 4 of these for granddaughter. Stepdaughter said she kept taking hers so I bought her own for her. She loves them. Durable so far
Just like mom and dad's
Familiarity:

I've put it through the wringer
My lil guy was really pumped to get his very own Camelbak. He'd always steal my wife's and promptly drool/slobber/backwash all over the bite valve. Got him his own to avoid that, plus it's a lot easier for him to hold.



Easy to clean, it's held up so far and he loves it.
Great bottle
Familiarity:

I've put it through the wringer
My two year old has two of these. Loves em. They dont leak and are easy to use.



She had three and managed to crack one somehow... So, not sure on durability. We switched to the metal Klean Kanteen bc of that.
Great until they got moldy
Familiarity:

I've put it through the wringer
We purchased one for both of our kids and they were great bottles - durable, spill proof, and the kids loved them - until we noticed mold starting to grow in the caps. Unfortunately there is no way to get in there to clean so we had to throw them away.
CamelBak thinks of the kids too!
We love CamelBak Products and we were stoked to find that they made bottles for our kids. Our son is about to start 2nd grade and our youngest daughter is about to start kindergarten. Now the whole family can enjoy CamelBak!



I was super stoked to find out that CamelBak included a well thought out valve for our kids like they have with their Podium Chill bottles. It's CamelBak's thoughtful design with their valve technology that has made them our favorite bottle brand. Thanks CamelBak!



Here's why you should consider these bottles for your kids: The valve allows the kids to get a mouthful of water or juice without having to send straws with them in their lunch box (straws prevent tooth decay and cavities...look it up). We can confidently pack the Eddy bottle without fear of it leaking in his Darth Vader lunch bag/box. This is a HUGE plus and the reason we started looking for a new bottle for our son. The previous bottle we were using leaked and ruined his first Darth Vader Lunch Bag/Box.



If CamelBak could just add their Chill technology to the Eddy bottles, they would be perfect!



PROS:

+ The bottle plastic does not get dingy or become faded or gray

+ Easy to handwash

+ Spill proof is an accurate claim

+ The valve comes off making it easy to clean

+ BPA Free makes my heart happy

+ Colorful graphics are cool looking and the kids dig em



CONS:

- The printed graphics on the bottle wear off after many washes in dishwasher



Tips:

+ I suggest handwashing these bottles to prevent the printed graphics from wearing off


Loader, Track hoe and Tractors, oh my!
Familiarity:

I've used it several times
My kid loves his CamelBak. It matches his mom's and he thinks that's pretty cool. My big thing with these water bottles is how easy they are to keep clean. The Bite Valve is easy to take out and wash. It out stands tantrums and fits, snit with no bits.
Kids love the flip top!
Familiarity:

I've put it through the wringer
These water bottles make it fun for kids to drink out of them! The kids in my family love the flip top and the cool designs on these bottles. Camelbak made a great product for kids. The size is perfect for little kids hands too!
Love this!
Gender:

Female

Familiarity:

I've put it through the wringer
So great for our 1 year old daughter. She wasn't patient with straws until she used this and now she loves straws. Never worry about spills either. The pattern was really cute, only negative is after many washes and being drug everywhere, the pattern is mostly gone. Sad part is we just left ours at the airport on accident. I might stock up now!
Be careful, these will cause fights.
My kids love these water bottles. So much, in fact, that they fight over them. They hold a good amount of water and have only minimal leakage. Great product.
I got these for my children and they love them. Spill proof and hold enough to last for a while.
Perfect, leak-free, kid's water bottle.
My daughter is in third grade and she takes this water bottle to class with her every day. She has 'Sea Fairies' and 'Jungle', but 'Jungle' is cuter (in her estimation). She likes to practice using 'biners with these water bottles, and I support it in full. She stays hydrated, gets to pack around something 'cute', and practices climbing related skills. I say these bottles are a solid win!