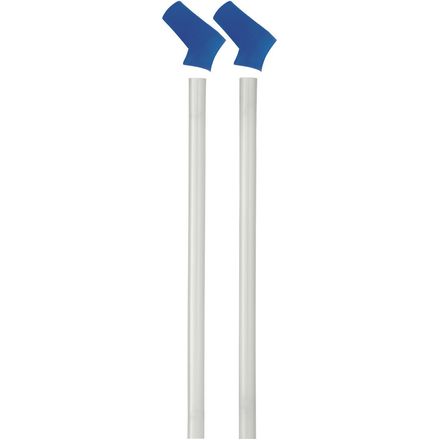 The CamelBak Eddy Accessory gives you 2 backup straw/valve assemblies for whenever your Eddy water bottle needs a little refresher. Includes the redesigned Big Bite valve with a leak-proof, one-piece construction.
New straw, same bottle
Familiarity:

I've used it several times
I have a .75L Eddy bottle that I use as my gym bottle and at first I was first looking at just buying a new one being that I've had mine for a couple years and after many washes, the straw and bite valve were pretty much DONE-ZO. But glad i found these replacement straws and bite valves. The straw is about an inch too short for my size bottle so I did have to cut it. But bite valve works even better than the original. No spilling or leaking like it did before.
Definitely worth it
Familiarity:

I've used it several times
Have been using and abusing my Eddy water bottle for a couple of years now and the mouth piece was showing signs of giving up on life. Was wondering if I wanted to just buy a whole new bottle when I happened upon these little guys. Cheaper than buying a new bottle and now my old Eddy with all the cool stickers is back in working action!
I am happy to find these replacements to put to use a bottle sitting around for "spare parts" - these will get it up & in use again!
I have a few camelbak better bottles (750...
I have a few camelbak better bottles (750 ml) with the old bite valve design. Both have been dropped and leak now. If I buy these replacements will they fit on the old bottles with the old designed valve system and stop leaking... even just sitting on a desk it fills up with water so when I pick it up it spills all over me.
i would contact camelbak's customer service department and get them to replace it rather than buying replacement parts. i had a better bottle that did the same thing, and they sent me a free one. the problem was the replacement leaked too. i just decided that the "better bottle" is in fact the "worser bottle" and moved on.