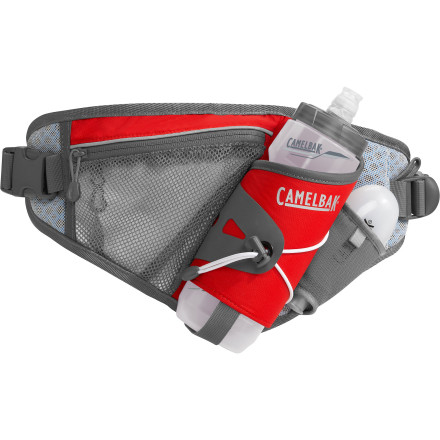 Detail Images
Save time during your next 10K and skip the time-consuming, inefficient water stations; carry the fluids you need as well as a gel flask and energy bars in the CamelBak Delaney Plus Lumbar Pack.
Includes a 24oz BPA-free Camelbak Podium Chill bottle that sits securely in a reinforced holster with drawcord closure
Included gel flask holds your ooze of choice and has its own pocket
Media pocket conveniently holds the musical inspiration your MP3 player provides
Perforated mesh is lightweight and conforms to your lower back with no pressure
Side cinch places the buckle out of the way, and dual adjustability lets you find the perfect fit
Front and back reflectivity adds an element of safety in low-vis or nighttime conditions
Good for Hiking - not for trail running
Familiarity:

I've put it through the wringer
I do all woods trail running. i got this belt thinking it might work better than a regular back hydration and found this is not so. If you are only going out for a short distance, maybe a mile or 2, but anything over that I found that it gets to uncomfortable. All the weight of the bottle hangs at that one spot and I found myself constantly twisting the belt to move the weight of the bottle around. Although I do really like it - there is plenty of room in one pocket for gels and/or bars and another pocket for your phone, for anything longer than 2 miles, this would not be a choice. I have gone back to a regular back hydration pack. The fit is excellent and I never experienced any issues with the belt not staying tight or the bottle rubbing and irritating. I still use it if I am just going on the trails just for a hike, but for trail running - is not my choice.
I must be doing something wrong...
I have tried to wear my belt on several different runs, with no success.. It rides up my waist, bounces all over the place. Then when I thought it had it figuresd out, I take it off and the belt had rubbed and frayed my new running shorts in 2 different spots.. Not happy, sending it back... :-( I sweat a lot, and really need to stay hydrated.. Anyone have any other recommendations?
Love this pack. It has been poorly rated (at other websites) for having slippage in the adjustment. My only response is that the wearer obviously does not know how to tighten properly because it's impossible to slip when done correctly. During my last marathon I carried my iphone, 4 gel packs, salt tablets & car keys and still had room.
Pretty pleased!
Familiarity:

I've put it through the wringer
When going out for a couple of hours on a hot day this is my go-to hydration/fuel belt. It has two points of adjustment on the belt which originally frustrated me and I had trouble getting a good fit. Once I figured it out it was awesome. The zip pocket is big enough for a phone or a few jells, and there is a separate pocket for a jell flask. the jell flask holder isn't the most reliable thing in the world (interpretation: don't be surprised if your jell flasks falls out!) but i found a good way around that - I put it in the reverse way than designed (will only go part way), and then wrap one of the elastic straps from the bottle holder around the top of the flask and it works fine. A minor hassle, yeah, but for the combination of price and overall comfort not a big deal.
Great pack
Gender:

Male

Familiarity:

I've used it once or twice and have initial impressions
I have used the pack once so far. I love the fit and the ride during my run. It was barely noticeable, and had no issues with the bottle rubbing. My only complaint was the gel flask fell out about a half-mile into my run. I was able to recover it. I am going to try carrying the flask again in the mesh pouch, but if it falls out again I will just carry it in one of the zipper pouches.
Perfect for XC skiing
Gender:

Male

Familiarity:

I've put it through the wringer
I use this all winter XC skiing. It is the perfect size, the pocket can fit an iphone and a gel. The non elastic waist is way better and bounces less than elastic. Perfect for me
Unanswered Question
I have heard several complaints about the...
I have heard several complaints about the bottle rubbing a lot during runs and causing bruises, particulary on trail runs. Anyone have input on that?
Making Fanny packs cool again
Ok Fanny packs may never be cool but at least you will when you carry this thing. It fits comfortably and has a nice little stash pocket for gel or keys. Water on the run? Yes please!
This pack is great the water bottle that comes with it works well. The pockets are pretty much the size you need to carry the bare minimum on your run, but they do carry what you need. My biggest concern with this purchase was how it would ride. I didn't want to have it flopping around as I was running. It performed great. The whole system rides in synch with you as you run and is barely noticeable.