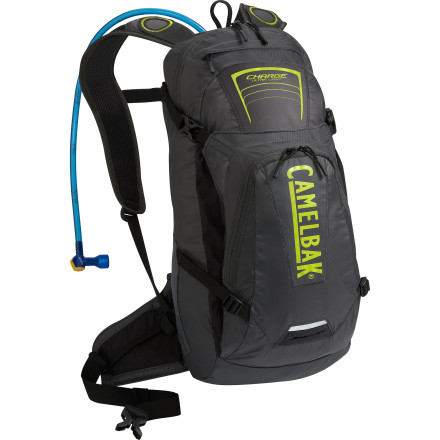 Videos
Runners and cyclists both choose to travel their distances with the CamelBak Charge Hydration Pack. Its minimalist design stays out of the way, but still offers all the hydration and storage they need to get back home.
Antidote reservoir includes a lightweight, quick-seal cap, folding arms on the port to speed drying, and baffles that allow the reservoir to maintain a lower profile when full
Main compartment is designed to hold a multi-tool, CO2 pump and cartridges, spare tubes, and energy supplements
Lightweight Exoskeleton backpanel features molded EVA and stretch fabric for support and separation without added weight
Ultralight 3D mesh harness allows air to circulate
Lightweight one-inch belt keeps the pack from bouncing around as you bomb the last stretch
HydroGuard anti-microbial technology inhibits bacterial growth on reservoir and tube surfaces
Ergo Hydrolock shut-off valve allows you to control water flow and prevents leaks
CamelBak Charge Hydration Pack
get one
Gender:

Male

Familiarity:

I've put it through the wringer
This is, probably, my 7th MTB bike pack and it is simply amazing. I haul a full face helmet with the usual tools, tube, lightweight shell and it's been perfect. Really lightweight, super-comfortable, good airflow and accessible pockets without dropping the helmet. The hydration pocket and routing are simple and I never seem to be fighting the bladder to get it situated after I fill it up. A great piece. I saw that I gave my previous pack high marks but that was before I started hauling up the full face helmet.
I actually got this to use on multi-pitch climbs and so far it has been awesome! It stays tight on my back without being super bulky and has enough room for some snacks and a light jacket. I also use it for cycling, but it is just a great all-around hydration system.
Just ripped on the Lobo and felt sorta bad about it ( but deserved rip to be certain). So, to achieve my inner balance, I'm writing this review that merits 5 stars....

The likes: the hydration compartment has a loop to hang the bladder! So that's a nice start. Material seems....flimsy. But not so! It's wicked tough for how light it is. The pack's capacity is above average and has just enough pockets in the right places. Keep in mind I'm writing this review as a mountain biker...so not having pockets or loops along the waist strap is a good thing, because that's the last place you want weight. I've loaded the Charge down purposely to see how well it does under load. The Charge does not shift when I shift my body around on my bike from the attack position to back over my rear wheel on drops. Stays put and that's what you want. I'm looking for dings on the Charge and can't find one yet. So great purchase.
Most amazing backpack EVER
Gender:

Female

Familiarity:

I've put it through the wringer
I LOVE this piece of gear. It is my absolute favorite right now, and I take it on any ride over 10 miles.



It is so well designed that I can easily carry a U Lock without feeling like the weight of that plus the 3L of water disturbs me very much. It breathes very well, and the overflow capacity is INCREDIBLE! I can take this little guy on an overnight summer backpacking trip no problem!



If there could be one more feature on the bag, I'd advocate for soft side pockets on the main compartment just for another snack or two, but for now I make the most out of the hip belt pockets.
Lightweight and Holds Plenty of Water!
Gender:

Male

Familiarity:

I've put it through the wringer
This has been a great backpack for ultralight hiking or trail running. It's got just enough room for a light jacket and some small accessories when the bladder is completely full.



Some of the material on this feels weak, but that's primarily because they're trying to shave weight. The straps are a little flimsy and the waist strap isn't meant to support a lot of weight for a long time, but it's great for minimalist use.



Bottom line: You can't beat CamelBak. They make a great hydration pack. This is one of them.
I like this pack so much I bought one for my finace. He's been loving the pack as well. Super spacious and light.
Best Hydration Pack I've Owned
I love this pack. It's super functional and has SO MUCH ROOM. I've been taking it on lots of long rides has as it hold 100 ounces. Great Summer pack.