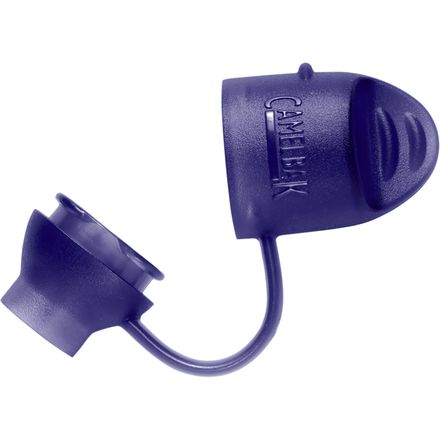 Description
The less dirt you ingest with your water, the better.
The CamelBak Bite Valve Cover provides a great way to keep your Big Bite Valve clean and protected. Works with HydroLock, Ergo HydroLock, and Ergo Angle. Will not work directly on tube.
Unanswered Question
Anyone know if this would fit an Osprey bite valve? Osprey doesn't make one for their system. I know the bite valves have different shapes, but as long as it fits easily over the valve I don't mind.
Annoying to have to Buy, But Much needed
Familiarity:

I've put it through the wringer
Used while travelling in Africa for a little over a month and I am Very glad I had the Cover. You can imagine how bad the sanitary conditions were in most places.

Both while hiking and just throwing the backpack in the back of our jeep, the cover kept the mouthpiece clean and protected from scratches. My friends wished they had it.
Good product. Does what it is meant to do with very little fuss. As others have mentioned, it can be a tad difficult to get on, but not too bad.
Works very nicely to keep mud and dirt off the bite valve. Can be kind of tough to get on and off the hose with the bite valve, but worth it to not have to drink dirt I guess.
Keep your nipple clean
Gender:

Male

Familiarity:

I've put it through the wringer
I've been using this cover for years to keep my nipple clean when going through muddy or sandy slot canyons. It does eventually wear out and not stay on anymore so you need to replace them (keep in mind I use mine pretty much every weekend so it gets a lot of use). Try lubing it up with some KY lubes (sex lubes). It slides on somewhat easily with some twisting back and forth and pushing.
This thing is seriously hard to put on. Looking at everyone else, I feel a bit dumb but for me, it wasn't easy to put on. Weird?



Well, it's the price of a Big Mac so why not just try it out. I'll probably work anyways.
works great, keeps my mouthpiece very clean so I don't have to worry about throwing my pack down anywhere. It can be a little hard to get through some of the slots for the tube so it may be easier to just take it off when you remove your tube completely, it just depends on the pack you have. Also when installing it, you need to put the rubber mouthpiece in it, then get it onto the tip of the tube, and rotate it them together squeezing the bottom of both pieces together as one.
Keeps dirt off my mouthpiece!
I use this with the CamelBak Hydrolink Filter Adapter Kit http://www.backcountry.com/camelbak-hydrolink-filter-adapter-kit#review_200160398 and it works great! It keeps the dirt and yukky canyon water off my mouthpiece when I'm canyoneering. It can be a complete pain in the butt to put on if you don't know the secret!

Use some adult lubes to easily slide the hose into the mouthpiece. You know how its done! ;)
Camelback Bite valve cover
Couldn't wait to get my hands on one, and it worked just as expected. No longer do I have to wrap my bite valve in plastic or do other efforts to keep in clean while hiking, , hunting, working or traveling. Bought 3 and will always have an extra on hand.
fits well over the hydrolock
I bought the hydrolock as a right-angle device, not so much as a lock. The valve cover keeps out dirt. Works great together.
Aw, crap, this is must-have for me on the trail. In the dark early days before bite-valve covers, I was sucking on dirt.
I use this cover all the time while canyoneering because I'm usually swimming through yucky stagnant water or sliding between canyon walls. Then when I get thirsty I have a clean bite valve!
It works exactly like it is supposed to. As far as it being a little difficult to install think about it this way. The easier it is to get on, the easier it is to come off when you don't want it to. To get it on heat up the end of the bite valve in really hot water and put the hydrolock in the freezer. That will make it fit on there a little easier. Also instead of trying to twist the bite valve on you can use the cover to pull it down. Just get the valve started then bring the cover (while open) as far up as you can. Squeeze the bottom of the cover around the valve and pull down.
Does exactly what I want it to, protects my bite valve from getting dust, sand, mud, or whatever else you mind run into in the backcountry. It was a little difficult getting on, but I would assume that's a good thing since you don't want it to be able to fall off with your bite value. I recommend it for your CamelBak.
Personally, this is a must-have. Whether it's sand, mud or otherwise, I don't want anything except water to come out of my bite valve, and this solves that problem.
It keeps the dirt and debris from sticking to your bite valve. I thought this would be a breeze to install but I had to jack with it for a few minutes.

Doesn't do much to contain leakage, you need a shut-off valve for that.
I hate getting dirt and crap on my mouthpiece when I put my pack down, so I decided to get this. I don't know if the cover I have fit properly or not, but water still leaks from it from time to time. Its as if the cover is just snug on the mouthpiece to the point that it puts enough pressure on the bite valve to open a little. I don't know. Like I said it does the job still..
It is a bit valve cover... It doesn't do much. Yet what is does is an invaluable service. It keeps crap off this thing you are constantly sticking in your mouth.
I have had bad luck with the hydrolock.. How...
I have had bad luck with the hydrolock..

How well will this bite valve cover prevent accidental leakage?

I'm not overly concerned about getting the bite dirty as much as I am looking for something to prevent me from accidentally squeezing the bite valve and getting water all over the place.
This doesn't work so well to prevent leakage. The cover is still soft enough that if there is pressure on it, it will make the bite valve leak.
must have, it keeps the mouth piece clean.