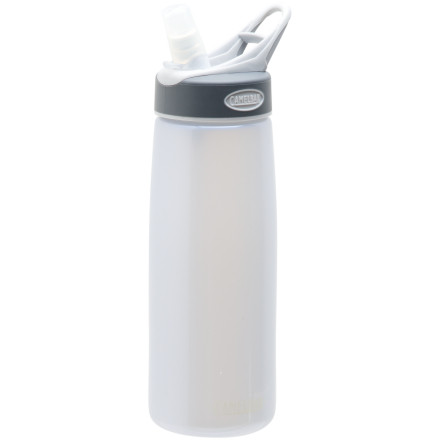 Detail Images

Community Images
So you want a BPA-free water bottle, but are not stoked on the way aluminum bottles dent easily and have pesky twist-on caps? Try the CamelBak Better Bottle w/ Bite Valve. CamelBak made this 0.75-liter bottle out of BPA-free copolyester polymer material. Flip up the bite valve when you want to take a sip. The bite valve also self-seals, so no water will leak out even if the Better Bottle tips over with the valve bite valve open.
you can never go wrong with a camelbak
Familiarity:

I've put it through the wringer
They are amazing, simple, pretty durable bottles.



And if/when they do break camelbak has incredible customer service with a life time guarantee.
I can't suck any water thru the straw...
I can't suck any water thru the straw unless I loosen the top. What do I do
There's a small hole that is covered when the straw is down, and open to allow air into the bottle when you drink out of it. If this hole is blocked, you cannot suck any water out. Another possibility: your straw is fixed to the cap upside-down, so that the end with the angled cut is not on the bottom. If your straw is flat against the bottom of the bottle, if can seal and prevent any water from entering. If all else fails, call CamelBak. They'll probably hook you up with a new bottle free of charge.
I didn't know I could ever be so attached to a water bottle. I love this. I love the straw, I love the hard plastic, I love the whole damn thing. It's just a little inconvenient when you're so thirsty and you have to unscrew your bottle to splash it all over your face.
I bought these for the wife and kids. They mouthpiece can fold back and lock so you don't have to worry about accidentally spilling or dropping the bottle on the mouth piece. The straw and mouth piece are also replaceable for when you forget to wash out the bottle and everything gets groady.
Bite value rocks! Makes it easy to grab a sip of water while on the go. Doesn't have a "cap" to lose. I'm always sure to take it apart and give it a through cleaning after a couple of days of use.
If you want a bigger capacity, the lid/straw is fully compatible with a wide mouth nalgene.
I originally got two of these for use in the hospital when my wife was giving birth to my son; the straw is super convenient. They soon became our go-to bottles for around town, and I have even purchased the smaller .5L model for my son. I dinged it one star because of minor durability issues: the plastic pull tab broke off one, and the pivoting straw connector broke on the other.

*I downgraded my review, because all three of these we own (.7L for my wife and I, and a .5L for my son) have broken at the straw lever.
Girlfriend and I love these water bottles. I have one at work and at home, and my girlfriend carries hers around. Nice to have at work because it somehow encourages you to drink a lot more water than I normally do. Nice to have around the house, especially next to the bed for late night thirst.
Haven't field tested it much, cause if I'm going hiking or anything I'll just take my Osprey with hydration pack. I think another reviewer said it right; this bottle has moving parts, so it might not be a good idea to rely on it when you will be exposed to the elements for a duration of time. Probably better to go with a traditional nalegene for those type of excursions.
Are the bite valve and straw dishwasher...
Are the bite valve and straw dishwasher safe?
Yes they are, and if you misplace or chew one up, you can always buy replacements.
Love this but a few issues...
So I drink from this on a daily basis, and it has completely become my replacement for drinking several plastic water bottles a day (such a waste!). However, I've found that even though I wash it at least once a week, I still find mold in the bite valve. Any suggestions for this? Also, although it doesn't appear to leak when I turn it upside down etc., sometimes it will make my entire backpack wet when I leave it in there for a while. Can anyone help me with these two problems?
I really love this bottle. It's gimicky and silly but I have increased my water consumption because the bite valve is pretty fun. Like others have said, it's like an adult baby bottle or sippy cup! Cleaning it takes a bit more maitenance than regular water bottles which is a bit of a pain if you're hardpressed for time. The novelty has worn of slightly, but I still drink more water than I used to.
My one problem that I haven't seen mentioned elsewhere is that I'd LOVE a cover for my bite valve! I know the better bottle doesn't have a cover but other models do have ones available. If my bottle is in my backpack all day and I grab it, fuzz, dust, and other particles stick to the silicone like a magnet and I end up having to rinse it off before I sip. Anyone found a solution to this? My one other gripe is that I'm a little afraid all this biting is going to make my teeth stick out to their pre-orthodontics stage, but only time will tell.
I was cleaning my bottle, and I wanted to...
I was cleaning my bottle, and I wanted to get all the dirt out of the lid so I accidentally popped the bite valve apparatus off the rubber straw part that attaches to the lid. It won't go back on. Have any of you guys had this happen, and how do you put it back on?
The bite valves are replaceable. I have never had trouble putting new ones on or replacing the current one. My best advice is to make sure the curves at the bottom of the bite valve line up with the curves on the bottle. Hope this helps.
I had the same thing happen and still can't get it back on. Did you ever get it back together and if you did how did you do it. I would appreciate any help I can get. Thank you, Jennifer
Why would anyone make a different type of water bottle? The bite valve and straw help facilitate my laziness, and the .75 is the perfect size. Doesn't leak at all, and seems like its pretty durable.
I like everything about this bottle EXCEPT that it leaks all over the floorboard of my car or on the seat. So, it always has to be upright. Pain in the butt. It's the small air intake valve in the center of the lid that leaks, not the bite valve.
is there any latex used in the making of...
is there any latex used in the making of this water bottle?
If you're concerned about the bite valve having latex in it, Camelbak's website says it is made out of medical grade silicone. The plastic for the bottle is made by a company called Tritan, and it looks like this might be the specific type:

http://www.ides.com/info/datasheet/E139637/Tritan-WX500

Hope that helps!
i have two one is over 5 years old still in good condition, use them everyday. it might seem common knowledge but altitude change may cause volcanic like eruptions from mouthpiece, also NEVER use carbonated beverages in these bottles, the pressure will overwhelm the mouthpiece even when folded.
LONG TERM REVIEW - Wanted it to work out but needs improvements!
I have 2 of these bottles and have owned them over the past 1-2 years. I use them regularly

Cons
1. On 1 of the bottles, the tab that you press to flip the straw out have broken off. This is will normal use. I have met 2 other folks who have had the same problem (I also own 3 1 L better bottles and this happend on their cap too) I called camelbak and they sent me free replacement lids
2. Bite-valve eventually developed a small tear (on my 1 L, but they are the same bite-valve/lids). This decreased the amount of water I could drink at one time as air interfered with flow of water. Again, camelbak replaced this
3. MOLD MOLD MOLD MOLD MOLD. I know regular cleaning should prevent this, however, there are many parts, lots of small crevices, the tube is hard to clean without a proper tool, and the bite-valve has to be removed and cleaned with a q-tip. Tough to clean when in austere conditions.
4. Ahh, this is the kicker. I am active duty military and am exposed to unpressurized aircraft on a routine basis. As we go up in altitude, the air that is trapped inside expands and pushes on the liquid inside. If not careful, when i flip the straw, the liquid would shoot out great distances and randomly hit people IN THE FACE, thus leading to akward moments with the commanding officer

I will move onto nalgene bottles to see if they are any better.