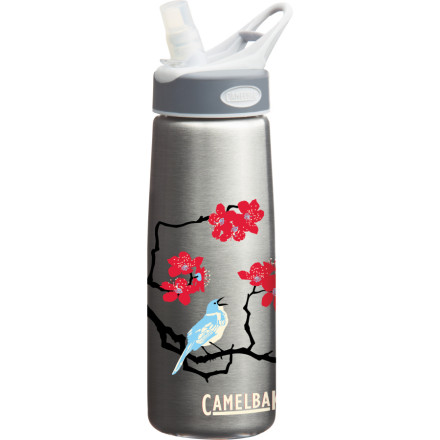 Detail Images
Feel the good vibrations of fully recyclable stainless steel when you sip from the BPA-free CamelBak Better Bottle. Camelbak took a fresh angle on metal water bottles by using medical-grade stainless steel that won't leech and doesn't require any synthetic lining like aluminum bottles do. The spill-proof Better Bottle easily slips into the cup holder of your forest green hybrid, so you can cruise to the local co-op without a mess.
Why can't. You put soda in the cup?
Why can't. You put soda in the cup?
You can, but the straw and sipper will gunk up fast.
Why can't. You put soda in the cup?
Why can't. You put soda in the cup?
You could but it would go flat quickly and gunk up you bottle pretty quickly.
Nice bottle for one handed drinking. A straw inside allows for sipping water without tipping the bottle. The bottle does seem to leak a little when on its side and jostled around a bit. Better to keep it upright.
Love this waterbottle! It's non leak and keep your water cold!
This is and excellent water bottle it is very durable.
How is the Instillation; will it keep the water cold? Are you able to put the stainless steel bottle in the freezer?
I play a lot of sport and I need my water to stay cold. Will this bottle keep it cold for an extended period of time? Should you recommend a different style or no?

I was also wondering if you were able to put the bottle in the freezer and the lid too?
Just gotta say I LOve this water bottle. It's perfect for the gym, the treadmill, or the car. Thanks, CamelBak!
Quality is very nice but heavy.
easy to clean. nice design. very sturdy.
Good bottle. Nice and big and works well. Not sure how the bite valve will hold up but we will see. It si nice that it can close off and stow away when not in use and the little handle/loop thing is nice too.
Can you put hot beverages in this stainless...
Can you put hot beverages in this stainless steel bottle? Is the "sipper" mouthpiece able to handle hot drinks?
They do not recommend using hot beverages in this bottle because of the mouthpiece and single wall construction.
Depends on your definition of hot. Boiling water poured in with tea\coffee\hot chocolate would be a bit hot to drink with the mouth piece. But you can pour it in to use as a warming or hot stone for your sleeping bag.
So I got one of these stainless ones for a gift and would ya believe it works just as good as the plastic ones?! I like it even more than the plastic and the stainless just looks cooler in my opinion. I don't know what else to tell ya. It holds water and you never have to worry about spillage.
Looks great with stickers
along with looking great with stickers it also works well for holding water or whatever beverage you want to put in it. I also like the foldable mouth piece and the fact that you don't have to tip the bottle up to get a drink. You do have to suck a bit more but it's not bad.
I think that it is a great product and have had nothing bad to say about it. It is just as good as the plastic ones but has the metal feel. I love it!