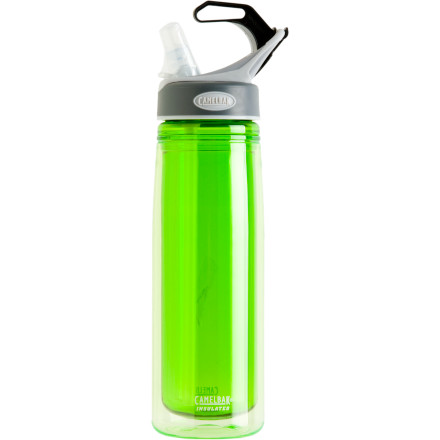 The CamelBak Better Bottle Insulated Water Bottle is just better than bottles that brag that they are better for drinking bone-chilling beverages.
Beverages stay cold even when you can't, with Better Bottle Insulated
100% BPA-free and phthalate-free Better Bottle is dishwasher safe and better for you
Sip easier with the Big Bite valve that closes tight to prevent spillage in your bag or car
Sounds ridiculous to say, but best water bottle I've ever owned.
I go to school at the University of Florida, there's a reason we are the Gators and we live in the swamp... The heat and humidity melts and warms any liquid inside a water bottle; however, these insulated CamelBaks make it all the way to school with me and STILL have ice. Insulation aside, I own two of these, I ordered a third, I keep them in my knapsack with my iPad and MacBook (might be a poor decision) and they've never leaked. Equally important, they don't sweat like the metal KleenCanteens. Ultimately, highly recommended.
Unanswered Question
I want a 32 oz bottle. Is it made with...
I want a 32 oz bottle. Is it made with the insulation? How large is .6L? Gayle
I've been using my Insulated Better Bottle for about 2 months straight and I can't get enough! This summer in Oklahoma, it was at least 100 degrees everyday so hydrating was extremely important, so I decided to buy it after weeks of debating. It was so easy to just throw my water bottle in my bag, and now having to worry about my stuff being ruined by the condensation. The bite valve was weird at first, but it's super fun once you get used to it. I love this water bottle so much that I bought another one: my blue one is for when I run, rock climb, or whenever I do my athletic hobbies and my lavender one is for when I'm just hanging out or going to school. It's such a fun water bottle and I recommend it to anyone!!
Not too happy with our Camelbak Bottle
It leaks! Very disappointing but hopefully Backcountry will replace it. We may just have got a bum one!
No SWEAT bottle insulates, but not like a thermos...
I bought these bottles for two purposes: To keep it COLD and to get rid of the BOTTLE SWEAT (condensation). It has ZERO bottle sweat but the insulating leaves you wishing for more... It is far better than a standard bottle, but not a thermos-type in any way, as the AIR GAP itself is air temp (warm) and no amount of ice will cool air well.

I mainly use this at work so I can bring my iced chosen fluids and not have the bottle leave a puddle on my desk, and of course for outdoor fun...

The bite valve & top are top-notch and work very well... Good quality...