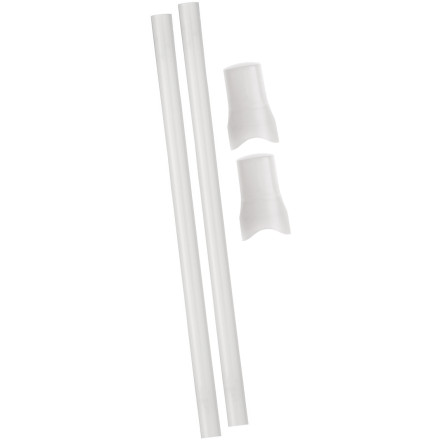 This 2-pack of replacement valves and straws get your Camelbak Better Bottle looking and tasting like new.
Fits Camelbak Better Bottle, Stainless Better Bottle, and Performance Bottle
One-piece silicon Big Bite valve self-seals to prevent leaks
Works Great
Familiarity:

I've put it through the wringer
I have a couple of better bottles that I love, and these make sure I keep on loving them. I had lost one of the bite valves but this put them back in the game. I haven't had a problem, and I've been using by bottles consistently since 2011, but just like anything its nice to have a spare incase something were to happen, also with the extra straws I trimmed one a little shorter so I could use the camelback lid in my Nalgene bottle when I need a little more water. Its cheap and it makes sure that my favorite bottle keeps adventuring with me.
Why do I go through so many of these?
It seems like I go through these a lot for my Better Bottle. I'm guessing it's not a bad thing to change it out that often because I don't like it when my water smells/tastes funky. The ends of the straws stretch out after a while and fall off... but that usually takes a long time. The price is right and I love the bottle so I am good with just buying replacement parts.
When will these be in stock ?
When will these be in stock ?
They said they should have some in stock by the second week of september. But it could be longer. So if you need it quicker amazon seem to have some in stock here.

http://www.amazon.com/CamelBak-Bottle-Accessory-Valves-Straws/dp/B003Z09LFW/ref=pd_sim_sg_1
When will you have these in stock ?
When will you have these in stock ?
Open a chat with a BC rep using the Chat Now link at the top of the page. They will be able to answer stock questions quickest.