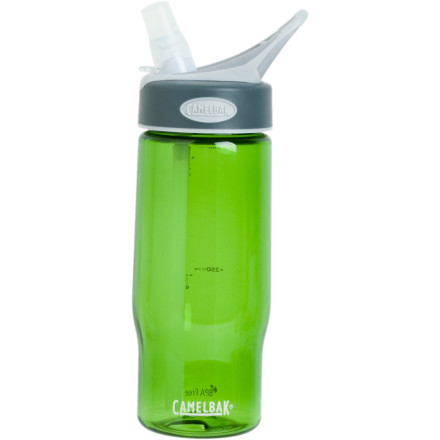 Detail Images
Use the Big Bite Valve on CamelBak's .50L Better Bottle and hydrate without splashing yourself in the face. This BPA-free water bottle is a great, compact size for your workout at the gym or studying at school. Just bite down on the valve to drink, and watch it self-seal after each drink to eliminate dripping. Snap the Big Bite Valve down for leak-proof transportation. CamelBak made the Better Bottle with a BPA-free copolyester material so you won't have to worry about chemical leaching.
Share your thoughts
What do you think of the
CamelBak
Better Bottle w/ Bite Valve - .5L
? Share a...
Good travel size, purtee colors
This is perfect for travel: just the right amount of liquid so I'm not spending the whole flight visiting the small, stinky closet that passes for a bathroom, just the right size to fit in my bag (or use a carabiner to attach outside). No leaks and great colors, easy to clean.
SPILL Proof bottle, suck it up!!
I don't go anywhere now with out it. It makes me want to drink water more often (which i didnt do enough before) and It is amazing while working out or hiking. There is no spilling or dripping while I use it. I bought my husband one as well and he was skeptical at first because of the bite top - but now be too can't be without his better bottle! The rubber bite part has held up since I bought it a few months ago but I wonder how long it will last.
No leakage issues and the bite valve has lasted forever. Great quality.
Bought this for my wife and she uses it everywhere. Comes in different sizes so you will have to decide which is best for you. It's an uncomplicated water bottle - what else do you want?
Bought this bottle for work. Works as expected.

Durable and easy to clean.
I have used many water bottles and we still have many different kinds of water bottles being used by children at my house. This is by far the best one I have ever used! I take a water bottle everywhere! This one fits in the drink holders in the car. It fits in a backpack water bottle pocket. It even fits in my purse. You can hook it to a bag or pack. It does not spill. Many colors are available (so no one has to fight over whose is whose) and it is easy to take apart and throw in the dishwasher. My kids really love them too and I plan to replace their water bottles with these camelbaks this year. I am so happy to have a nice looking, functional, nondribbling, non-spilling, colorful water bottle!
Makes drinking water fun again.
I've always had trouble staying hydrated while at work, when I use this bottle I drink more and feel better.
I got the blue on for the color. It is really a darker blue. It still works great though.
My girlfriend uses it to workout, to take to class, and just for every day use, and is very happy with it. Doesn't leak!
I have been searching for a no-leak bottle for my kids lunch bags and they just cannot be found. These have been the best so far. I think because my kids are not very sure about how tight or closed the top is they leak anyway. But they are wonderful bottles. Then I can send them with real juice or even water instead of sodas or juice drinks. The only other issue is they are kinda expensive to just send to school with your kid. We write their names all over their good stuff and they still come up missing sometimes.
Write your question here...Where can I buy...
Write your question here...Where can I buy bite valves for my CamelBak bottles?
i have a 3 year old and a 2 year old and they've been using this bottle for the last year. it's the only spill-proof bottle i've been able to find. no trouble with the bite valves and i love that it's bpa-free now. we just bought new ones because of the bpa and because one of the bite valves was starting to split a little. not bad for using it every day for more than a year.
My wife has the larger sized one and the kids kept stealing it. They are 5, 4, and 2 and do not have any problems with the bite valve. The widget factor seems to encourage them to drink so I love em. Disassembles into 4 parts (bottle, cap, straw, bite valve) and is fairly easy to clean.
I love my bottle so much I purchased the .5L bottle for my 7 year old. He would rather drink water from this bottle than a cup when we are at home! It's the perfect size and fun for him to use.
anyone know what the diameter is of the...
anyone know what the diameter is of the bottom of the bottle?
dimensions are 3.25 x 8.75. Top opening is 2 inches, 3 is probably a safe bet on the bottom
The tapered part at the bottom is 2.5inches, the body is just under 3. This is measuring the .5liter bottle.
This bottle is, in itself, not a bad choice. Well designed and proportioned, it will hold up nicely. However, the sizing was an issue for me. Half a liter was just too small. I know, there's other versions, and I have those other versions, but I think it's worth noting. The other thing would be that the valve can get pretty nasty. If it gets left along for very long, stuff can start growing in there or anything like that. Because of the way it's compartmentalized, liquid gets trapped right at the top, and stays there until drained. Just keep this all in mind. As a water bottle though, it functions quite well, and looks great.
Bought this for my wife and she's crazy about it...takes it with her everywhere. Sturdy, reliable, fits any cupholder, and of course, BPA-free.
I love this water bottle! It totally makes me drink more water because of the bite valve. It washes nicely on the top rack of the dishwasher and does not contain any of that bad plastic...loved it so much I ordered two more for myself and two for a friend!
can the lid be replaced without buying a...
can the lid be replaced without buying a new bottle. i love this bottle. i take it to the gym every day. but the handle broke off and i am looking for a replacement cap. it was a gift.