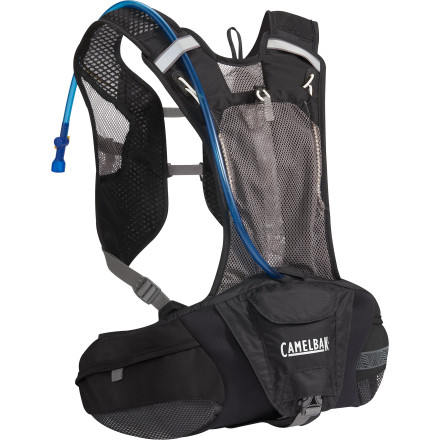 Videos
Camelbak designed the Baja LR Hydration Pack with stand-up paddleboarders in mind. The Baja lets you stay hydrated while you paddle and comfortably carries essentials like extra layers, your music and a snack.
70 ounce (2L) hydration capacity
200 cubic inch (3.28L) cargo capacity
Antidote QuickLink Reservoir included
Media pocket securely holds your camera or MP3 player in a convenient location
Inflatable PFD carry
Waterproof electronics pocket
Capacity for sunscreen, snacks, and an extra layer
100% BPA free
Share your thoughts
What do you think of the
CamelBak
Baja LR Hydration Pack - 200cu in
? Share a...
CamelBak Baja LR Hydration Pack
A great pack for longer paddles
If you?re out on the water for more than an hour in a hot place like here in Hawaii, you?ll really appreciate having some liquid along. The Baja is comfortable and does not interfere with your paddling stroke as a cycling-specific pack would. I use the shoulder strap pocket for a waterproof camera. The waist pockets held my keys tight even when a wave caught me and I went for a swim. A great piece of gear if you?re going to spend a lot of time on your paddleboard far from shore.
Works great for land lovers too!
I like this pack a lot. I purchased it on the dime as a quick fix for ultra distance running for a few days until I my Salomon 12 set running vest came in. I love this vest, though it was not designed for running, but It served my purpose well. The pack has an awesome waist-belt which feels like you are wearing the belt of a backpacking pack. With that you feel a sense of security like it is fixed to your body, which I really like. The shoulder straps are wide and secure the load down over a large surface area. This is a really simple camelback with an open mesh baggage compartment which is super exposed. you can store a shirt and some small goodies in it no problem. The front has pockets on the shoulder straps one enclosed and the other drop in style. I carried a large can of bear spray in the drop in just fine, so it is pretty big, might accommodate a water bottle. There are also two other roomy pockets on the hip belt which are easy to access on the go as well. The last pocket on the back does not really make sense because it is hard to get to and you have to take the vest off to get to it, but it is extra storage. Ok a couple of things I really like. The bladder compartment has a hip belt adjustment to tighten the bladder so water does not slosh around in the bladder. I love that and it also makes the belt fit more securely. The other thing I love is that the vest style camelbak fits over a low profile PFD and still allows you to have hydration access at all times. Now a few things I do not like about this product. I despise camelbaks hydration bladders as is, but this one where it is located and the design is really difficult to refill. I would not wish it on my worst enemy, it just really bothers me how poorly designed it is. Second, though I was using it out of it's intended use for a few days when I first got it, the material on the back, especially around the lumbar can be a bit abrasive on the skin. Not as bad when wearing a top, but still does cause skin breakdown. Other than that, I love it. It is awesome when kayak touring having a hose to suck on is nice, because you don't have to keep track of bottles which I like. No one likes to chase down gear in the water.