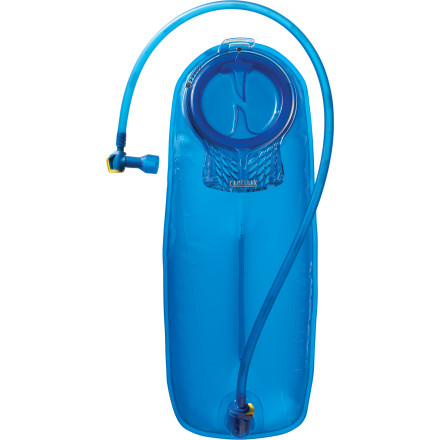 Colors

Detail Images
Description
Camels have had it right all along.
Quench your thirst for the outdoors with the CamelBak Antiodote Reservoir. This bladder holds all the water you need for a rigorous hike or day ride, and its low-profile fit minimizes awkward bulk. Its Quick Link system makes hose cleaning a snap, and the Quick-snap cap tightens in just a quarter turn so your precious fluids don't slosh out during a hot day on the trail.
Perfect replacement
Familiarity:

I've used it several times
My old reservoir kept leaking so I finally bought a replacement... and I'm so happy I did! This reservoir doesn't leak, holds my water perfectly, and fits into my old Camelbak easily.

I bought the 3L and it fit into my pack without any issues (pictured below).
Best Reservoir
Familiarity:

I've used it several times
I've used CamelBak time and time again. Perfect size in 3L
Way better than the Platypus
Familiarity:

I've used it several times
You will have a much better experience with the CamelBak Antiodote Reservoir than the Platypus, in all the following areas:

I bought a platypus a year ago because it was slightly less money. Basically the current model, zip enclosure etc and have used it several times. Each time though, I've been frustrated by basically every way it's engineered. The straw material and mouthpiece are a sticky rubber that catches on EVERYTHING, so it gets dusty and linty fast and is a pain to pull through clothes, backpacks and even from the backseat of the car. The zip enclosure was a good idea in theory, but it's a pain to operate and far inferior to the "scoop" design that the CamelBak has. Hopefully you learn from my mistake.
Gets the job done
Familiarity:

I've put it through the wringer
Works as expected. Holds water. Large cap that screws on tight so you don't get any leaks. Nice wide mouth for easy filling. Sufficient tube length for my height (6' 2") and pack. I purchased this with the Fresh Reservoir Filter from Camelbak and haven't had any funky taste issues.
Goodbye water bottles
Familiarity:

I've used it several times
This was my first experience with a CamelBak style "hydration reservoir"; I had always been concerned these would cause a terrible taste or aftertaste. I'm thrilled that there seemed to be no affect on flavor whatsoever after two overnight backpacking trips in the High Uintas. No leaking, perfect size, easy to fill. At sub 25 degree temperatures at night it froze solid, but after thawing in the morning had no problems with functionality whatsoever.
Best Hydration System
Familiarity:

I've put it through the wringer
I was a bit concerned about purchasing this product since I was not going to have a chance to test this out before a trip, but the hydration reservoir was great. Easy to fill, easy to lock in place to ensure no leaking occurred, the hose fit my pack perfectly in length, and this particular hose also comes with a lock near the bite valve that prevents any leaking in between drinks. I read in the reviews that folks have encountered a funky taste (plastic like) with bladders like this, but I gave mine one quick swish with water and didn't find any funky flavoring. I have used a variety of brands over the years and I have to say this is by far my favorite.
Stay hydrated
Familiarity:

I've used it several times
This is one of the best bladders on the market, it sits flat against your back and fits in a variety of backpacks. I really like the filler cap closure, it really ensures that you won't have any leaking out during your adventure. I've found the best way to clean this is with a denture tablet and some warm water, the let it air dry upside down. This bladder will ensure that you stay hydrated on even your most intense excursions again and again.
What I've been waiting for
Familiarity:

I've put it through the wringer
I'm not much of an ultralighter, I like being prepared--but the only reason I never carried a 3 liter reservoir before this one came out was because it was just too damn uncomfortable. It used to feel like you were wearing a log on your back between your back and pack.

The permanent connection between the two halves, which helps the bag keep it's flatter shape, is really the vital linchpin with these "newer style" camelback reservoirs. I can carry a 3L bag way more comfortably now. All the extra features they've added to these reservoirs are really just a bonus comparatively.

The quarter-turn lid is a huge plus, as rethreading the old lid on the older style reservoirs without spilling water was basically impossible. The hanging clip is also far stronger than the old one, and the quick release at the bottom of the bag makes quick refilling from your tap a breeze, without having to rethread the hose out of your pack straps.

Big win for Camelback here
Worked perfect
Familiarity:

I've put it through the wringer
I would fill it to the top and no leaks whatsoever. Very lightweight. Just make sure you close it properly. Bite valve might slide off; possibly Camelbak can come up with a better design. But no complaints otherwise
Cool Water
Familiarity:

I've put it through the wringer
Great design, easy to fill, keeps my water cool. Sits flat across your back. I would suggest getting the insulated tube cover or the insulated director tube.
Works great, weird taste
Familiarity:

I've used it once or twice and have initial impressions
I did a leak test on it after I got it and drank out of it for a few hours. I washed it very well, but it seems to have a strange plastic taste to it. I filled it from my sink that has a filter on it so I thought it was that at first, but then put some bottled water in it and tasted the same thing. Hopefully it will go away with time. I think it is what they make the tubing out of that causes it.
I'll take the good with the bad
Familiarity:

I've put it through the wringer
My first hydration bladder was a CamelBak Antidote, it's lack of structure always bugged me, and the fact that the fill cap would get cross threaded so easily, just drove me batty. So I upgraded to a Osprey bladder which I instantly loved, it resolved the two primary issues I had with the Antiodote. Well this Christmas I got my dream backpack the Mystery Ranch Terraplane, and of course the all knowing Dana Gleason designed it to accommodate an unstructured bladder. So the Osprey went in my day pack and the 3L CamelBak Antidote Reservoir is back in the starting line up. No hard feelings!
Incredibly Handy!
Familiarity:

I've used it several times
I love this bladder and have found it to be super useful on hikes & camping trips. I use it with an Osprey pack I have and it fits perfect, is easy to fill, and keeps me well hydrated on longer hikes. I haven't had any issues with leaks or other problems described in reviews. I've used it about 7-8 times by now and am grateful for the purchase. I definitely recommend it for hiking & camping.
There's no other bladder I'd use
Familiarity:

I've put it through the wringer
This is the best camelbak bladder yet. Everything about this bladder is so well designed and functional. The wide mouth lets you add ice and makes it easy to clean. The material doesn't make your water taste like plastic.
Perfect
Familiarity:

I've used it several times
CamelBak stuff always seems to work just right. The snap-in connector for the hose is great - very convenient. It's a basic product, so there's not too much to say, but for what it is, it's perfect.
gets the job done
Familiarity:

I've used it several times
I don't drink a ton of water when I am out so I am happy with this size option. It gets the job done!
Its a reservoir
Gender:

Male

Familiarity:

I've used it several times
The positive
Holds water
Has tube and bite valve
Big bite valve is so easy to squeeze my 9 month old was able to work
Large cap allows ice to be added
Easier to dry reservoir out than non-ziptop platypus

The disappointing
New 1/4 turn cap, still fiddly to line up and get to thread in place
Cap stiff to turn due to seal placement
I can't figure out any real purpose for the center baffle or the fold down "dryer arms" the older designs stayed open about the same when hung and the center baffle prevents hand from fitting in the reservoir for cleaning (main reason for out-sized cap)
Reservoir will not attach to most water filters, unless you remove the entire bite valve which increases chance of leaks
Awkward to fill since the reservoir folds over below the cap when held by handle and effectively closes the back of the reservoir against the cap, spilling water as you try to fill. The new center baffle actually seems to make this worse since it keeps the back center pulled toward the front.
Some leaking but it may have been from improperly seated cap not the quicklink
Given the quicklink design expect to replace o-ring seal at least yearly depending on use and exposure to dirt. Clean and keep quicklink o-ring lubricated between replacement to extend life and ensure best seal.
Quicklink makes it difficult to use camelback accessories with other generation camelback or other brands.

I'll buy MSR in future, can still add ice, connects to most if not all water filters, super durable, less issue with filling since smaller cap allows reservoir to fall open instead of fold over, most tube leaks can be fixed by trimming the tube, about as easy to dry out when hung with inner part of bite valve removed.
Gives a weird taste to the water
Other than the taste thing, its a good bladder. But i cant really use it much coz the water tastes funny, Ive tried cleaning it but didnt really work. Wouldnt recommend it.
Stay Hydrated
Familiarity:

I've put it through the wringer
I got the 1.5L bladder to replace an older CamelBak in my mountain biking pack. I love the twist-lock top vs. the threaded cap on the older bladders that was a true pain to open once screwed shut - The twist-lock creates a water-tight seal but is much easier to open.