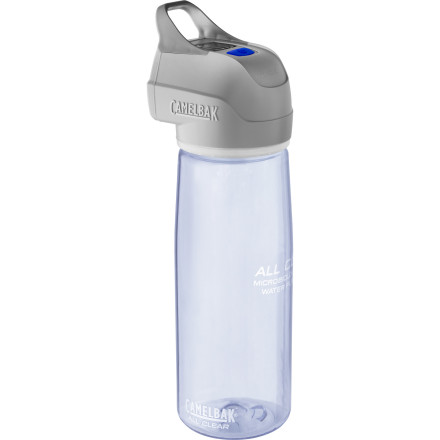 Detail Images

Community Images
Description
Keep it clean.
All the gear and plans in the world are no good if your water supply is contaminated. Keep your water clean and drinkable with the CamelBak All Clear Microbiological UV Water Purifier. Capable of treating nearly a liter of water at a time, the All Clear runs an 60-second cycle time during which ultraviolet light inactivates viruses, bacteria, and cysts. An intuitive LED display keeps you informed as to when you're OK to hydrate. The included set of CR123 batteries will treat 0.7 liters of water, keeping you hydrated for the duration of even multi-day expeditions.
Perfect for travel!
Familiarity:

I've put it through the wringer
This purifier is a life saver. I purchased it before a 2 month trip to India and Nepal where I did not want to think about getting sick from the water and it was perfect! I could fill my bottle up in the sink and have it drinkable in 1 minute, no worries. You do have to flip the bottle around the entire time its being purified and be sure to wipe the threads of the bottle before drinking or putting the lid on, but you get used to it pretty quick.

Its great because it fits on nalgene lids perfectly too, although I ran it 2 cycles when using it on a nalgene since there is more water to purify than the bottle it comes with.

The one issue I had with UV top is that even when it is in the little black case provided, sometime the power button gets pressed or bumped, especially if in a backpack, and then the display turns on, thus draining your battery quicker and you never notice. This was particularly annoying when backpacking 12 days in the Himalayas with unpredictable charging opportunities and storing it in a tight backpack. Even with this issue though, I never had it die on me, just make me a little nervous about it dying!

I would not travel to an area like this without this purifier though! Very easy and convenient to use!
Super handy
Familiarity:

I've put it through the wringer
Love this bottle! When you're in those country's where the water is questionable to us privileged Americans, this thing does the trick. I took my family of 5 to central america for a couple of weeks. Two bottles carried us comfortably the entire trip. We'd run the UV on a bottle and sometimes pour it into another bottle so that we had reserve, but for the most part just used the two bottles. It only takes 60 seconds to run a cycle, so it's anything but intrusive.
How long does one charge of the battery last? In terms of days and/or number of uses?
CamelBak says that one charge will give you 80+ cycles before having to be recharged.
All Clear for Take Off
Familiarity:

I've used it once or twice and have initial impressions
Great purifier. Easy to use. Compact. Relatively lightweight. You are most likely taking a water bottle anyways so just take this one with the purifier. The price is a little high, but for ease of use this thing can't be beat. I was a little skeptical of the UV filter, but I haven't gotten sick yet, so it must work. Just let it do it's magic and trust it. Mine sat for months and the battery still held a charge. I would recommend the Pre-Filter to go along with it to remove particles.
Does the lid fit onto a wide-mouth Nalgene bottle? If so, would it work to purify 1 full liter if you gave it, say, 90 seconds instead of the 60 seconds needed for .7L?
Best Answer
Hey Antonio,

Camelbak does not recommend that this be used with any other bottle. It's been tested with the camelbak .7L bottle and purification of the water is dependent on proximity to the UV light. A Nalgene was not designed to be used with this type of UV purification system.
Any issues getting through TSA or check-in...
Any issues getting through TSA or check-in security with it? I'm traveling to Nicaragua in November for work and at $100, I don't want it taken by security.
No issues taking it on a flight from Salt Lake to Alaska and I checked it in a bag. Good luck!
Quick and Easy
Familiarity:

I've used it several times
Easy to use, easy to charge. Doesn't filter out the dirt, but if you have moving water to filter then this little bottle is great!
Best Answer
CamelBak has this listed as 17 oz for the total weight.
Would this be a good purifier to take to...
Would this be a good purifier to take to Cabo San Lucas, MX?
Best Answer
Absolutely. All Clear is a great bottle for traveling in places where your access to drinking water is from taps that would otherwise make you sick. Then you're not using disposable bottles, which is nice.
Hiking in Tasmania
Familiarity:

I've used it once or twice and have initial impressions
I like how small and easy it is to use. Haven't been sick yet so can only assume it works well!
Good to go
Familiarity:

I've used it several times
This little thing is sweet. unless you like violent bouts of diarrhea while camping or traveling in underdeveloped countries. this thing is so easy to use just push the button and shake for one minute and you have pure water. It can't remove dirt or silt but at least you won't get giardia.
Saved me a few times
Familiarity:

I've put it through the wringer
When in the developing world, where borders are often closed by diseases like typhoid and cholera, there is little option but to purify all drinks. The Camelbak design is one of the few to integrate the whole thing, and to protect the UV bulb well. Just be sure to remove a few seconds early and nail the threads. All you really need is some creativity when you whip the all clear out in a restaurant :) . Charge lasts a good 2-3 weeks, which is generally the longest you'll be without some sort of USB charging.
Wonderful innovation
Familiarity:

I've put it through the wringer
Very easy to purify water, I purified water for 6 people for 3 days without having to recharge. Can only assume it does what it says it does in killing 99.99% of microbes.
I was interested in buying this bottle but...
I was interested in buying this bottle but was turned off by the need for the CR123 batteries. I have made the switch to rechargeable batteries and have a good setup for AA and AAA. Last thing I need is another battery type, especially one so expensive and not readily available. Camelback take note! I'll make the leap once you get away from needing 6 volts to run the UV light and can use rechargeable AA or AAA. Hey 3 AAA are 4.5 volts and almost the same size as 2 CR123s.
That's not really a question?
Best Answer
I could have made it review but since I haven't purchased it, my comments wouldn't really qualify for that category and I would have been required to rate it with a number of stars. Then again, your answer isn't really an answer, but a comment with a question mark at the end. In any case, my intended comment is for the good people of Camelback and, while I own many of their products, I felt this particular one had a significant flaw.
You actually charge All Clear through its USB port. It can be charged by virtually any (100-240V) USB compatible power source (laptops, wall and car chargers and solar chargers), which are all readily available to most people. You don't remove the batteries in order to charge them through a secondary device, in fact you never interact with them. Attempting to remove them will void the Lifetime Warranty too. The batteries are completely integrated into the cap. The batteries deliver 80+ cycles on a full charge (from a use perspective that's 3 bottles a day for 26 days).
@ Dusty. Ok, I just watched the video you posted and it looks good. My issue is that, as a fly fisherman, some of the water in locations I fish run the risk of contaminated run off. So, even though this kills any living contaminants, it really doesn't remove harmful pesticides, herbicides, and other chemicals I don't want to drink. Even the pre-filter isn't rated for those contaminants. Still a good design. I have one of Camelback LED lids on my wide mouth Nalgene. Makes a good "ambience" tent light for those times my girlfriend isn't too tired. :)
Well, this thing has served me well since I got it in December. I've been in places that are renowned for their disgusting water since then, including Kashmir, Delhi, Kathmandu, and a few cities in China, and not once have I gotten sick. Plus I have the added bonus of using it in public, at which point people say, "Wow, what is that?" and "Does it really work?" and "Whoa Mitch, thanks to this Camelbak product, you are so much cooler and up to date than us". Well, not that last bit as often.

The point is, the battery lasts ages, the thing actually WORKS, the light is pretty when you stare at it, and it's easy to carry, which helps when you have a lot of miles under your belt and many more yet to go. It's so good that I'm writing my first Backcountry review in honor of it.
Why Cary More Gear, Buy All In One
Gender:

Male

Familiarity:

I've put it through the wringer
I love having inline purification. I can pump water straight into my bottle and flip a switch without having to wait and stir a pen around. (I cary the pen though just in case this one goes out) I was hesitant at first, mainly due to how much of a beating my water bottles go through but the manufacturer provides a LIFETIME warranty at no extra cost. With my experience the battery life in this is longer than that of Steri-Pen. This bottle is one of the best UV purification tools on the market.



Want more Gear Reviews?

thegearguru.tumblr.com
what's the lifespan for the UV light?
what's the lifespan for the UV light?
Straight from Camelbak's website:



"The All Clear bulb is engineered to last 10,000 cycles which is approximately the equivalent of 3 bottles a day everyday for 9 years. The All Clear is programmed to automatically cease operation after that point."
Perfection
Gender:

Male

Familiarity:

I've put it through the wringer
I used this over 3 months in Pakistan this year. This is simply a wonderful product. Easy to use, easy to charge, minimal fuss. Saved my bacon and that of several others. Highly recommended
I took this on a trip to Mexico, and this UV Water Purifier worked like a champ! This will be accompanying me on all trips where water sources are in question. I highly suggest getting on. Well worth the money. One charge of the batteries lasts for 20 gallons or so.