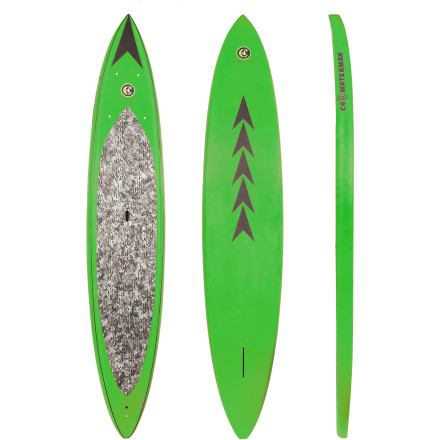 If your idea of a good time involves a bit of SUP recreational racing and long-distance coastal cruising, get your hands on the C4 Waterman Switchblade Stand-Up Paddleboard. This lightweight, sleek board features Feathercore Composite construction that offers superior flex appeal, impact resistance, and a good strength-to-weight ratio.
Designed for intermediate riders who are looking for a 12-plus SUP that can both race and tour equally well
Displacement-hull design enables the board to be extremely responsive and allows it to accelerate quickly with just a couple of strokes
FeatherCore Composite construction features thin veneer sheets that are sandwiched between successive layers of fiberglass and epoxy resin and then pressure molded around an EPS core to create a sort of monocoque fuselage in which the skin of the board becomes the stringer or stiffener
Bamboo and wood veneers, laminated with epoxy resins, endure more flex cycles than traditional fiberglass/resin lay-ups and are also a renewable resource that is cheaper than carbon fiber and less energy-consumptive to manufacture
Laminated veneers are impact resistant, even when paper-thin and permeable, which allows for an excellent mechanical bond to the core without excess resin absorption
Single 10-inch center fin setup enables easy turning and solid tracking
What do you think about this product?
Have questions about this product?
Read before ordering SUPs on Backcountry
Familiarity:

I've put it through the wringer
Buyer Beware when ordering an SUP from backcountry:

As the leader of a large paddling club in Charleston, I have extensive experience with ordering and shipping of composites, from SUPs to outrigger canoes to surf skis. Backcountry has ZERO quality control with their SUPs, see my story as to why:

Decided to order this board for a father's day gift from my family in early June. Backcountry used CEVA shipping and the board arrived in about 10 days - however, after unwrapping, the board's bow was completely smashed in - someone dropped this board - DAMAGE DID NOT OCCUR DURING SHIPPING - board was extensively wrapped in bubble wrap and cardboard. It would have been impossible to do this type of puncture damage as the cardboard had NO puncture marks. Backcountry did not inspect this board before shipping out. I deny the board as Backcountry instructs - called customer returns and they shipped out a second board the next day. 10 days later (after Father's day) board arrives - and the stern is smashed in - no puncture marks on cardboard - too large to even consider repairing, board unrideable - again, Backcountry clearly did not inspect this board - damage must have occurred in the C4 factory or in the Backcountry warehouse while they wrapped it for shipping. I deny the package and call customer returns (not friendly this time) - no one seems to know what is going on and I'm told to wait for a call from the logistics manager - 2 days later, no phone call and all I get is an e-mail stating ANOTHER board is being shipped out. No apologies, no phone call, no offer to throw in a free board bag for all the inconvenience. Backcountry.com has had $1000 of my money for over a month and I have nothing to show for it nor a father's day gift a month later (3rd board will arrive July 10) - Backcountry is great for small clothing, but clearly have no quality control or customer care with large items and composites. Buyer beware - take my advice and do not order SUPs from Backcounty